Classy Bowl & Plate Azure Minakari w Flower Eslimi Design
Handmade in Isfahan / Persia (Iran)
Glazed Hand Painting on Copper Dish
Hover to see zoomed view for fine details.
Meenakari (Minakari) is the art of colouring and ornamenting the surface of metals by fusing over brilliant colours that are decorated in an intricate design. Mina is the feminine form of Minoo in Persian, meaning heaven. Mina refers to the Azure colour of heaven. Enamel working and decorating metals with colourful and baked coats is one of the distinguished courses of art in Isfahan. Mina is defined as some sort of glass-like coloured coat which can be stabilised by heat on different metals particularly copper. Although this course is of abundant use industrially for producing metal and hygienic dishes, it has been paid high attention by painters, goldsmiths and metal engravers since long times ago. In the world, it is categorised into three kinds being: Painting enamel, Charkhaneh or chess like enamel, Cavity enamel.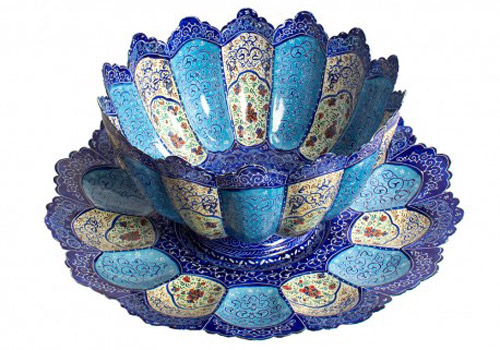 Why CyrusCrafts™?
CyrusCrafts™ by an excellent infrastructure background,  professional and specialized activity in the field of sales and export of high-quality vintage and modern Iranian goods to different parts of the world, is now proud to offer you the most peculiar and original decorative and tasty items with the latest transfer processes, Support Customers and after-sales service, responsibly.
We present The Originality, quality, beauty, uniqueness, health, and a good sense of a safe purchase and delivery.
Size

Bowl Max Diameter: 13 cm Plate Max Diameter: 15 cm Height: 8.5 cm

Material

Glazed Hand Painting on Copper Dish

Weight

340 gr

Originate

Handmade in Isfahan / Persia (Iran)