Brown Modern Floor Lamp Tree Design
Weight: 0.3 kilogram
Size: 10.23* 10.23* 39.37 inches
Body Material: Wood
Wire Length: 39.37 in
Color: Brown
Brown Modern Stand Lamp Tree Design ID-388
Floor lamps are generally used a lot today because, in addition to their
unique beauty
, they are also practical.
Lighting and beauty using a variety of floor lamps in any home are very important.
Floor lamps
 are very suitable for being placed next to the hall and living rooms, as well as bedrooms that have much larger dimensions, and also have a lot of fans.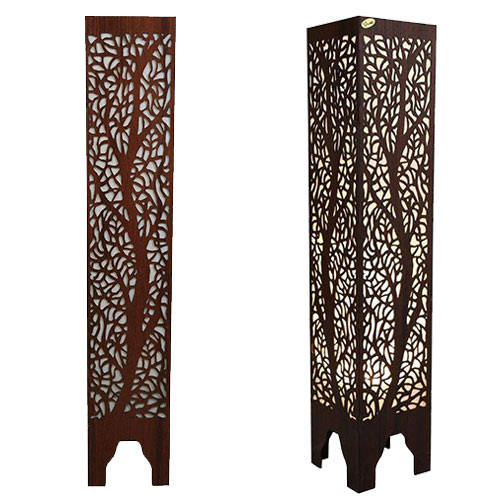 Initial construction
The new
tree design floor lamp
with a suitable structure, design, and dimensions is a proper option to be placed next to the living room furniture or bedroom bed.
This 
decorative floor lamp
has dimensions of 39.37* 10.23* 10.23 inches and is made of wood.
Why cyruscrafts™?
With a strong infrastructure background, professional and specialized experience in the field of sales and exports of vintage and modern Iranian goods to various countries around the world such as Canada, CyrusCrafts team is now able to provide you with the most unique and original decorative and tasty items with the latest transfer processes, Customer support, after-sales services, responsibly. We offer Originality, Quality, Beauty, Uniqueness, Health, and a secure sense of delivery.
You might also like
Interior Design
CyrusCrafts™
ID-267
Weight: 11 kilogram Size: 13.77*13.77*55.11 Inches Body Material: Mirror Steel Wire Length: 59.05 Color: Golden
Interior Design
CyrusCrafts™
ID-303
Size: 59.05* 17.71* 17.71 Inches Weight: 6.6 kilogram Lampshade Color: Cream Body Color: Olive
Interior Design
Afranoos
ID-355
Material Body: wood and metal Size: 13.77* 13.77* 62.99 Inches Weight: 7 kilogram Wire Length: 98.42 in