Afranoos Black Iron and Wood Antique Model Desk Lamp
Weight: 3.5 kilogram
Size: 13.38* 7.48* 17.71 Inches
Color: Black
Body Material: Cast iron and wood
Wire Length: 66.92 in
Afranoos Modern black Iron and Wood Table Light ID-541
A table Lamp is a type of lamp that is used in the bedroom, living room, or in any other environment of the house.
When choosing a table and desk lamp, you should pay attention to a few points that the appropriate model and type of light have a profound (very large) effect on the beauty and decor of the house.
A combination of two nostalgic products that have been the guest house of all Iranians in the past.
But now the Afranoos group has combined antique meat grinders and bee lights to re-prepare them in our homes.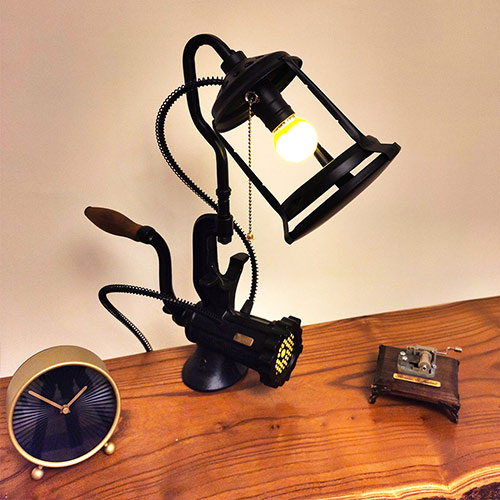 Convenient spaces
Compared to its previous generation, this desk lamp is equipped with an internal lamp that is installed behind the grille and transmits soft and uniform light to the outside, which can be used as a bedside lamp. On the other hand, the main lamp can be used for lighting and can be disconnected and connected by a chain attached to it.
Why cyruscrafts™?
With a strong infrastructure background, professional and specialized experience in the field of sales and exports of vintage and modern Iranian goods to various countries around the world such as Canada, CyrusCrafts team is now able to provide you with the most unique and original decorative and tasty items with the latest transfer processes, Customer support, after-sales services, responsibly. We offer Originality, Quality, Beauty, Uniqueness, Health, and a secure sense of delivery.
Size

13.38* 7.48* 17.71 Inches

Weight

3.5 KG

Color

Black

Application

House, Bedroom, Hall
You might also like
Interior Design
CyrusCrafts™
ID-324
Size: 13.77* 13.77* 22.04 Inches Weight: 2 kilogram Height: 35.43 in
Interior Design
Cheshmeh Noor
ID-436
Weight: 0.75 kilogram Size: 9.05* 9.05* 19.68 inches Wire length: 78.74 in Body Material: Metal Color: White