Colorful Diba table lamp ID-324
Size: 13.77* 13.77* 22.04 Inches
Weight: 2 kilogram
Height: 35.43 in
Colorful Unique Table Lamp ID-324
After arranging the decoration of the house, it is time to see the better decoration and double the energy of the home environment with proper lighting.
Using a table lamp is one of the best ways to create light, which in addition to lighting, Completes the house's decoration.
This table lamp is manufactured with smoky mirrors that show a beautiful reflection of the surroundings, and a colorful lampshade that is designed by Iranian patterns.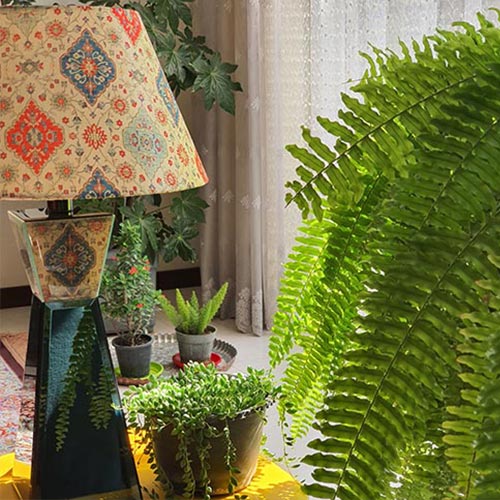 Initial construction of modern table lamp ID-324
Four precision-cut mirrors are placed side by side to catch the eye of any viewer at first glance. Due to the reflection of light in the mirror, by placing this desk lamp in the home environment, the color and design around the desk lamp will be imprinted on the mirrors.
The lampshade is made of crystal silk fabric with a classic design and it has an eye-catching harmony with the body.
Why cyruscrafts™?
With a strong infrastructure background, professional and specialized experience in the field of sales and exports of vintage and modern Iranian goods to various countries around the world such as Canada, CyrusCrafts team is now able to provide you with the most unique and original decorative and tasty items with the latest transfer processes, Customer support, after-sales services, responsibly. We offer Originality, Quality, Beauty, Uniqueness, Health, and a secure sense of delivery.