Bracelets & Anklets
A bracelet describes accessories worn on the wrist. In addition to the different uses, bracelets come in many styles, designs, and materials.Since ancient times, bracelets have decorated our wrists because of their elegant appearance and never go out of style.
But what is the difference between bracelets and anklets? And the name already points, a bracelet worn on the arm and an anklet worn around the ankle complement each other. Both women and men can wear bracelets, but only women wear anklets. Bracelets can be worn as anklets, but not all anklets can be worn as bracelets.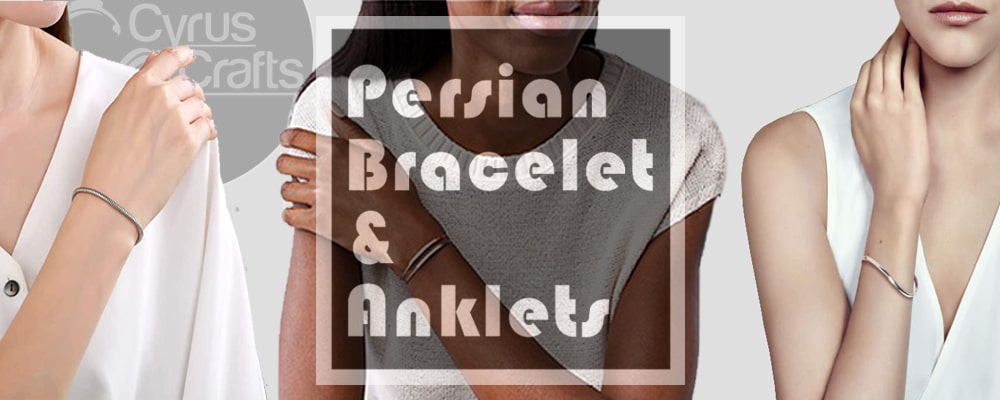 Different Styles of Bracelet & Anklets
Relationships and bracelets are often related. Friendship bracelets and necklaces are used to strengthen ties, seal friendships, and ensure that they remain strong and close for the rest of their lives. Teenagers, particularly the younger generation, are very fond of these bracelets.
Bracelets
Women's or ladies' bracelets have an unbelievable variety of styles, colors, and designs. But there are 5 different types/styles of Persian bracelets and anklets for women that are being trended massively recently, but it has to be mentioned that the most popular ones are very probably bangle bracelets, chain bracelets, and gold bracelets (all kinds). Although all the other styles are still fashionable!
Bangle Bracelets (Gold Bangle Bracelets): Bangles are usually rigid bracelets without clasps or openings. The bracelet is put on by sliding it over the hand and onto the wrist. They are usually made of metal and have this ring-shaped shape. Bangles are usually circular in shape. And the most loved material for bangles is gold, Gold bangles are popular in every corner of the world, but middle-east the most.
Cuff Bracelets: Bangles have no opening and are inflexible, while cuffs have a small opening. They are easier to wear with one hand because they have no clasps or closures. The opening in the middle of most cuff bracelets makes it easy to slip it over your wrist. Despite being so lightweight, cuff bracelets are incredibly durable.
Charm or Talisman Bracelet: Charm bracelets or Nazar bracelets, made of silver or gold chain with individual jewelry symbols (evil eye symbol) attached to them. You could attach a chain to these excellent keepsakes. The charm bracelet has long captivated the attention of those who love jewelry and has become a means to carry mementos and symbolic items. Traditionally, talisman bracelets are made with precious stones. Often inscribed with religious or magical power, these bracelets are worn as a means of protection, healing, or harm for the people who received them. Nazar bracelet (evil eye bracelet) for example… According to some, it keeps bad things from happening to you!
Beaded Bracelet: Loose beads are used to make beaded bracelets. With the help of a string or an elastic band, the beads are connected through the center hole. ... Their beauty and value are evident in their use of beaded bracelets. They are sometimes traded, while they are also used as a talisman.

Chain or Link Bracelet: The links that make up the bracelet are joined together so they're known as chain bracelets. Clasps are used to close the bracelet. Gold and sterling silver are the most common metals used in this style. The chains come on their own or with charms. This one is also the most popular style of bracelet… those that include quarts are of high worth, rose quartz bracelets are a good sign of healthiness and a good choice for a gift so make sure you check our very peculiar collection of quartz jewelry.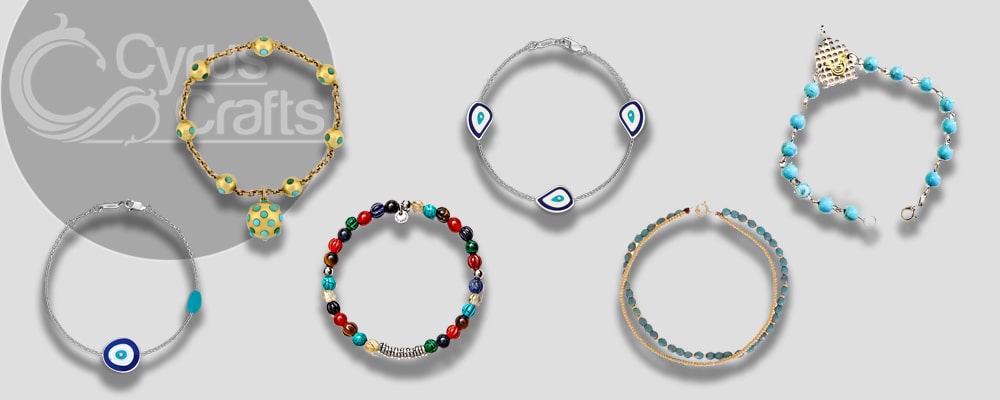 Anklets
According to our previous statement, anklets are worn on the ankle, yet the main difference between anklets and bracelets is likely to be their size. Other than that the materials used in the manufacture of anklets are the main determining factors. Talismans and charms are often worn as anklets on the left foot. As an amulet, anklets were worn on ankles since they were close to the ground. Hence, anklets can be used to protect you or as a fashionable accessory. In some cultures anklets on the left ankle signify that you have a lover or are married. Now let's take a look at some of the most popular anklet styles...
Beaded Anklets: A beaded anklet makes a great casual accessory. You can use tiny beads or chunkier ones depending on the style. If you want a unique style, mix simple anklets like gold and silver with beaded anklets.
Leather Anklets: In addition to having an adjustable closure, leather anklets are usually fitted with buckles. You can never go wrong with a classic leather look.
Charm or Talisman Anklets: They are pretty much like charm anklets with exact same effect but a different look. Wearing these anklets confers protection, healing, or harm upon their owner. They are usually engraved with religious or magical symbols.
Toe Ring Anklet: Beachgoers or people around pools often wear sandal-like shoes instead of sandals and that is where you might have seen the sort of anklets. One toe ring is attached to the anklet with a loop or ring and a loop is attached to a chain connected to the anklet loop. Metal anklets and beaded anklets are available, as are anklets made of stretchy threads or crocheted anklets.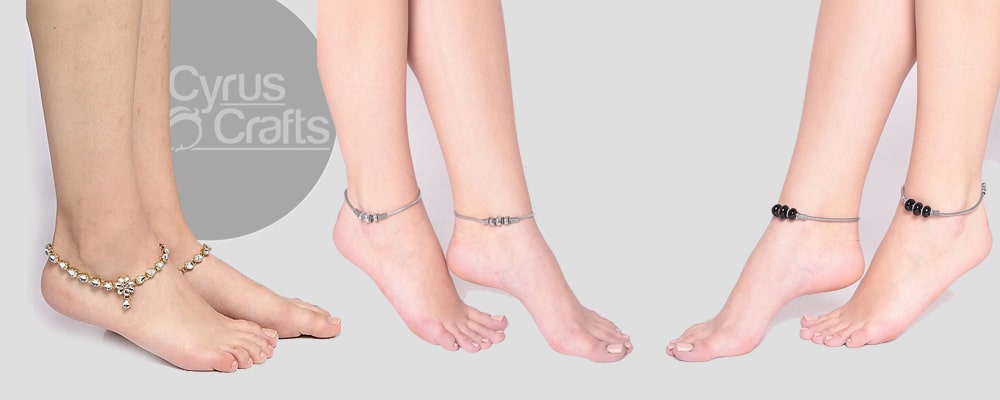 Men's Bracelets
Would you consider wearing a bracelet to personalize your look? Unlike women, men wore bracelets to demonstrate their power. A bracelet has evolved from charm status to an accessory for men in recent years.
Different Styles of Men's Bracelets
There is not a wide amount of styles for men's bracelets, yet still so much to choose from:
Men's Leather Bracelets: In recent years, leather bracelets have become more of a trend than practical items for both men and women. It is said that how the bracelets are shaped, sized, and even their overall appearance represents a person's taste, status, and way of life.
Men's Beaded Bracelets: There are many different materials used to make men's beaded bracelets, so you have the greatest variety of colors and textures here. Men's beaded bracelets can vary in style and color, but something that really suits every set is the black beads bracelet.
Men's Gold Bracelets: Gold bracelets (wristbands) can complete a look or express your individual style. The most popular metal for men's jewelry is gold, which is available in many different variations.
Men's Crystal Bracelets: Crystal bracelets for men are for those who do not have much of a budget yet want something quite unique, Take a look at them for your look's sake! Crystal bracelets are not something you see every day.
The wrist on which men wear bracelets is traditionally the wrist of the dominant hand, although there is no hard and fast rule. If you want your watch to stay scratch-free, you should wear it opposite your watch.
Price of the Bracelets and Anklets 
The craft of making bracelets is not easy to learn, as it requires dozens of odd pieces of equipment and years of practice. Typically, bracelet makers work with very small metals and stones that require specialized tools. Furthermore, the process takes much longer by not using molds. As the variety of the price range is something between $5 and $100,000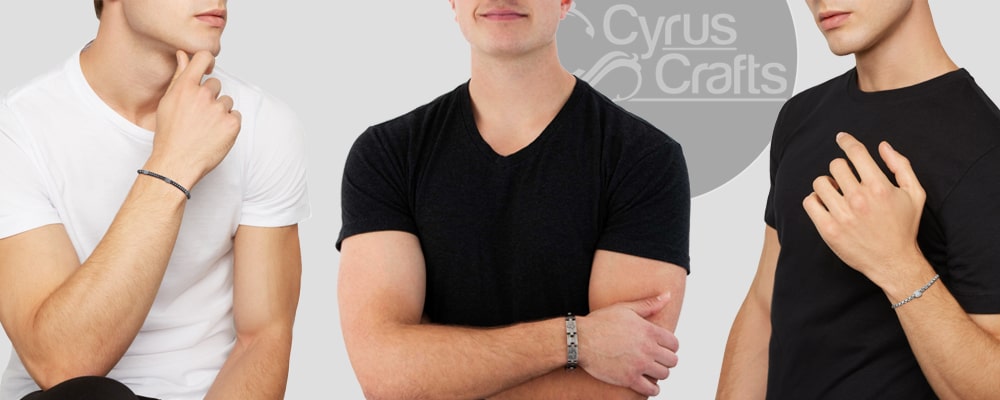 Last Words CyrusCrafts' Bracelets and Anklets 
Due to the recent changes in Iranian policy, traditional Iranian bracelets, anklets, and necklaces are not as well-known as they once were, but that is changing thanks to CyrusCrafts and its capabilities and knowledge.
A company that specializes in elegant jewelry such as rings, bracelets, anklets necklaces, and earrings, CyrusCrafts offers a variety of bracelets and jewelry of all kinds. Our mission is to liven up and enhance your environment with our high-quality, one-of-a-kind products.