Necklaces
Everyone knows that accessories worn around the neck are called necklaces. It can also be decorated with stones or crystals of any kind. Pendants on the other hand consist of items hanging from chains. There are many different types of necklaces to choose from. The most basic part of a necklace is the chain worn around the neck, and of a proper pendant!
Iranian necklaces are extremely rare because of their iconic quality and the details that make them so distinctive. They will probably become your signature since they are the rarest types of necklaces on the planet, that object will be your memento.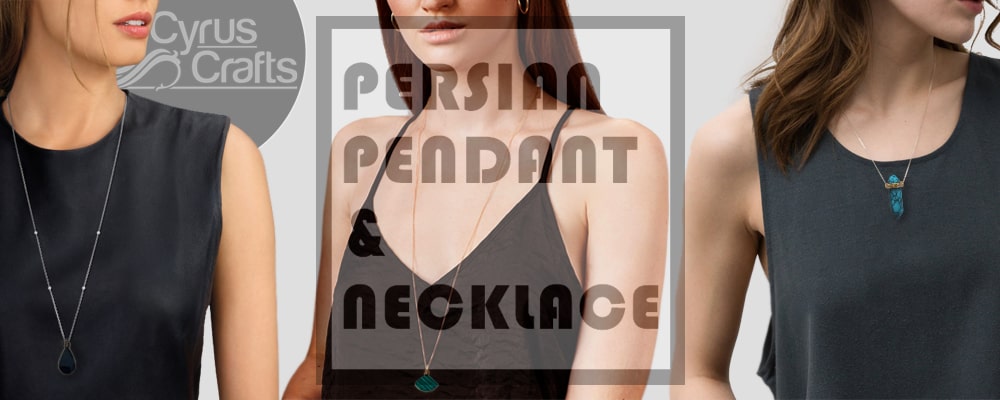 Different Styles of Necklace 
The huge variety of necklaces makes them hard to sort but we made some effort at this point, hold right there because we are now going to represent you the most popular styles of necklaces...
Regular Necklaces
What are regular necklaces and other jewelry sets such as rings, bracelets, and earrings used for? They enhance the overall appearance of any style. You may find a necklace to complement what you are wearing right now since so many different types of necklaces are available. If you are looking for a necklace that would look good on you and make your appearance more elegant, you might want to spend a couple of minutes browsing our affordable collection, which can get even fairer if you grab a necklace set that contains a pendant to it...
Choosing a chain and pendant set may seem difficult to some people after browsing all the crazy designs out there, but here we are to help, we are going to tell you all that you need to know about every material and design of rings, bracelets, and necklaces at this point. Hug necklaces for example. They symbolize one's sensitive nature and how fragile one can be. As with the heart necklace, it symbolizes love, and you will be reminded of the importance of love when you wear it all the time...
Let's talk about the size of regular necklaces. Normal necklaces are commonly worn at a standard length of 45 cm or 18 feet, which is suitable for most circumstances.
Wearing different necklaces and earring sets every day can be challenging, so you have to be careful with that task. Instead of buying highly expensive jewelry, you can in fact buy multiple affordable ones from a safe store such as CyrusCrafts. Other stores' prices are not even comparable to CyrusCrafts, but that is one thing, you give our pieces of jewelry a good browse and be the judge yourself.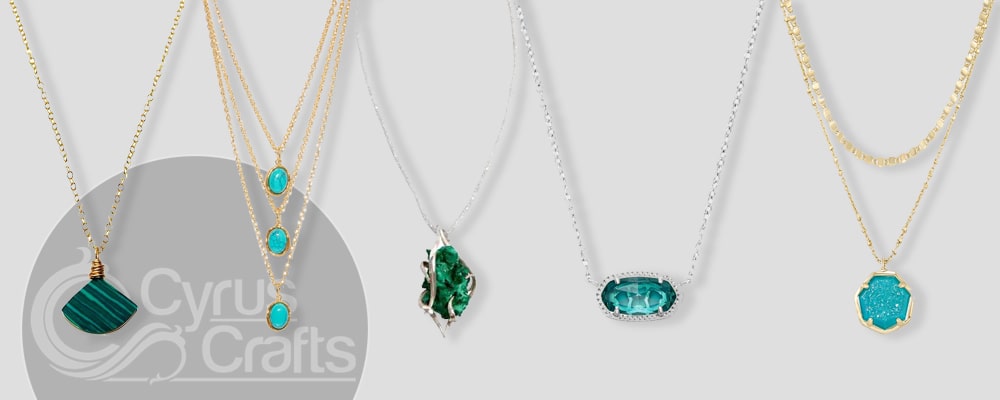 Pendants
Pendants hang from necklace's chains as objects and they give a necklace its true meaning. For a gift for your girlfriend, you can buy a necklace with a heart pendant. A gold pendant design on a chain also is a popular gift for birthdays and weddings. Necklaces with large pendants are suitable for dates because they attract the man's attention to the neck and chest area, an area well-known for its sensual vibes. In addition to being the focal point of a necklace, pendants can draw attention to you.
So You increase their interest unconsciously as a result of it. Perhaps the best-looking necklaces are crystal necklaces, although crystal necklace sets do not always include crystals on all parts.
Pendants come in all shapes and designs. You can buy chains and pendants separately or a pendant set. Because pendant sets include a proper chain.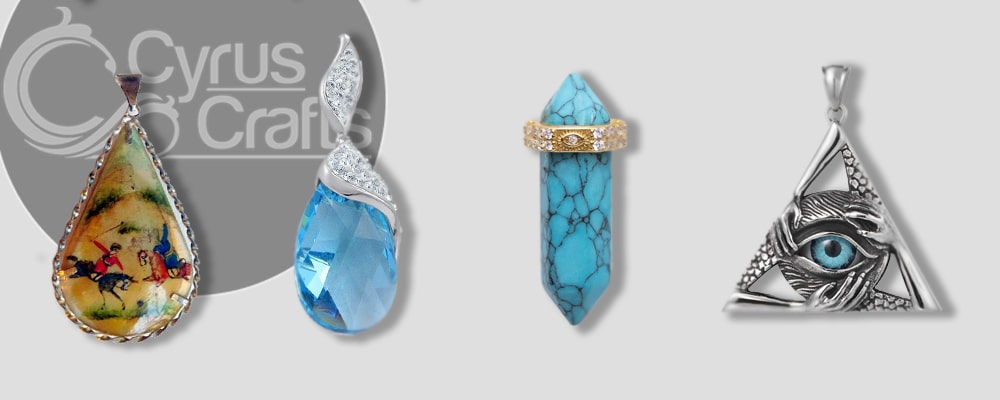 Chockers
A choker is usually similar to a regular necklace but the difference is that the choker fits closely around the neck and does not have that loose form and that it does not hang around. This is one definition! Some believe that no matter how loose or tight a necklace is, as long as it looks like a half-circle from the front, it is a choker. Most chokers do not come with the pendant, even though pendants are conventional with chokers.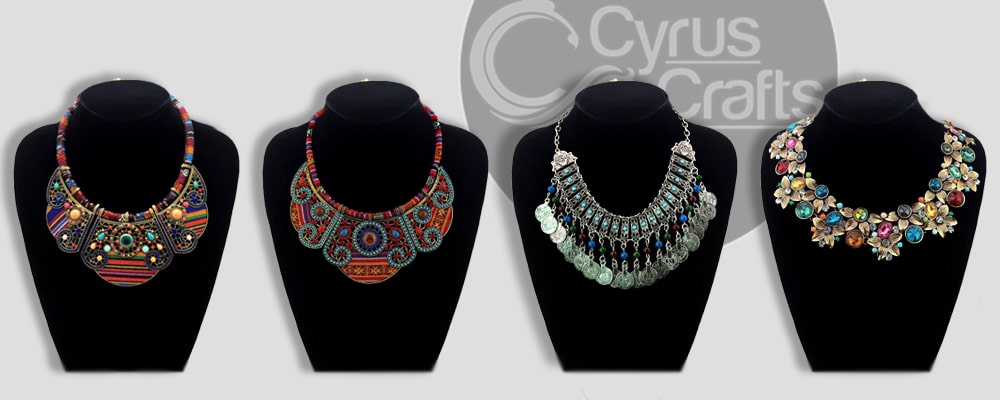 Chain or Cable
As we mentioned before, chains and cables are basically the same as necklaces. A necklace is whatever jewelry or accessory you wear around your neck. Cable or chain necklaces are made from metals such as steel, titanium, gold, palladium, etc. A massive variety of chains are available, such as:
Ball Chain Necklace:  Chains with metal or glass beads attached to them are called ball chains. Such chains can serve as bases for large-hole pendants but a pendant is not usually needed on this type of chain. In general, ball chain connectors are used or finished at the ends of this chain.
Cable Chain Necklace: Cable chains have links that are congruous sort in size and thickness. Pendants are often hung from cable chains, and tassels are often attached to an earring chain to hang from it.
Cord Chain Necklace: Cord chains are an easy and versatile way to showcase a pendant. For an edgy update, you can pair these necklaces with other types to create a sleek backdrop.
Link Chain Necklace: Metal links are alternated with flat, wide strips to create a chain style for adding texture and interest to your look.
Rope Chain Necklace: Chains made of twisted links mimic the appearance of ropes to avoid drawing attention and have a similar effect.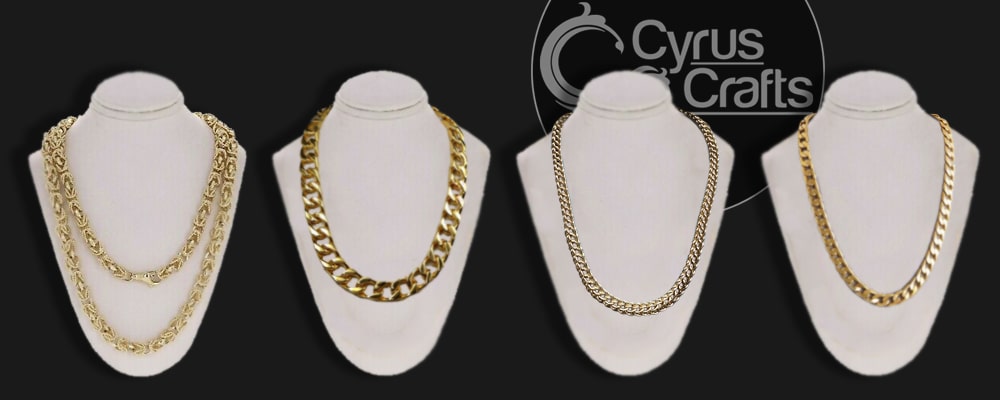 Men and Women Necklaces
The truth is that women's and men's chains and necklaces do not exist. A buyer's perception of the size in proportion to his or her body is usually what distinguishes men's necklaces from women's necklaces, but one thing that is important to realize is that most men's necklaces lack a pendant, which may be the only difference between the two.
Necklace Price Calculation
Machine-made necklaces can cost a couple of bucks because the making time is short and the materials are not of "high quality". In contrast, handcrafted necklaces are more valuable because they are authentic, whether they are made with natural materials or natural colors by people who truly enjoy what they do. A single necklace can take a lot of time to be made. These factors make handmade jewelry more durable and more beautiful. As a result, the price can range from $10 to $100,000
Last Words of CyrusCrafts' Necklaces
Providing Iranian artists with a webpage for showcasing their machine-made and handcrafted necklaces, including necklace chains and pendants, CyrusCrafts is helping to make these products available on a global basis.
Among the products, Our offers are necklaces, rings, earrings, and bracelets. Bringing you high-quality, extra rare products that will improve and personalize your look.