Do you want to know the latest trend in living rooms? Cream rugs! Yep, that's right. This is the year of cream rugs, and for a good reason. Adding a touch of luxury and elegance to the room enhances its style. Check out our compiled list of cream area rugs you should consider if you're considering updating your living room.
Cream Rugs Selecting Guide
Undoubtedly, you've considered a cream-colored runner rug for your home at some point. In addition to geometric patterns and hand-knotted motifs, this classic look has countless variations. The neutral color palette blends perfectly with any decor, and the color palette is versatile and will complement your existing furniture and accessories. A monochromatic look will give your space a sophisticated feel and make it appear gender-neutral.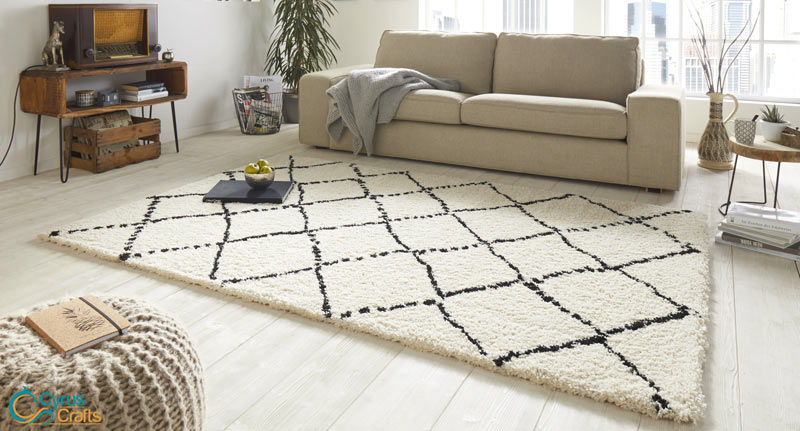 Choose cream and brown rugs to match the rest of your room for the best results. Off-white rugs come in shades of white, such as ivory and off-white. Even though they are neutral mainstays, cream rugs give floors a fresh feel. These neutral rugs are incredible for use in rooms that need a touch of freshness.
The Versatility of Cream Rugs
Cream rugs, the unsung home decor heroes, offer an assortment of materials, textures, and patterns, effortlessly enabling you to uncover the ideal rug that marries your style and practical necessities. Imagine sinking your toes into a cream area rug's comforting, cloud-like fluff. Its plush pile introduces an undeniable warmth and coziness to any space, transforming bedrooms and living rooms into sanctuaries of relaxation.
For those who fancy a dash of texture, a cream wool rug is the coveted choice. These rugs not only indulge your feet with their soft and resilient nature but also come armed with inherent stain-resistant properties, making them a breeze to maintain.
For the aesthetically adventurous, there's nothing quite like a cream Persian rug to infuse your room with an air of luxury. Their intricate tapestry of patterns and designs wields the power to instantly elevate any room's character. Consider a cream geometric or abstract rug for a more modernistic touch. These rugs' striking designs can introduce a contemporary flair to your space.
Different Sizes of Cream Rugs
Cream rugs, the epitome of elegance, come in a symphony of sizes to cater to an array of rooms and requirements. The most prevalent sizes are the 4x6, 5x7, and 8x10 variants. The 4x6 rug, versatile and compact, nestles comfortably in confined spaces such as welcoming entryways, winding hallways, or beneath a charming coffee table. The 5x7 rug, a tad larger, serves as a splendid centerpiece, defining seating areas in living rooms or dining halls. The 8x10 rug, a popular pick for expansive spaces, anchors furniture with grace, crafting a cohesive aesthetic.
When selecting the perfect size for your cream rug, it is crucial to consider the room's dimensions and the position of the furniture. Ideally, the rug should be grand enough to embrace all the furniture in the room or at least cradle the front legs of the pieces. This creates a harmonious and visually pleasing tableau. However, smaller spaces need not despair. Opting for smaller rugs such as kilims and Gabbeh rugs and placing them strategically can underscore a specific area or highlight a standout piece of furniture.
What Should You Look For When Buying A Cream Rug
When choosing a cream-colored rug, there are several things to remember. Suitable for both modern and traditional designs, these rugs are versatile. Your home will also feel fresh and luxurious with them. You should look at the rug's shape to make the right choice. Discover the most critical characteristics when buying a white or cream rug.
Good-quality handmade rugs are often made from high-quality sheep's wool. They can last many years if cleaned regularly, so they don't need to be replaced frequently. Wool rugs treated with chemicals are usually cheap and shed horribly. Be sure to check the quality of the material, too. Rugs made of cheap wool are often tufted in India. Ensuring the tufted rug's back is made from quality wool is important.
When choosing a rug for a room, remember to consider its location. Bed rugs get less traffic than in other rooms, so they can be placed on the floor where they will receive little to no wear. Be sure to buy a soft and comfortable rug for your bedroom. Choosing a smaller rug than you'd prefer is better for your budget. You'll also have fewer options if you choose a large cream-colored rug for your living room.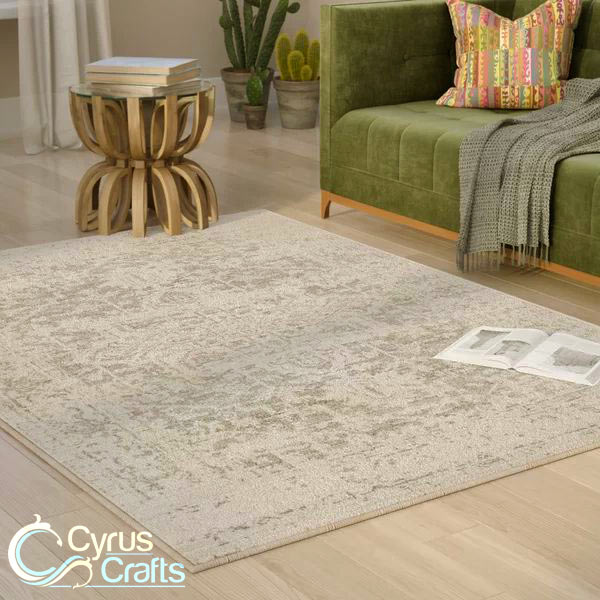 Combining Cream with Other Color Rugs
With its understated elegance and timeless appeal, the cream rug lends itself beautifully to being paired with rugs of other colors. The resulting amalgamation is a visually harmonious and aesthetically pleasing tableau. A popular coupling is that of cream and pink rugs. Their delicate and subtle shades dance together in a beautiful ballet of color, painting an image of femininity and elegance. Whether you opt for a cream rug with pink highlights or a pink rug adorned with cream, the pop of color will liven up your space.
Alternatively, consider pairing your cream rug with one displaying earthy tones such as beige or white rug. This combination radiates warmth and invitation, crafting the perfect atmosphere for cozy living rooms or tranquil bedrooms. The palette of neutral hues works harmoniously together, easily complementing furniture and accessories of various colors and patterns.
The Versatility of Cream Rugs for Every Home
Cream rugs are chameleons, adapting to and enhancing the charm of any room in your home. In the living room, a cream rug is an elegant anchor for the seating area and adds a touch of sophistication. It can also help delineate spaces in an open-concept layout. In the bedroom, a cream rug weaves a narrative of coziness and luxury, especially when accompanied by soft bedding and plush pillows. In the dining room, a cream rug can be the pièce de résistance, adding an element of sophistication while serving as the focal point beneath the dining table.
Creamy-hued rugs aren't confined to your living room; they can be elegantly strewn across different dwelling spaces. Imagine a cream machine-made rug bidding you a warm welcome as you step inside your home, simultaneously safeguarding your flooring from wear and tear. Or picture a plush cream bath mat adding a touch of serenity and luxury to your bathroom, effortlessly harmonizing with any color palette. With cream rugs, the decorating possibilities are as vast and varied as your imagination.
What Kind of Furniture Goes Well with Cream Rugs? 
The cream rug looks good in almost any color. By buying a rug with this color and arranging it correctly with other home accessories, you can have a modern and stylish decoration, a classic and luxurious one, or even a warm and friendly atmosphere. It all depends on your taste and choice.
Dark Furniture with Cream Rug
One of the best benefits of cream rugs is that they can go with any furniture. If you have dark furniture, a cream rug can help balance out the room's look and make it feel more open and airy.
Light Furniture with Cream Rug
A room has a sense of balance when light furniture is combined with a cream area rug. While the light furniture keeps the room from feeling too heavy or cluttered, the rug brightens up the space and makes it more open. Also, for a room with bright color decoration, choosing vintage rugs with cream color looks much more classy and makes the space more modern.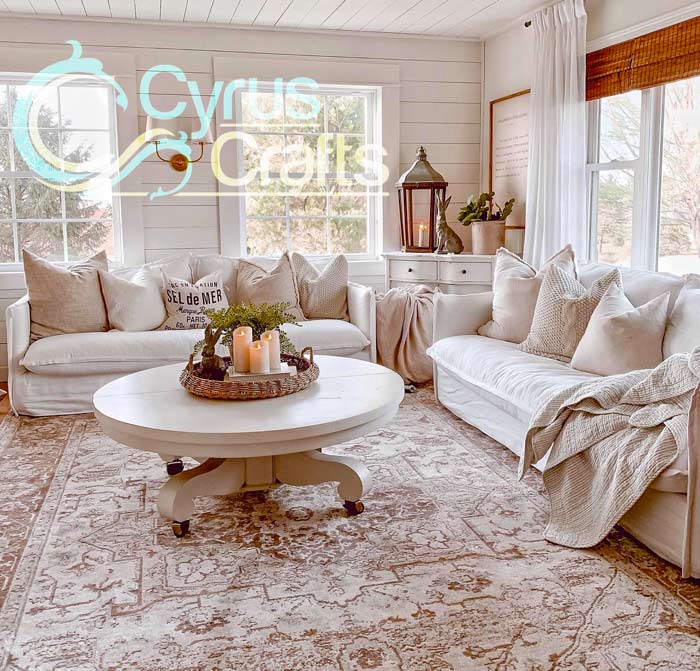 Cream Rug in the Decoration of the Living Room
The perfect way to decorate a living room is with a cream rug. The neutral color creates a blank canvas that is easily decorated to suit any style.
A cream-colored rug can be complemented with furniture and accessories in complementary colors. For example, pair the rug with furniture in shades of brown and beige. Throw pillows in brighter colors or patterned silk rugs to define different areas for a pop of contrast. 
By adding layered textures to a space, you can create a cozy and inviting atmosphere. Invest in a plush cream rug and add colorful throws and blankets. The space is warm, inviting, and a great place to spend time with family and friends.
How to Care for and Clean Your Cream Rug
Proper care and upkeep are indispensable to ensure your cream rug maintains its pristine look. Regular vacuuming is the first defense against dust, dirt, and debris that might seek refuge in the rug's fibers. As a precaution, always equip your vacuum cleaner with a brush attachment to gently cleanse the rug without inflicting any harm.
Another crucial aspect of rug care involves rotating your rug every few months. Doing so ensures even wear and tear, preventing certain areas from appearing faded compared to the rest. This rotation ritual maintains the rug's uniformity, keeping its charm intact for years.
Should the unfortunate event of a spill or stain occur, swift action is paramount to preserve the elegance of your rug. One must dab the offending spot with a pristine white cloth or paper towel, absorbing as much liquid as possible. Be wary of the urge to rub or scrub the stain, for such actions may drive it deeper into the textile's delicate fibers. A gentle solution of mild detergent and water should be your weapon in this battle against blemishes. However, it is always prudent to test this cleansing elixir on a hidden corner of the rug first to ensure the beauty of your rug remains unmarred by discoloration.
Benefits of Having A Cream Rug
For busy households, rectangular cream rugs are relatively low-maintenance and easy to clean. A cream rug is unlikely to show dirt or stains, making it ideal for homes with small children or pets. Cream rugs are also relatively easy to clean and maintain, requiring only occasional vacuuming and spot-cleaning.
At Cyruscrafts, we want to ensure you find the best home goods when you shop online. You have searched for cream and beige rugs, and this page displays the closest product matches we have for beige and cream area rugs to buy online. Thousands of unique furniture, décor, and housewares options are available, so we're sure to have something that fits your style and home.

Read More