A royal hanging rug (pictorial carpet or tableau rug) is an example of a complete decorative rug on a wall available in the form of wall frames of various sizes that are typically smaller than the regular carpets/rugs. Natural or rayon yarns, pile yarns, wool yarns, cotton yarns, and acrylic yarns are frequently used to weave ordinary wall rugs. The use of silk yarn increases the cost and value of the carpet by adding elegance and beauty. Tableau rugs are an excellent combination of two beautiful and historically significant arts: painting and carpet weaving. These small wall carpets have a short history.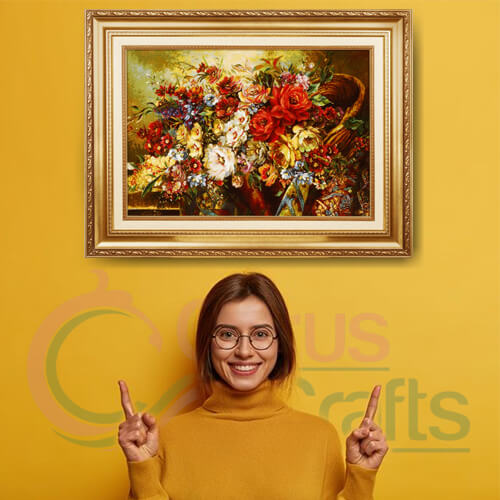 Today, Iranian Decorative tablous and Pictorial Carpets, like other Iranian handicrafts, are widely available and come in two varieties: hand-knotted and machine-made.
Important Tips When Buying Wall Rugs Online
The density of the texture, the variety of colors, and patterns of the wall rugs are the factors influencing their price, both in machine type and in the hand-woven types. The higher density of the rug texture, the higher price, and the more elegance and effect it will have from the observer's point of view.
When purchasing a tablou rug, it is recommended that you do not go for very small models because the elegance and beauty of the work and the quality of the work procedure can be seen and recognized in models with larger dimensions. When purchasing a wall hanging rug/carpet, paying attention to the back of the rug always provides valuable information.
Aside from the rug ID and information on the back, you can look closely at the back of the rug to find any deviation in its texture. When looking at the front of a hanging rug, this point is usually not visible. In addition, the rug's backside is generally examined to determine the accuracy and delicacy of the density.
Silk wall rugs are significantly more expensive than other types. As a result, it is critical to ensure the authenticity of the silk yarn used in silk tableau rugs, which can be done by inspecting the wall rug's warp. The warps of silk pictorial rugs are more delicate and brighter than other yarns.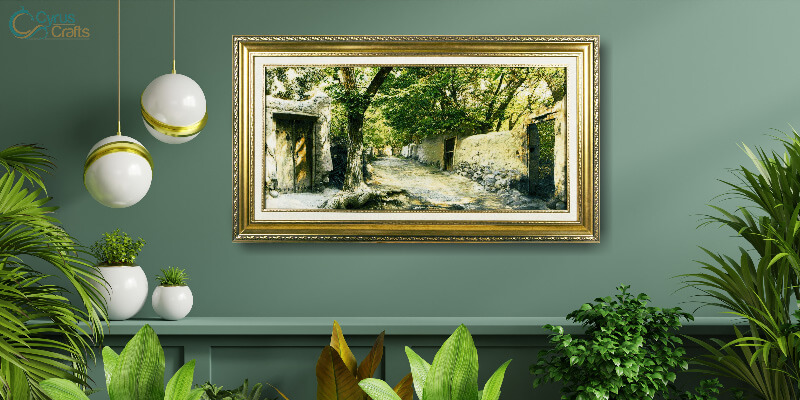 When purchasing and selecting a wall hanging rug, try to select more pleasing and delicate designs. In addition, to be more beautiful, these wall carpets increase in financial value and can be a long-term investment for you.
Semantics the colors of wall carpet art
The red color in wall hanging rugs: Red was a sacred color and a symbol of fire among the ancient Iranians. Throughout history, the fearless use of red has extended from regular carpets/rugs to wall hanging ones. This color represents fire, warmth, happiness, life, fortune, and wealth.
The blue color in the wall carpets: self-knowledge, mysticism, and wisdom. Other meanings associated with blue include honesty, friendship, life after death, and power.
Golden color in pictorial rugs: It symbolizes luxury, wealth, and aristocracy in tableau rug designs and is for aristocratic families and rulers.
White color in wall hanging carpets: White symbolizes purity, innocence, peace, and tranquility in Iranian hanging tableau rugs. This color is also used to evoke feelings of cleanliness and freshness.
The green color in tableau rugs: Green is a symbol of heaven and holiness in Iranian carpets. This color is also associated with plant regeneration after winter and hope, blessing, and spring.
Brown color in wall rugs: This color symbolizes soil, land, and fertility, and it is also used to convey the same meanings in Iranian carpets and tableau rugs.
Black color in wall decorative rugs: This color represents both strength and darkness. Black is rarely used as a background or primary color in carpet and rug weaving. This color is typically used to distinguish between other patterns.
Orange color in tableau rugs: Orange is the color of vitality and vivacity, and it is used in Iranian homes to create a sense of hospitality.
Purple color in pictorial rugs: This color, in its various hues, can evoke feelings of loneliness and sadness, as well as joy and love. A professional wall hanging rug weaver specializes in using different color ranges and understanding their various meanings.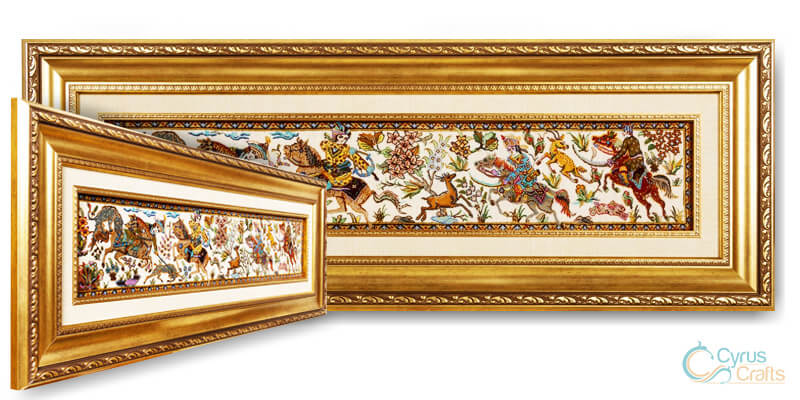 Using Royal Tableau Rugs in Wall Decoration
If you prefer a classic style in your home decoration, then decorative small rugs on wall are the best option for you. Tableau rugs bring originality, glory, and a nostalgic mood to your living space that ordinary wall paintings lack. Wall rugs are woven and manufactured in Iran in a wide range of designs and patterns. This allows you to select a design that complements your home decor and color scheme.
When selecting a wall hanging rug, it is critical to consider which wall you are going to install it on. A horizontal wall rug will help make the room's ceiling appear higher if the wall is short. Also, the use of vertical wall rugs in rooms with high ceilings is more visible.
Installing a tableau rug in a well-lit area helps to make it look beautiful in the space. Try to use soft and beautiful lighting around the tableau rug. If your tableau rug is large, try to place it on the house's main wall.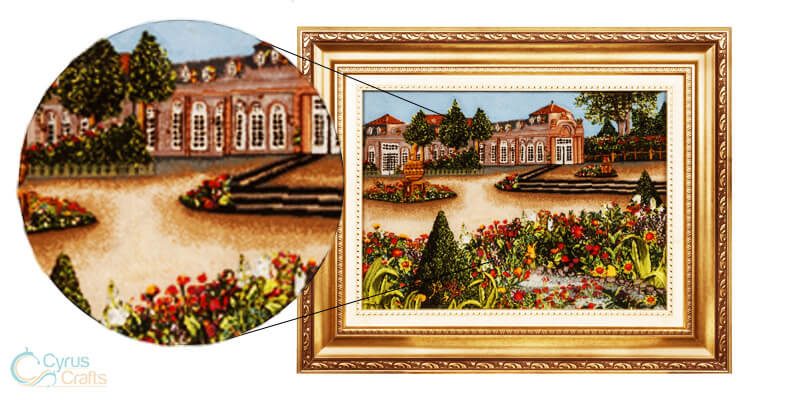 Price of wall rugs
Persian wall rugs are an eye-catching combination of painting and carpet weaving. Hand-woven wall rugs, especially if they are made of silk, have a high price because they are woven with exceptional elegance in different designs. 
Machine-made carpets are woven in various designs and densities of 700 Shaneh and 500 Shaneh. The price of this type of wall rugs is much lower than hand-woven types.
Wall rugs are usually placed in exquisite and patterned wooden frames, which give them a remarkable effect and splendor.
Here at Cyruscrafts, you can buy magnificent wall rugs at the best price. Their price can start from $60 and goes up to $14970 approximately.
How to Maintain a Wall Rug/Carpet?
Given the artistic value and the price of the tableau carpets/rugs, it is essential to understand the points surrounding the maintenance and care of these works of art.
The very first and maybe the most important point to remember is to pay close attention to the basic installation of the wall rug. If you use nails and hammers, be very careful not to damage the frame or the wall rug itself.
Moisture will cause the wall carpet texture to rot over time, and that the wall carpet's colors may also become cluttered. Inspect the wall behind the tableau rug regularly to ensure that moisture does not seep into the hanging carpet.
The texture of the framed rug fades when exposed to direct sunlight. In general, direct sunlight harms all rugs, including hand-knotted carpets and machine-made carpets, causing undesirable changes in the quality of their color and texture. When selecting a wall to install a tableau rug on, consider the amount of sunlight and, if it's necessary, relocate the tableau rug.
Choose the wall rug's frame with care!. Frames should be able to protect the wall carpet, in addition, to remain beautiful. We should note that the low-quality frames on the markets can cause damage to the texture of the wall rugs or perforation.
It is critical to avoid folding the hanging rugs and kilims for long-term maintenance. If you do not intend to hang your tableau rug on wall, it is best to keep it rolled up so that the wall carpet's texture does not break. Of course, in the tableau rugs cases, you must first detach them from the frame.
The Most Popular and Best-Selling Wall Rugs 
As previously stated, tableau rugs are designed and manufactured in various designs and patterns, some of which are much more popular and have a large number of applicants among those interested in tableau rugs. These hanging carpets are designed and manufactured in various styles and subjects, some of which are listed below. wall rug category based on style:
Miniature wall hanging rugs
Abstract wall carpets
Modern hanging rugs
Fancy wall rugs
Calligraphy tableau rugs/carpets
The "Wa In Yakad Verse" pictorial carpets are among the most popular and best-selling examples among Iranians. These hanging tableau rugs are adorned with a Quran of the same name, which Muslims believe protects the home from disasters and unfortunate events.
Flower (Floral) and bouquet designs, animals, nature, angels, Koocheh bagh, the last supper, sleeping beauty, and other design tableau rugs have always been popular among people around the world.
For many years, all kinds of Iranian wall carpets have been exported to different parts of the world. Today, due to the capabilities and knowledge available in the CyrusCrafts collection, these products are offered more and more in global markets.
Cyruscrafts specializes in supplying, selling, and exporting the most delicate Persian wall rugs and wall-hanging carpets. We bring high-class, one-of-a-kind products that will liven up and individualize your house or workplace.