The basic idea behind every bag and backpack is that people always carry items and objects with them depending on their job and interaction with their surroundings. Therefore, they need some containers to carry those objects, which necessitates the use of bags and backpacks.
Today, different types of accessories such as pieces of jewelry (rings, necklaces, earrings, bracelets, bags, and wallets) are manufactured all over the world for different applications, which we are going to discuss bags, purses, and handbags below.
More from CyrusCrafts' bags. When it comes to womenswear opulence, timeless style, and modern bags, one can get quite confused selecting the bag that could be the best option for them, we will help you with that, CyrusCrafts' line of bags, handbags, backpacks, etc. Are made from 100% high-quality materials, both modern and vintage.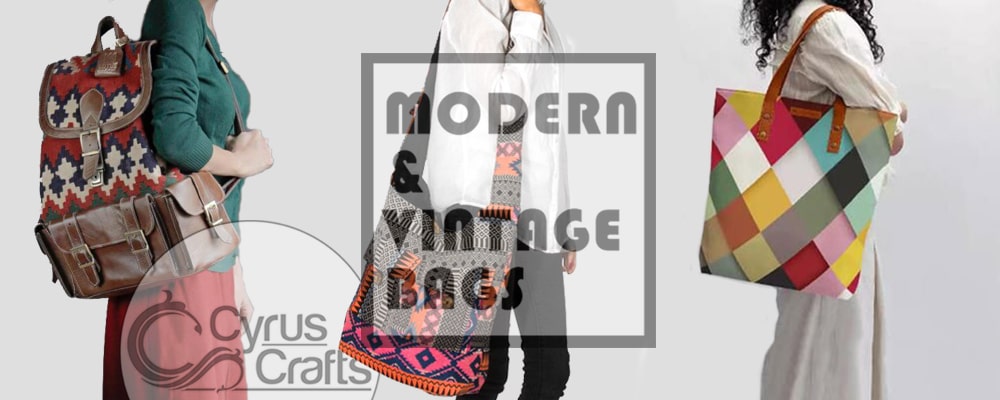 Different Types of Bags
There are various types of bags based on their style and fabric, but if you're looking for a unique, well-designed one, make sure you check out our collection…
Backpacks & Waist Bags
Waist bags and backpacks are two categories that cover bags worn predominantly on the back or attached to the waist which includes:
Backpacks
Daypacks
Belt Bags
Bum Bags/Waist Bags
Rucksacks
Satchel Backpacks
Backpacks are now one of the most versatile items, as they can be paired with a variety of outfits. In fact, the backpack has evolved into one of the best options for daily use or even short trips.
Backpacks are classified into several types, including club backpacks, everyday backpacks, and so on.
Formal backpacks, for example, are ideal for work or study because it has a fancy and stylish appearance in addition to their special and unique comfort. In fact, the benefit of these backpacks is that they are very light and can carry everything you need for the day at your workplace or school And our main focus is on handcrafted bags and backpacks.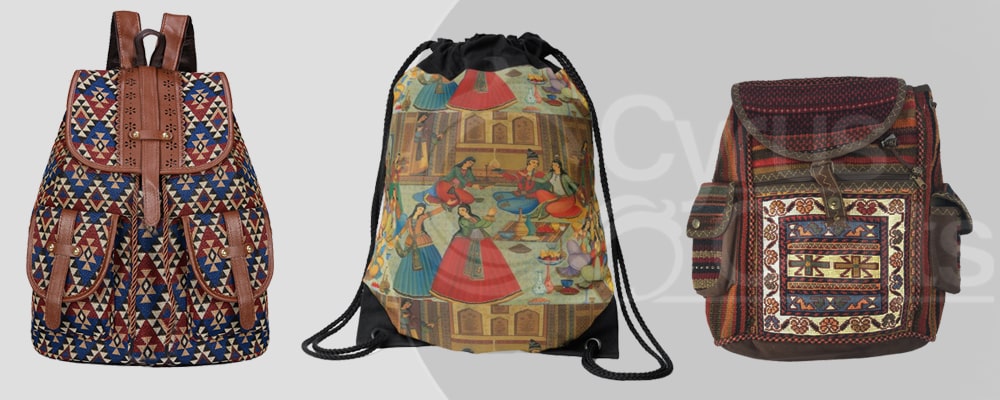 Handcrafted bags and backpacks are among the most popular handicrafts produced in Iran, with various uses, designs, and colors depending on the culture of each province. These items have small, regular, and delicate designs, as well as a high level of originality and quality. All of the types mentioned at the beginning of the article are made by hand in Iran from natural fabrics such as wool, cotton, Termeh, and so on. By visiting the website, you can purchase the best-handcrafted bags and backpacks at the most.
Kilim and carpetbags also are getting very popular these days, so make sure you give them a try.

Note: The combination of Termeh bags and Persian handmade earrings can result in an extremely unique look.
Handheld Bag & Clutches
Various shapes and features can be found in handheld handbags and clutches. They are designed to fit women's daily essentials in a bag larger than a purse.
Purses, clutches, and handheld bags include all the small bags that are usually carried without straps. These bags may have handles or not such as:
Pouch Bag
Clutch Bag (Envelope Clutch, Box Clutch, Kiss Lock Clutch)
Minaudiere Bag
Bracelet Bag
Basket Bag
Knot Bag
Pochette Bag
Box Bag
Circular Bag
...and all kinds of handheld handbags (single and double handle Handbags, accordion-style handbags, Trapeze handbags, etc).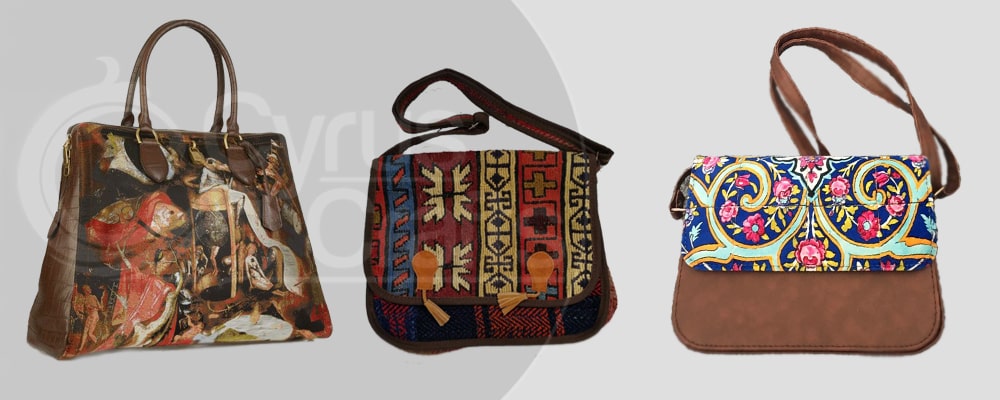 Djadjim handheld bags are among the most popular handcrafted bags and backpacks. Djadjim or Jajim is a type of handmade fabric that can be used to make a variety of handicrafts. Djadjim fabric is used to make a variety of products, including bags, backpacks, duvets, tablecloths, and mats.
For many years, Iranian artists have exported traditionally handcrafted bags to various parts of the world, and now, these products are increasingly available in global markets. You can also use a small handbag for your accessories which the term of handbag accessories is now used.
Price of The Handmade Bags
Hand-made leather bags tend to cost more than machine-made ones because hand embroidery requires a more specialized type of sewing. In general, the more delicate the tailoring of the bag, the more expensive it will be. SO the price can range something around $10 to $3,000
Shoulder & Crossbody Bags
These sorts of bags are worn across the body or one shoulder by a single strap. Baguette bags, straw bags, hobo bags, woven tote bags, muff bags, triangular bags, accordion handbags, bucket bags, quilted sling bags, and haversacks can be found in this category. The red shoulder bag is very probably the most famous one amongst women.
They are considered shoulder and crossbody bags because they are carried over the body.
Now to one popular kind, black leather messenger bag for men! they are pretty famous today, usually worn by couriers, are now gradually making their way up the fashion ladder and becoming more popular just like small leather shoulder bags.
Wear your vintage messenger bag tight to your body by pulling the strap close to you. You will then have easy access to the contents of the bag since the bag will not flap around.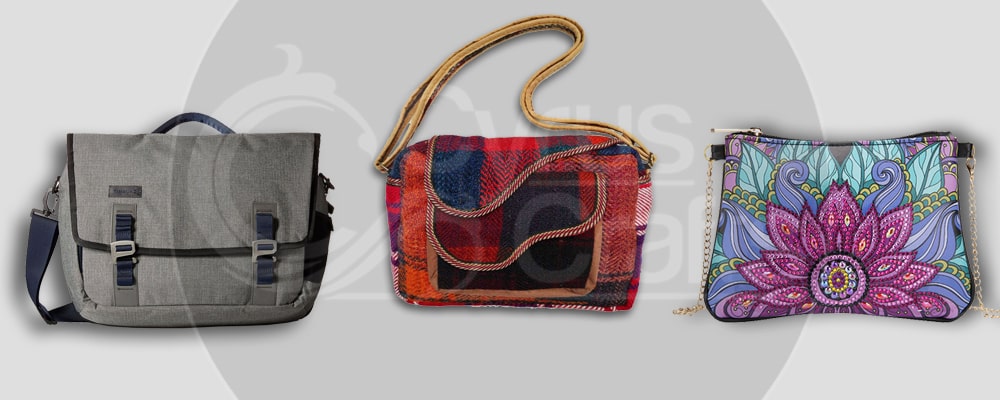 Last Words of CyrusCrafts' Bags
For many years, Iranian artists have exported traditional handcrafted bags to various parts of the world, and now, thanks to the capabilities and knowledge available on CyrusCrafts, these products are increasingly available in global markets.
CyrusCrafts specializes in the supply, sale, and export of elegant bags, handbags, wallets, and backpacks. We bring you high-class, pretty rare products that will lift up the standard of your look.