Pottery
Pottery is a precious, timeless art with a history that goes back to ancient times. The Persian word for pottery, as the product, is sofāl, which has been defined as a "clay container, urn, ceramic, or fired clay." Pottery, as the process, called Sofalgari in Persian, is the practice of making containers with clay.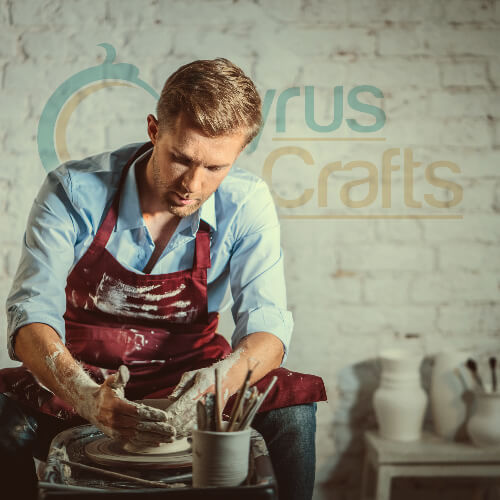 Different forms of pottery
Pottery comes in different forms:
Vases and flowerpots
Tableware (dinnerware, tea sets)
Decorative plates
Urns and jugs
Sculptures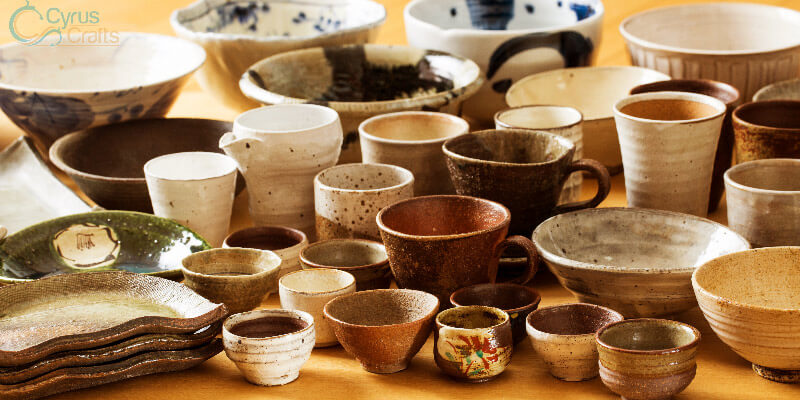 Decorative enameled Dishes, the most popular form Pottery
Among beautiful painting pottery containers decorated with various designs and motifs, the most popular are those ornamented with the traditional art of enameling. Varying in function, minakari ceramic containers come in different forms:
Plates
pottery mugs
Vases and flowerpots
Lidded sugar cube bowls
Wine decanters
complete samovar sets (teapots, samovars, water pitchers, cups, trays)
Different types of pottery goods
Unglazed pottery: Pottery not coated in glaze. Unglazed pottery is often made from red, ochre, or gray clay and mostly comes in the form of containers such as jars, urns, bird water feeder jars, bowls, and plates.
Gray/dark gray pottery: Metallic, glossy, extra-strong pottery that comes in black, gray, and, less frequently, yellowish- or reddish-gray, and in unique shapes. This type of pottery became popular with the arrival of the Iron Age and, after spreading throughout the Iranian Plateau, fell into a decline in the third century BC. Its examples have been found in the archaeological layers dating from the second half of the second millennium BC to the early first millennium BC, at sites in Khorvin, Kashan, Qeytarieh, Gilan, Mazandaran, Khorasan, and other Iranian towns and cities. Pottery of this type comes mostly in the form of vessels with a long tube whose design is inspired by beaks. Some examples of this pottery are colored solid gray or black, whereas others are decorated with zigzags and engraved olive leaf motifs. The decorations appear on the body, the lower part of the neck, and the handle. Some vessels also feature sun and moon motifs in low relief where the tube meets the body. Some archaeologists argue that gray/black pottery was originated by Aryan nomadic, warrior, equestrian peoples, referring to it as an "early Iron Age cultural phenomenon in South Asia."
Daqdar pottery:In daqdar pottery, motifs are drawn on unfired clay vessels using a stone or bone piece or fingernails, and get fixed after firing. The technique is called "daq" and has been popular in its different forms since prehistoric times.
Red pottery: Pottery made from red clay and using potter's wheels, decorated with painted or engraved motifs. Its earliest examples date back to Susa II, the third millennium BC.
Patterned red pottery: Handmade and fragile, this type of pottery comes in red and ocher. Its examples, mostly in the form of bowls and plates, have been discovered in the first archaeological layers at sites such as Ray's Tepe Cheshmeh-Ali, Kashan's Tepe Sialk, and Shahriar's Qarah Tappeh, dating back to about the fifth millennium BC. Patterned red pottery is decorated on both the inside and outside with geometric designs that border minimalistic, stylized motifs of playful animals. Some archaeologists view this type of pottery as a cultural phenomenon, calling it the "patterned red pottery civilization." Some also consider the redness to be due to clay type as well as kiln temperature.
How is pottery made?
The process of pottery consists of these steps:
Preparing the clay: Sifting clay soil, mixing clay and water in a basin, removing water impurities, transferring the resulting mud to the studio.
Forming the pottery: Often done solely with hand or using a potter's wheel.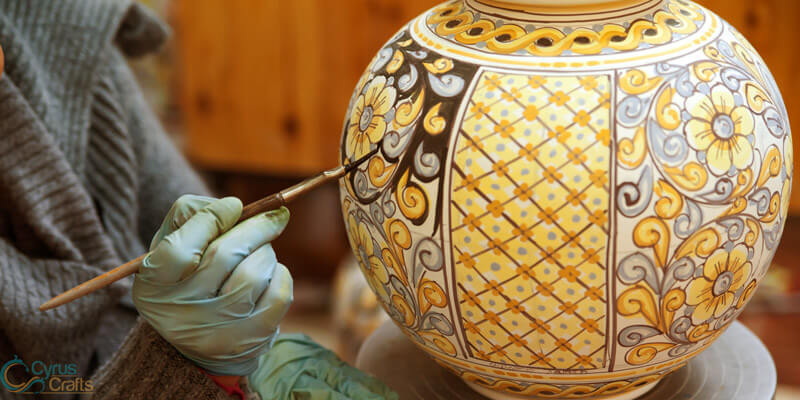 Pottery decoration methods
Pre-firing decoration: Its techniques include engraving, cut-out, and relief.
Post-firing decoration: Its most common technique is glazing.
Which Iranian cities produce pottery?
The main birthplace of pottery in Iran is the city of Lalejin in Hamadan Province. Other places in Iran where pottery is produced are Meybod, Kalporagan (in Sistan and Baluchestan Province), Shahvar (in Minab), Mend (in Gonabad County), Tabriz, Zonuz, Qom, Semnan, Shahreza, Saveh, Gilan Province, and Mazandaran Province.
What countries is Persian pottery exported to?
Same as other Iranian handcrafts such as khatamkari, toreutics, marquetry, and woodcarving, Persian pottery is also popular with many art enthusiasts around the world, which is why it's extensively exported to numerous countries, including European countries and the Arab states of the Persian Gulf (e.g. Qatar, the UAE, and Kuwait), as well as Turkey, Russia, Uzbekistan, Oman, the US, and Canada. We at Cyruscrafts hope that our expertise can open up more export opportunities for Persian pottery.
Cyruscrafts specializes in the supply, sale, and export of the finest pottery in the world. We bring you high-class, one-of-a-kind products that will liven up and individualize your home or workplace.
Cyrus Mag
While many people are easily able to select a suitable design to match their bedroom theme, it can be a challenge...

Decorate your home with amazing metal crafts. Cyruscrafts offers a wide selection of metal Handicrafts Suitable...

Decorate your home with incredible Wooden crafts. We offer a wide range of Wooden handicrafts Suitable for your...