Cookie
Iran is the land of arts, tastes, and flavors. From traditional and regional cuisines to delicious pastries, cookies, and biscuits, Persian food reflects Iranian peoples' age-long efforts to discover and create wonderful new flavors.
Every region in Iran has its own pastries, cookies, and snacks, which have been shaped over time by the culture and general taste of the people there and even by the climate of that region.
Some of the most famous Persian cookies
Fuman cookies: One of the most popular of its kind, Fuman cookies originated in northern Iran. Round in shape, they're stuffed with ingredients such as walnuts, cinnamon, nutmeg, cardamom, and sugar.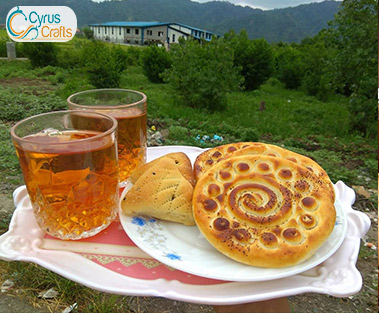 Lahijan cookies: Also from northern Iran, Lahijan cookies are soft in texture and make a great combination with afternoon tea or coffee. The cookies are stuffed with cinnamon, walnuts, vanilla powder, and other ingredients.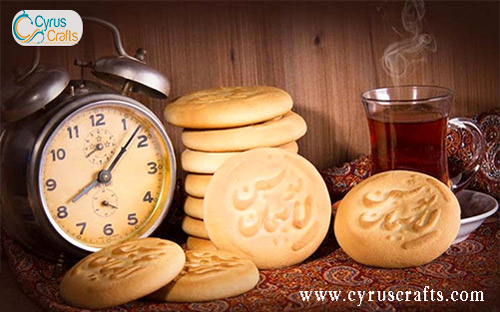 Coconut cookies: So sweet that they're sometimes called "coconut sweets," these cookies can be found all over Iran, and are among the most popular Persian pastries served at holiday events and at parties. As the name suggests, the main ingredient of the cookies is fresh shredded coconut, which gives them a fantastic flavor and a soft texture.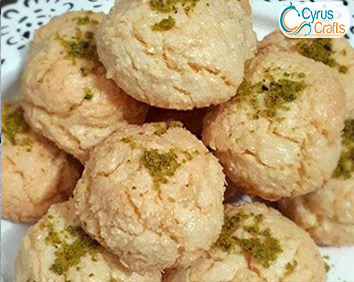 Ginger cookies: Although they're found in many parts of the country, true ginger cookies are baked in Tabriz. One of the main ingredients along with Persian saffron, ginger gives the delicious cookies not only a special flavor but also health benefits such as lowering blood sugar levels, relieving pain, and thinning the blood.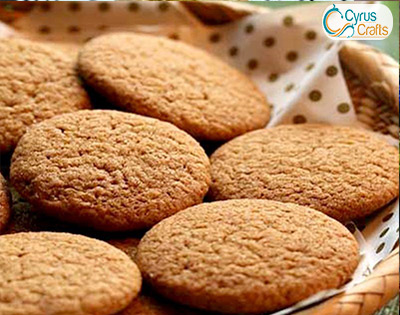 Some of the famous Persian pastries
Baklava: One of the most famous and delicious Persian pastries, baklavas are also found in other countries such as Turkey, Lebanon, Jordan, Iraq, and Azerbaijan. Baklavas are usually small and come in square, lozenge, or rolled shapes. Persian baklavas contain rose water, cardamom, vanilla, and ground almond and pistachio to give them a special flavor. Baklavas make a terrific afternoon snack with Persian tea.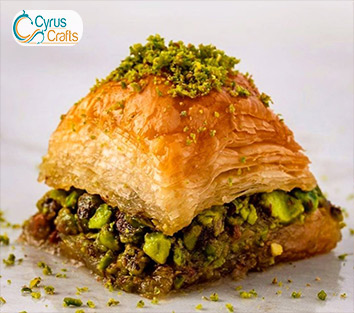 Nokhodchi: Among the smaller Persian pastries, Nokhodchi's are soft in texture and made from gram (chickpea) flour as their main ingredient. Garnished with ground pistachio, Nokhodchis are hugely popular with Iranians.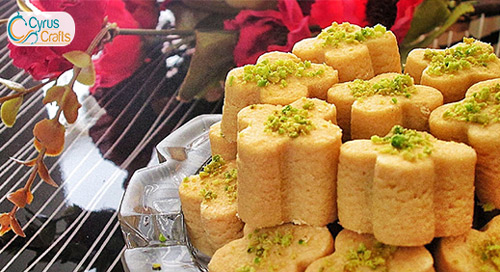 Ghorabieh of Tabriz: The priciest regional Persian pastry, ghorabieh pastries contain a large amount of pistachio and almond, two expensive ingredients. Ghorabiehs are originally Iranian but can be found in a few other Asian countries as well.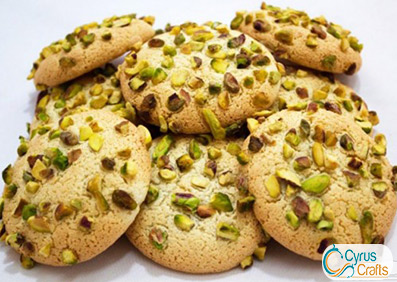 Defining ingredients of Persian cookies and pastries
As you may have already noticed, there are some ingredients shared by many of the cookies and pastries introduced above. These recurring ingredients are rose water, cardamom, saffron, pistachios, walnuts, almonds, cinnamon, and ginger. Giving pastries a spectacular flavor, they're often pretty easy to find in Iran.
CyrusCrafts will provide you with high-quality and unique products as part of its specialized activity in preparing, selling, and exporting the best Iranian cookies so that you can experience a wonderful and one-of-a-kind taste and serve yourself, your family, and your guests in a healthy, unique and different way.
Home
Haj khalifeh
Ta-467
Produced in Iran (Yazd) delicious sweets high quality In package of 550 gram (1.21 pound) 
Tasty!
Kermani
Ta-585
Produced in Iran (Lahijan) With walnut kernels Delicious and healthy sweets In package of 40 pieces
Tasty!
Naderi
Ta-671
Produced in Iran (Lahijan) With raisins and walnut kernels Delicious cookie pack of 12 pieces  In package of 500 gram (1.10 pound)