Due to its unique features and taste, Sohan is one of Iran's most popular and traditional pastries. To get acquainted with different types of Sohan and recognize their quality, continue reading the Tasty section until the end.
Sohan Buying Tips
Imbued with the richness of history and the depth of Iranian culture, Sohan, a Persian delight, unfurls a tale as delectable as its taste. This traditional confection, savored for millennia, can trace its lineage back to the time of the ancient Silk Road. Legend vividly depicts its inception, crediting a masterful Iranian pastry chef who aspired to encapsulate the quintessence of Persian flavors in one tantalizing morsel.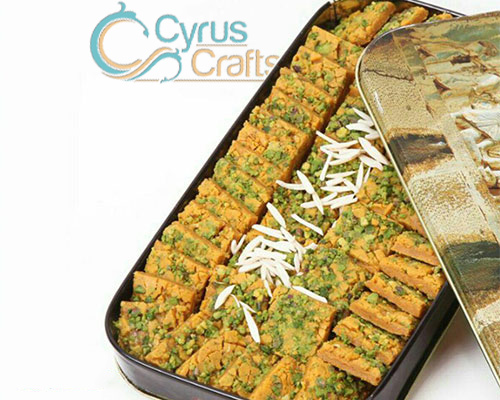 Sohan Ingredients
The ingredients used in baking Sohan are very effective at preserving the quality and freshness. Sohan main ingredients are flour, wheat germ, white flour sugar, animal fat or vegetable oil, saffron, butter & honey—but perhaps most importantly, cardamom & rose water!
The Nutritional Value of Sohan
Sohan's enchanting flavor is but one facet of its allure. The sweet offering is a repository of nutritional boons, making it a pleasure to indulge without guilt. A harmonious medley of butter, sugar, nuts, and sometimes dried fruits gives rise to this delightful treat.
These constituents supply healthy fats, proteins, and dietary fiber. Furthermore, Sohan teems with vitamins and minerals, boasting a portfolio rich in Vitamin E, magnesium, and iron. Thanks to its balanced fusion of nutrients, Sohan can be relished as a nourishing snack or a delightful dessert.
Properties of Sohan
The Sohan provides the following benefits:
Its egg yolk contains a lot of protein that strengthens bones and improves central nerve function.

Cardamom prevents stress.

Wheat germ is used for its vitamins B, E, calcium, phosphorus, zinc, iodine, and selenium. It prevents hair loss, eliminates dandruff, improves skin problems, and prevents cancer.

Reducing blood cholesterol, improving heart function, and eliminating depression are among the benefits of saffron in Sohan.

Pistachios

 in Sohan prevent cancer and heart attack and are exhilarating.
Sohan 

for Festivals & Special Occasions

Sohan is not just a dessert but a symbol of celebration and joy. It graces the tables of festivals and special occasions, adding joy and merriment with its sweet, nutty flavor. Whether it's a wedding, a birthday, or the Persian New Year, no celebration is complete without this traditional delicacy.

Each bite of Sohan is like a trip down memory lane, reminding us of the rich cultural heritage that it carries. So, sweeten it with a piece of Sohan the next time you celebrate a special moment.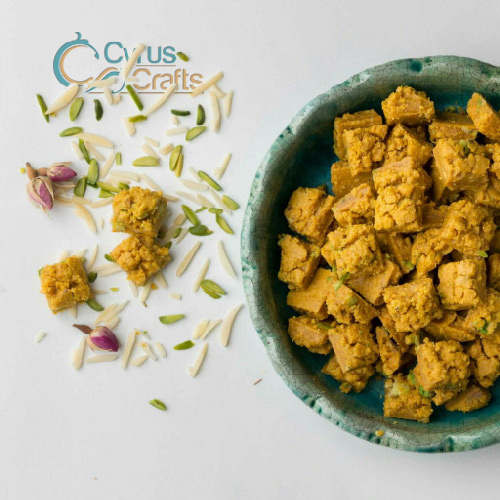 Different Types of Sohan
Sohan comes in various varieties and flavors, each offering a unique taste experience. One popular variation is Saffron Sohan, which incorporates the exquisite flavors of saffron, a spice highly valued in Persian cuisine. The vibrant yellow color and delicate aroma of saffron infuse the Sohan with an irresistible allure. The most famous and popular sohan include honey, sesame, almonds, pistachio—and Gaz candy. Here are some examples:
Sohan-e Gol Qom: This Sohan is one of the most delicious ones produced in large and small sizes. Usually, the large size is thicker, and the small size is thinner.

Coin Sohan: This Sohan, like its name, is similar to a coin and is smaller than a delicate flower. One of the most suitable options for catering.

Baklava Sohan: It is similar to baklava in appearance, and this Sohan is thicker than a delicate flower, which is very tasty and yummy.

Cube Sohan: This type is minimal and needs more cohesion. This model is not suitable for parties and is recommended for personal use.

Sohan-e Gazi: This is one of the delicious types of Sohan with gaz in the middle.

Sohan-e Loghmei: One of the famous and best-selling types of Sohan, available at a higher price than other samples due to having many 

nuts

. This type of Sohan is like a small pillow with small slices of pistachio and walnut in the middle. 

Sohan-e Asali: The amount of 

honey

 in this type of Sohan is much more than other types.

Sohan-e Konjedi (sesame sohan): Unlike Sohan-e Asali, this type of Sohan uses sesame seeds instead of nuts.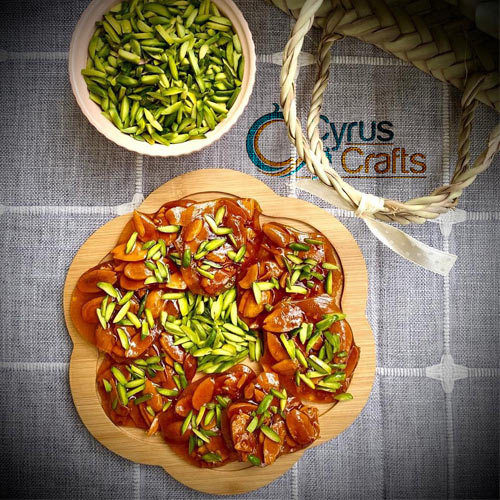 What Makes Sohan a Great Gift Idea?
Brimming with enchanting flavors and cultural significance, the Iranian sweet treat, Sohan, is an impeccable gift for all occasions. Whether a jubilant celebration, a significant milestone, or a humble token of gratitude, offering a box of Sohan is a heartfelt way to share a morsel of Iranian heritage and satiate their culinary cravings; with its ornate packaging and irresistible palate, Sohan emerges as a gift to be treasured and recalled fondly.
Sohan Buying Tips
When purchasing Sohan, there are some important things to keep in mind:
Color: Sohan should be light brown and have a pleasant aroma.

The Safety of the sohan inside the box: The packaging must necessarily include the name and specifications of the factory, health license, net weight, ingredients, and expiration date.

Where You Buy It: Try shopping from reputable stores. Cyruscrafts online store is a reliable store for buying Sohan.

Storage: Keep it out of direct sunlight and away from windows or other heat sources. Keeping the product cool and not exposed to high temperatures will help maintain its quality.
Sohan is mainly produced in the cities of Qom, Yazd, Kerman, etc., so this product is considered an essential food item for export and is currently exported to European countries, the Americas, and Asia (Arab countries and China).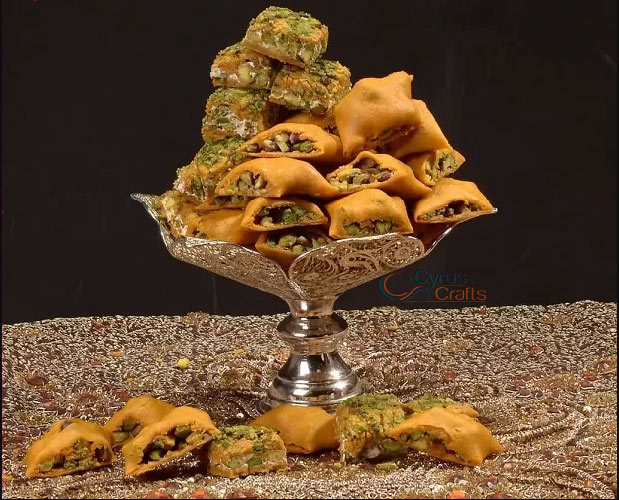 Other Persian Pastries
While Sohan is a delicious Persian treat, other notable pastries from Iranian cuisine are worth mentioning. Baklawa, a delicate pastry made of layers of thinly rolled dough filled with nuts and sweetened with syrup, is a popular choice for those with a sweet tooth.
Gaz, a soft and chewy nougat-like confection, offers a unique combination of flavors, including rosewater and pistachios. Qottab, a crescent-shaped pastry filled with a sweet mixture of ground nuts and cardamom, is another beloved Persian delight. These pastries, like Sohan, showcase Iran's rich and diverse culinary heritage.
Cyruscrafts, specializing in the supply of Iranian sweets and delicious Iranian souvenirs, provides you with a wide range of top-quality products. These items make excellent table decorations for guests or simply as food gifts.

Read More