Using a backgammon and antique chess board, you can create enjoyable moments for yourself and those around you. The game of chess and backgammon is one of the most challenging games that test your ability and intelligence. You have to use the power of visualization, tactics, and basic techniques to move the pieces on the board in such a way as to defeat your opponent. A beautiful and practical product for your free time.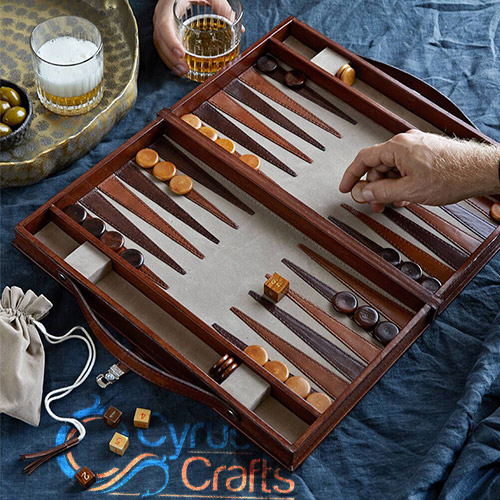 Traditional chess and antique backgammon boards are often presented together on the board. Usually, the chess game is on the top of the board, and the backgammon is behind it. It isn't only a means of entertainment and games, but you can give handcrafted or handicraft models as eye-catching gifts to your friends and family.
Backgammon Board Game 
This board game in CyrusCrsfts online store is made of the best wooden material and is high-quality. In fact, the history of backgammon refers to what made this game was to compete with the game of chess. 
Various models of backgammon have been produced; such as:
Tables
Pads and Boards
Chess and Backgammon Wooden sets
Hand-painted Boards
Inlaid Backgammon Boards
One of the best and most beautiful models is the inlaid backgammon, which also has various models and designs.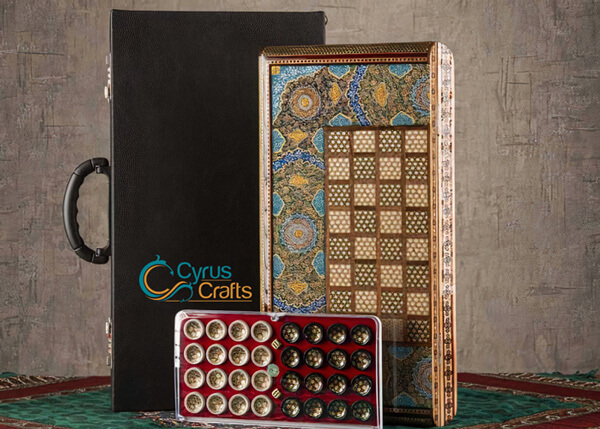 Price of Backgammon
Based on some factors, the price of backgammon boards or tables can vary in a massive range:
Size of the Board: As a result, a board with 25*25 cm dimensions has a lower price than 50*50 cm.
Note: If you want to enjoy the real sense of this game, you should buy the bigger size (50*50cm), and size 25*25 is the best choice for carrying.


Backgammon Material: Before buying a board, you should know that wooden antique backgammon has the best quality of other materials. And maybe the wooden boards have a little more price, especially if they are made of expensive wood such as Canadian wood.


Accessories: As you know, any product with accessories is more expensive. The storage bag and box for keeping the pieces can increase the price of the backgammon set.
Inlay boards or hand-painted ones are 100% handmade and luxury backgammon sets can be really pricey. You can buy them at CyrusCrafts Store and the prices may surprise you. With a guarantee of authenticity and high-end quality, ready to be shipped worldwide, especially to the US and Canada.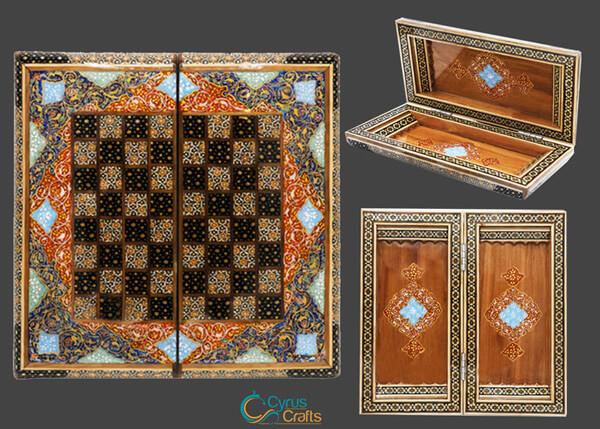 Types of Chessboard
Chessboards have many types, the folding model which is the most popular one is one of those models and if made of good material, you won't regret buying it. This model is easy to fold, portable, and usually light. 
Some of the products have traditional designs, such as Khatam chess, which is the art of Isfahan city. In addition to efficiency, this chess has a unique beauty. You can give your friend this luxury product as a valuable gift or buy it for personal use. In addition to the plate's material, the beads' material is also essential. Beads are made of wood, plastic, fiberglass, etc.
A chess table is the best option if you are very professional and would like a special place for chess in your home. This product has two chairs and a table designed on an antique chessboard table, and you no longer need to buy a separate board. Just sit at the table with your opponent and start the match. This product is more expensive than simple models, making it more enjoyable to play behind.
Chess tables are designed and made in a standard way for playing chess. Most of these tables are made of walnut wood and are very high quality. Some of these tables are multi-functional so that they can be used for other games. Some of them have separate drawers for keeping chess pieces.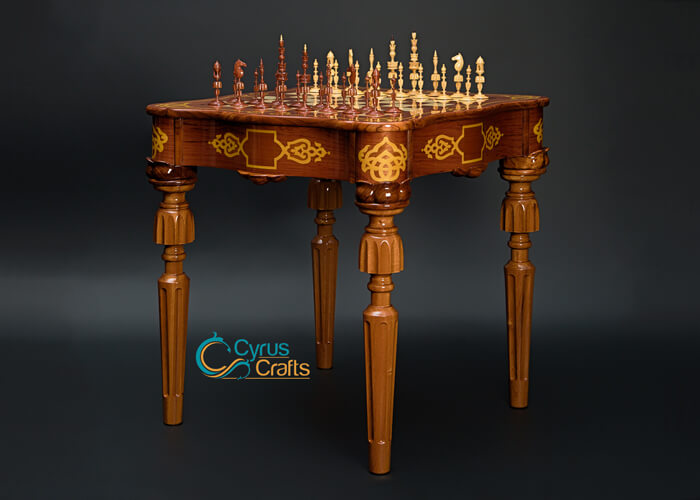 Chessboard Price & Material
The material of the chess and beads can be wooden or plastic. The wood material is both more valuable and more enjoyable to play with. Some boards have designs and patterns, and others are straightforward. In general, chess set materials contain:


Wooden chessboard
Marble chess set
Plastic Chess


The price of the chessboard also has the same factors as the backgammon.
Cyruscrafts' Backgammon & Chess
The CyrusCrafts team is proud to offer the finest Persian handicrafts at the best prices and conditions to all prestigious enthusiasts and collectors worldwide, especially those in Canada, the United States, and Europe.