Gaz| Tasty Candy
Gaz (Persian candy) is a traditional and extremely tasty candy. Iranian cities produce various types of candy and cookies popular for souvenirs, including Gaz, trail mix, Baklava, Qottab, and Sohan. However, nutrient Gaz is one of the oldest confections/candies prepared and used as one of the main souvenirs in Isfahan.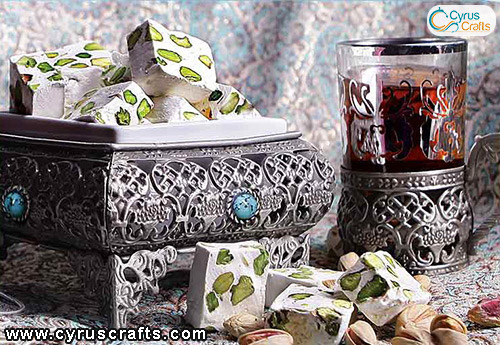 Properties of tasty Gaz (Persian candy)
Gaz has many advantages Because of its Angabin. Angabin is a laxative used for children. It is also used to treat eye diseases, but the most important function of this unique and rare substance is in the production of Gaz. Gaz contains more beneficial and nutritious ingredients such as rosewater, pistachio, almond, and egg white, which enhance its nutritional properties.
Angabin increases hemoglobin levels in the blood strengthens the body and increase energy levels. However, because it is a natural and scarce substance, and because the amount of gas produced and exported has increased, some Gaz producers prefer to use sugar or liquid glucose instead.
You can substitute Persian Gaz for candy, which contains a lot of industrial oil, palm oil, and sugar and is bad for your health. Other advantages of Gaz include its ability to treat anemia, its antioxidant properties, and its ability to boost the immune system. Other natural ingredients, such as rosewater, honey, saffron, cardamom, and others, can be used in this extremely tasty Iranian candy.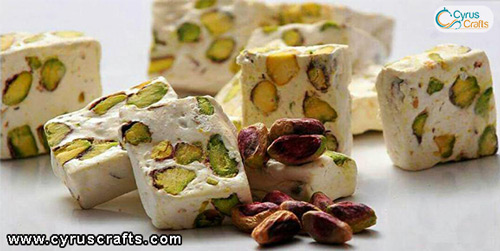 Floury Gaz recipe
The traditional method of preparing Gaz has been popular for a long time and is still used in some old workshops in Isfahan!
Large dishes known as cauldrons are used to prepare Gaz in the traditional way. To begin, a large amount of water, Angabin, and sugar are combined and boiled. Water should account for 20% of the total mass of sugar.
The two should be boiled for 20 minutes before adding glucose and finally Angabin nectar (or cotoneaster or manna of Hedysarum).
The resulting mixture is then transferred to another cauldron, heated, and stirred with large special paddles. The stirring process is repeated until all of the ingredients have evaporated and a completely thick substance has been obtained. "Siah Chashni" (black spice) is the name given to this concentrated substance.
The egg whites should now be added. When the Siah Chashni mixture has slightly cooled, a proportionate amount of egg whites is whisked to foam and then added. This is especially important because if the white eggs are added when the Siah Chashni is too hot, they will burn and render the entire dish unusable.
When egg whites are added to the mixture, the volume of the ingredients increases and they turn white, which is why the compound is now known as "Sefid Chashni" (white spice).
At this point, the heat should be reduced and the ingredients should be stirred more slowly. The mixing process must be continued in order for the ingredients not to stick to the hands.
The ingredients are then supplemented with nuts such as pistachios and almonds. Because using a larger amount of nuts necessitates a more concentrated composition of the ingredients, a proportionate amount of them must be used.
The final step is to add pistachios or almonds, or both, to the ingredients. The gaz is removed from the heat and taken out of the cauldron immediately after the nuts are added. For cutting and preparing the gaz, a large rectangular tray covered with flour is used. The gaz is spread out on the tray and placed in a cool place.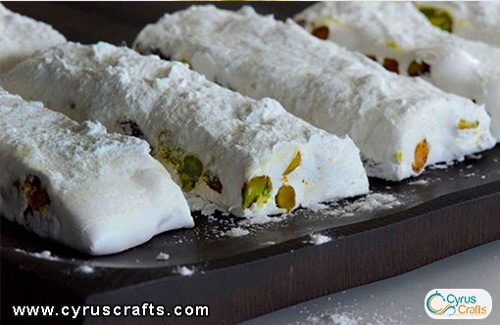 It is then cut into squares, rectangles, or small circles with a tool, most commonly a circle mold. To be sent to stores, Gaz confections are placed in boxes with flour-covered bottoms, flour is used between each row, and the boxes are neatly packed.
The last word about gas (Persian candy)
We hope you have had your fill of "Gaz" a white, healthy, and delicious Iranian confection. This article was written to introduce you to various foods produced in different cities and regions of Iran. For several years, Gaz and other Iranian products have been produced and exported to other countries, including Europe and the United States, but we intend to contribute to their production and export by utilizing CyrusCrafts' capabilities and knowledge.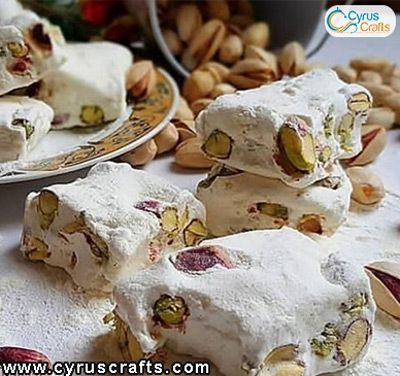 CyrusCrafts will provide you with high-quality and unique products as part of its specialized activity in preparing, selling, and exporting the best Iranian Gaz (Persian Nougat and candy), so that you can have a wonderful and one-of-a-kind taste and serve your guests in a unique and different way.