Toreutics / Hand Engraving
Engraving or Qalamzani is the art of creating lines and designs on metal by hammering a burin. Categorized as metalworking, it's a popular form of traditional Persian arts.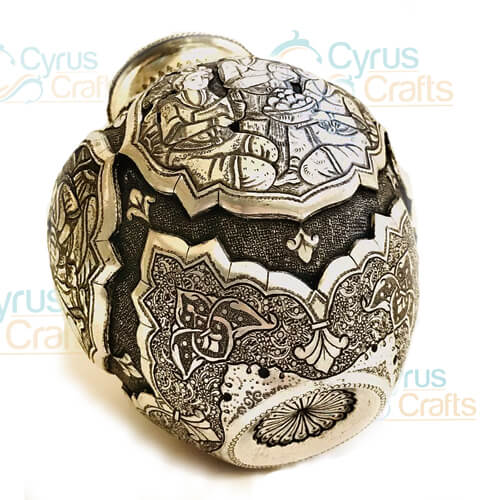 What to use Engraving products as
Works of Engraving(Qalamzani) are among the richest and most exquisite Persian handicrafts and can serve as:
Eye-catching and unique decoration for homes and workplaces
Ideal gifts for friends and acquaintances
Outstanding promotional and corporate gifts
Splendid artworks that embody the authentic Persian culture and art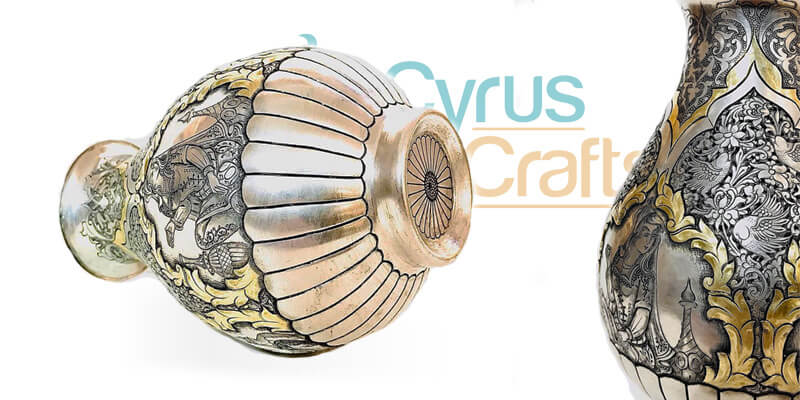 Toreutics / Engraving products
Varied in form and function, works of toreutics (Qalamzani) include:
Cake/dessert stands
Fancy nut bowls
Vases
Lidded bowls
Traditional long-neck water pitchers
Framed toreutics
Charcoal samovars
toreutics Trays
Lidded sugar cube bowls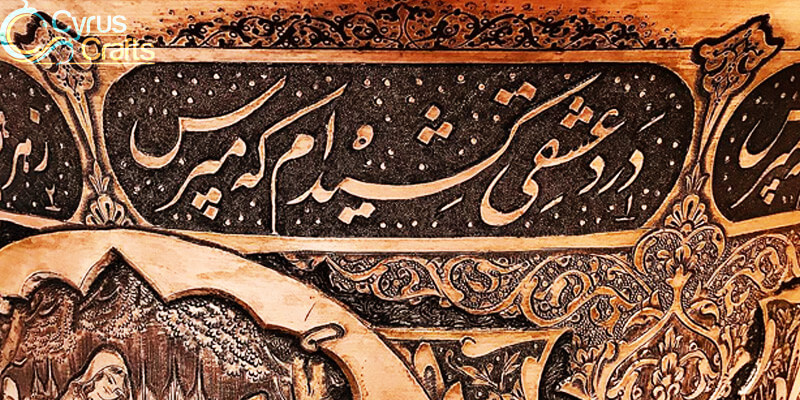 Tips to know before buying toreutics (metal embossing)
Here's a list of important points you should check when buying Isfahan metal embossing products — they're the criteria that we also make sure our products meet:
A flawless and intact base surface
Delicate designs and perfectly smooth edges
A full and detailed background
Flawless solder seams (in containers made up of conjoined parts)
Styles of toreutics or engraving (metal embossing)
Embossed: In this style, designs are embossed on the object, using round, flat, and other burins.
Reverse embossed: In this style, regular burins are used to carve negative spaces of a design low enough that the positive space stands out in relief.
Fine work: In this style, the surface stays flat, and the most frequent designs include flowers, birds and etc.
Engraved: In this style, designs are carved using a pointed burin.
Openwork: This style involves cutting the negative space of a design out of the metal surface, and was used in the past to decorate street lights.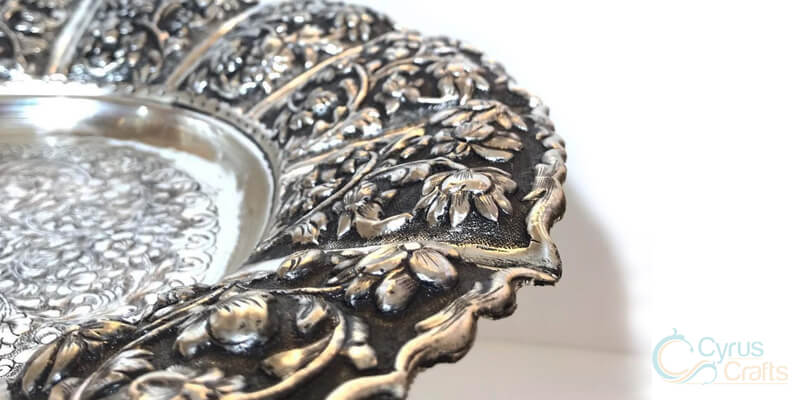 Where is hand engraving produced in Iran?
Works of toreutics (Qalamzani) are mostly produced in Shiraz, Isfahan, Tabriz, and Tehran.
Shiraz: The heart of silversmithing and silver toreutics.
Isfahan: Silversmithing and silver toreutics are more popular in Isfahan than in other cities of Iran.
Tabriz: Has well-established silversmithing and toreutics industry.
The Price of the Persian Embossing/Engraving Metal
In order to make the best decisions when buying engraving utensils, we want to let you know the prices of engraving products and all the factors that affect on them!
Various factors such as material (engraving products can be copper, silver, brass Etc.), model, quality, etc. affect the price of these products. But most of the times the price is something around $60 up to $2,000.
Metal embossing export
metal embossing products are among the best-selling handicrafts made in Iran. This traditional Persian art has captured the interest of many in not only Iran but also other places around the globe, creating considerable demand for Persian toreutics in numerous countries. Iranian works of toreutics are currently exported to the UAE, Qatar, Turkey, China, the UK, Belgium, Colombia, Austria, Canada, Iraq, Germany, Nigeria, Spain, Italy, New Zealand, France, Jordan, Kuwait, Malaysia, and Bosnia and Herzegovina.
Cyruscrafts specializes in the supply, sale, and export of the best Persian handicrafts, including works of toreutics (Ghalamzani). We bring you high-class, one-of-a-kind products that will liven up and individualize your home or workplace.