As the central part of home furnishings, plates can also be of many functions. One of the wise and appropriate choices for interior decoration is to use decorative plates on the walls or tables. 
The materials and sizes of these decorative plates can vary a lot. Examples include decorative plates made of ceramic, glass, stone and wood, which will discuss shortly. Depending on the size, you can put one or more decorative plates on any wall or table. Wall-hanging plates are hanging decorative objects that can serve the wall just like a painting. Minakari/enamel plates, for example, are great for that purpose.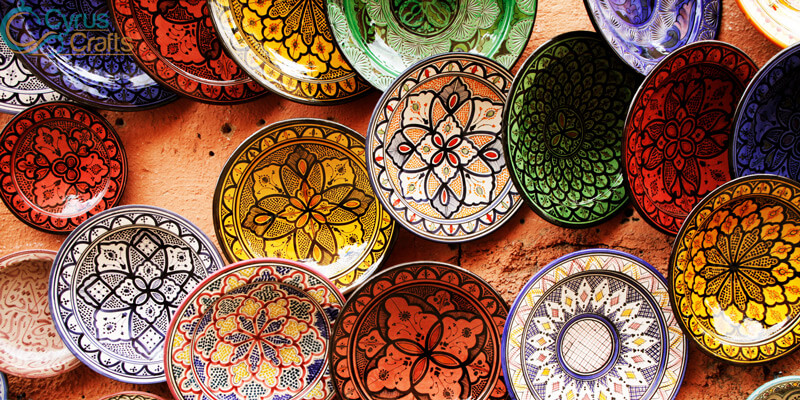 You can have a traditional and formal layout and a comfortable, modern one. It does not matter which category your house design falls under. Every house requires some form of decorative accent. Whatever your taste is, there is something to suit your house the best.
Home accessories such as ceramic plates or wooden plates (if you are Canadian you have already seen or even used these) displayed on the table are suitable for decorating your living space. Investing in these appliances will make your home more beautiful, regarding of the budget. You probably have many questions, and we have answers, so stay tuned.
One of the questions about Decorative wall plates that anyone who first comes across one is "why would I need a decorative plate?" once that is answered, other questions come up to mind... like "Which model, gender, or size should I choose?," "Is there an upcoming trend for ornamental dishes?".
Types of Decorative Plates by Design
There is a big variety of decorative plate designs such as floral plates, blue turkey plates, minakari plates, turquoise plates, and much more. But we are going to talk about two of the most common ones! Minakari plates and Turquoise plates.
Meenakari/Minakari Plates
Most of these plates are crafted by hand and it is not easy to meet otherwise situations. That makes each piece unique and of very high quality. Handmade Minakari plates are inspired by Persian art and are a very proper choice for wall decor. One of the distinguished courses of art in Isfahan is the art of enameling which focuses on decorating objects (mainly copper) with colored and baked coats.
Ornamental plates of this type are called minakari plates, which have around 5000 years of history. Persian minakari plates symbolize the heavens' blue sky. Minakari crafts are traditionally blue, but we can find them in many colors these days, including green, grey, pink, etc.
Turquoise wall decor Plates
You might already know about Turqoiyuise and the Kingman mine in northwestern Arizona which is the largest turquoise mine in the United States, but turquoise inlaid items are something else...
How is turquoise mounted on copper plates and what is the art of turquoise inlaying? This may be the first question you ask once you see a turquoise inlaid plate. Performing the steps of turquoise carving with an uncommon taste from Isfahan.
If you are interested in turquoise wall decor plates, a good understanding of the art in Iran is vital for you. It is important to note that turquoise items vary with the quality and quantity of production from commercially active workshops. Turquoise products thus can vary in price a lot.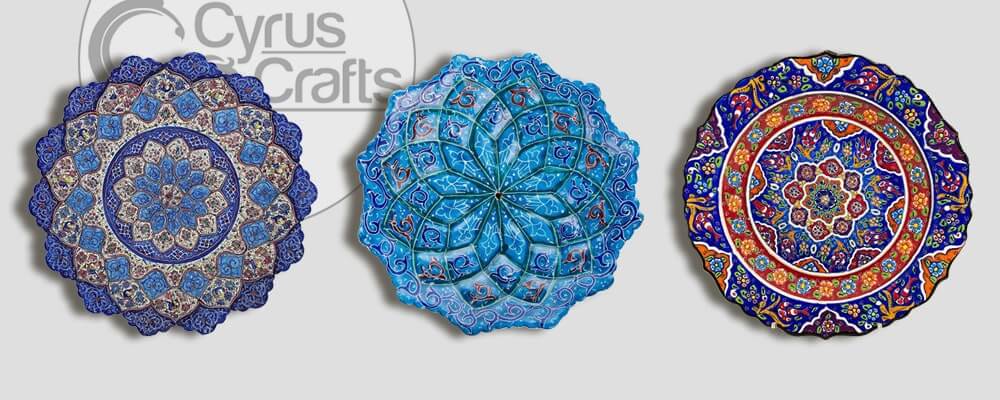 Types of Decorative Plates by Material
Materials of Persian decorative plates include:
Ceramic Plates: Ceramics have been glazed and fired to produce these decorative ceramic wall plates. A thick, heavy, and rustic kind of linen has a rustic look and feel, but doesn't last as long and is more prone to chipping than other types of plates. Hand-painted design is typically applied to them. Earthenwares are often less expensive than other types of decorative plates so they can be an excellent choice for gifting.


Glass Plates: have always been a favorite of many people and artists because of their elegance and, of course, transparency look. Making a striking and stylish addition to any home, glass plates are now considered one of the best decorative choices. You can hang them on the wall next to your artwork for a double beautifying effect, or just put them on the table, it will do the job also.


Silver and Gold Plates: Decorative plates of this kind can be quite pricey, but the look of these plates and the impact they have on the interior design is unimaginable.


Brass Plates: Brass is a combination of copper and zinc alloy. This alloy has been widely used from the past to the present and is one of the most frequently utilized metals in the art of metalworking. This metal is widely employed in making all kinds of utensils, jewelry, home decoration, and most important "brass handicrafts". Brass plates can be a wise choice because they are almost unbreakable and can serve your house for a long time, and the price them is not as expensive!
Decorative Plates Price Calculation
The price of decorative plates is determined based on the type and weight of the material used, but more importantly, on the patterns and drawings made by skilled artists who have spent a great deal of time creating these. As well as the destination country's taxation policy. For example, for the United States of America, it even falls down to the state you are located in. Feel free to blame state tax policy for that.
Uses of Decorative wall hanging Plates
Home Usages: Decorate your home with wall dishes or wall plates in different patterns, colors, and designs, or just put them on the table or shelf using plate stands for a better look of the space, be careful though because most decorative plates are made of easily breakable materials (except for metal plates). We are putting in all the effort we can afford to get the result you want.
Gifting porpuses: Do you have trouble finding the appropriate present for your loved ones? You can gift these plates to your friends, relatives, or coworkers/employees as a thoughtful gift for work, this could be a birthday present, a new year present, or just a workplace gift. This is because they are some of the most peculiar and valuable, decorative plates available online! The recipients are sure to be excited.
How to Install Wall-Hanging Plates?
Using adhesive discs or sticky discs is one of the easiest ways to hang plates on a wall. When you add water to the discs, glue is activated. The discs are attached to the back of your decorative plates, then you hang the hooks attached to them on the wall.
Last Words of CyrusCrafts
CyrusCrafts and its experts are helping to improve the visibility of traditional Iranian decoration and handicrafts to all people around the world, especially those in Canada and the US,
With a variety of decorative dishes and wall-hanging plates to choose from, CyrusCrafts is a company that specializes in elegant wall-hangings and decorative dishes. Our mission is to liven up and enhance your environment with our high-quality, one-of-a-kind products.