The Persian word Termeh refers to a costly cloth woven from very silky threads. Weaving Termeh tablecloths are one of the oldest Persian art styles. Termeh is "a patterned cloth with colorful floral and paisley designs."
Authentic Termeh Tablecloths vs. Fake
Buying a Termeh tablecloth, you might wonder whether it is a real termeh. Yet, most inexperienced Termeh enthusiasts must learn to distinguish a real Termeh from a manufactured one.
The gorgeous handicraft, the Termeh tablecloth, was traditionally woven by hand out of silk. Nevertheless, Today, it is possible to produce it with other threads. Termeh comes in various patterns and color palettes, the most popular of which is paisley. Stunning color harmonies are an everlasting feature of Termeh clothes. When buying an authentic Termeh tablecloth, you must consider some factors:
Softness: A genuine Termeh is extremely soft, so you can easily distinguish it by touching and feeling it. If it felt rough, it means the Termeh is fake.
Primary Material: Persian handwoven Termeh tablecloths are expected to be high quality, so they're always woven from top-grade silk and are completely free of rayon, polyester, or cotton. Many Termeh products are made from low-grade major materials, which means they're not authentic and high-quality Termeh.
Polyester vs. Silk Termeh: Silk Termeh has a finer texture than polyester. Termeh woven with silk fibers is much heavier than polyester fibers.
Reasonable Price: A Termeh tablecloth is a work of art made carefully and through a time-consuming process. Therefore, Termeh designs are of high value and more expensive. So, if a Termeh product is sold as handwoven but priced similarly to or lower than machine-made Termeh, you'd better doubt its authenticity.
Glimmer: The original-term fabric has a special luster due to the property of reflecting light.
Termeh Design: The best termeh designs include exact woven patterns with even matching colors.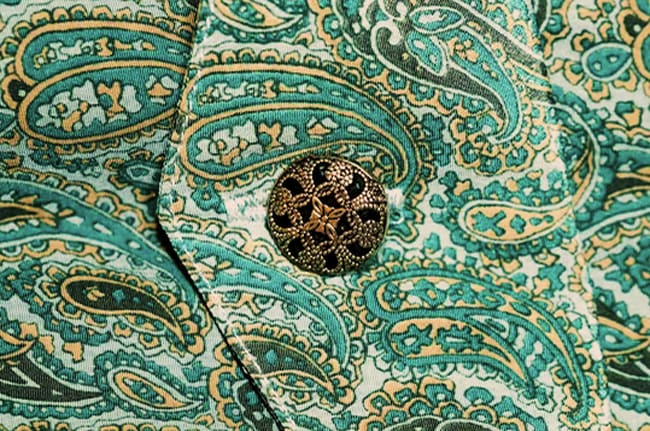 Termeh Tablecloths Price
Due to using silk threads in most types of Termeh tablecloths, it is more pricey than ordinary clothes. The more silk threads used in a termeh tablecloth, the more expensive the piece is. Termineh tablecloths prices range from $50 to $500 in the world. CyrusCrafts a Specialist in Asian handicrafts, offers Persian Termeh tablecloths of the highest quality at the best prices, between $35 to $400.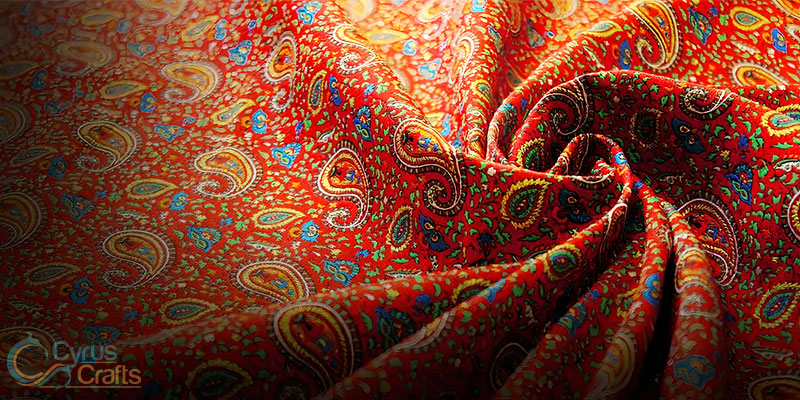 Persian Termeh
Persian Termeh is one of the hundreds of art heritages of ancient Iran. You may know that various types of termeh exist in different countries, including Kashmir Termed. Still, Persian Termeh has outstanding characteristics, making it extraordinary.
One bold feature of Iranian Termeh is utilizing Persian colors, and the other is creating it with striking patterns. Persian blue, turquoise, azure, jujube red, light red, green, orange, and black are used the most in Iranian Termeh.
The most frequently used patterns in Termeh Iranian handwoven cloth are:
Gol-e Shah Abbasi ("Shah Abbas Flower")
Traditional Paisley
Cypress Paisley
Golzar ("Flower Garden")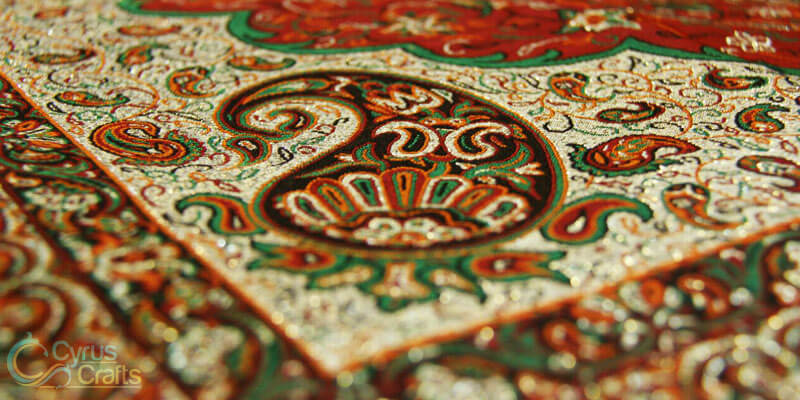 Persian Termeh Usages
The Persian termeh has had many applications since ancient times, the most popular of which are:
Termeh tablecloths
Shoes with Termeh designs
Cushion cover
Style accessories
Poshti (special Iranian cushions)
Prayer rugs
Unique jewelry boxes
Boxes for gifts and sweets
Persian Termeh Tablecloths Weaving
The usual steps taken in weaving a Termeh tablecloth are:
Preparing the raw materials like wool and silk threads
Washing and cleaning the wool
Whitening the threads
Fixing the whiteness
Dying the threads with natural colorants
Designing the pattern on paper
Weaving the Patterns with particular instruments using dyed threads
Sewing Termeh pieces with lining jointly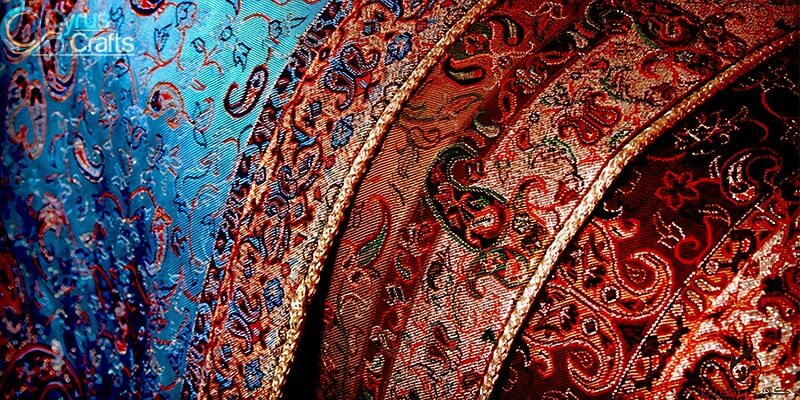 It was all the information you need before buying a Termeh tablecloth. Hoping you have enjoyed it, we proudly offer you quality handmade Persian Therme tablecloths, cushions, and fabrics at the best prices ever. CyrusCrafts online souvenir market sells Iranian handmade rugs and carpets, wooden carved furniture, unique handicrafts, and organic foods of the best grades to the whole world. The shipping is free, and delivery is door-to-door in all countries. And the delivery time is faster in the United States or Canada.

Read More