Iranians combine a variety of pistachio, almonds, and dried fruits as nuts and serve them to their guests on a daily or weekly basis, particularly at various gatherings and occasions such as Yalda night, Chaharshanbe Suri, and Nowruz. nuts can come in a variety of flavors to suit everyone's preferences.
Since ancient times, nuts have been used as a symbol and an inseparable part of Iranian entertainment and evening parties. Pistachio is one of the most common ingredients used in nuts (trail mix). In Iran, there are extensive pistachio orchards whose products are used not only in nuts but also on their own. In many countries, pistachio is known as an Iranian export product.
Pistachio, hazelnut, and almond are inseparable components of nuts, which may also include other dried fruits such as peanut, sunflower seed, and walnut, or treats such as raisins, dried apricot, dried figs, and so on.
Nuts are made in both simple and salty varieties. In its basic form, only the kernels and other components are dried in the open air or by machine, whereas in its salty form, the kernels are heated with salt after drying to obtain a salty flavor.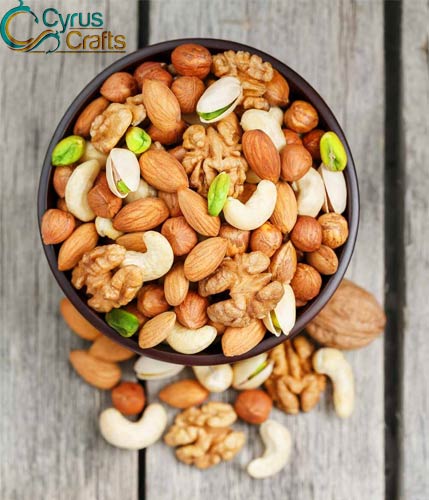 How to Dry Nuts Ingredients
The manner in which the nut's kernels and fruits are dried is important because obtaining healthy and tasty nuts necessitates considering important drying tips for each of the ingredients.
It is also important to select the type of kernels to be dried; for example, pistachios and almonds with sliced skin or walnuts with green skin are better suited for drying. The husk on pistachios, almonds, and fresh walnuts must be removed before drying. Unlike the husk, which must be peeled off, the hard shell of the kernels is sometimes peeled off, dried, and used in trail mix, depending on the trail mix maker's preference.
Pistachios that are hollow or empty are thrown into the water to separate them. They are easily separated because they are light enough to float on water. It should also be noted that pistachios with open hard shells, also known as smiling pistachios (!) in Iran, are a better option.
Walnut kernels should not be dried in direct sunlight because they turn black, whereas drying pistachios in the sun will help open their shells and will not harm them.
Obviously, eating trail mix with peeled kernels is more convenient, but the peeling process raises the price.
To nuts kernels, the traditional way at home, pour them onto a flat open-air space and turn them upside down at regular intervals until completely dried. Industrial devices and methods, on the other hand, are used in workshops with large volumes of kernels.
Different Types of Nuts
Nuts are classified and labeled differently depending on their ingredients and how they are used. Sweet nuts (trail mix), for example, contains pistachio, almond, hazelnut, dried figs, dried plum or apricot, Basloq, walnut, and other ingredients and are consumed on Chaharshanbe Suri night.
Another type of nuts is called four-kernel nuts. It contains only four types of dried fruits, as the name implies: almond, pistachio, cashew, and hazelnut.
Other dried fruits, such as Jabani seeds, peanuts, pumpkin seeds, and raisins, can be added to the mixture to make Nowruz-themed nuts. When these ingredients are heated with salt, they are referred to as salty nuts (trail mix).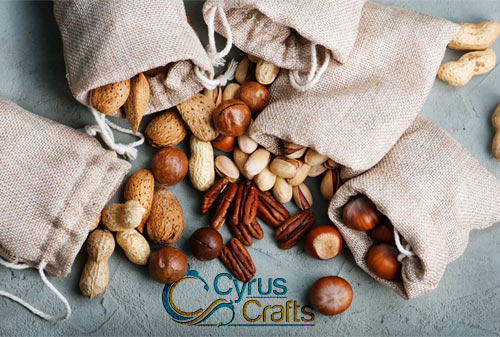 Advantages and Disadvantages of Nuts
Because of the many antioxidants and protein properties of pistachios and almonds, consuming small amounts of simple and unsalted nuts helps soothe coughs, relieve abdominal pain, strengthen the brain, and make blood. Furthermore, hazelnut kernels in trail mix are beneficial to diabetics and are high in phosphorus, making them ideal for children and students.
Despite the fact that each ingredient in the nuts has a wide range of properties, it may be harmful to some people, especially if consumed in large quantities. Salted nuts fruit (trail mix), for example, is harmful to people with cardiovascular disease because the salt content raises blood pressure and cholesterol.
Unsalted trail mix is also harmful to people with diabetes and kidney disease, so they should only consume 4-5 pieces of simple trail mix per day.
Nuts contain kernels with a warm nature and are good for cold-tempered people, but warm-tempered people should avoid eating too many nuts and fruits.
If you are concerned about the effect of nuts on your weight and still want to use these products, combine raw almonds and raw pistachios with leblebi and zante currants (raisins and raisins).
Walnut is another ingredient in nuts (trail mix) that is beneficial and recommended for the treatment of gastroesophageal reflux disease, kidney stones, gallstone prevention, and respiratory and lung diseases.
Price of Nuts
The quality of nuts is one of the most critical factors considered to determine the price of pistachios and nuts. If the nuts you want to buy are first class, you will have to pay more to buy them; But if the nuts and pistachios you purchase are not first-class, they will be priced lower. 
This is true only for some online stores! When buying nuts online, you need to be careful because some online stores take advantage of your trust by selling inferior nuts instead of high-quality nuts at the same price. 
Cyruscraft is an excellent option if you want a variety of nuts with superior quality and a fair price. The price of nuts depends on the quality, packaging, brand, and season and can vary between 15$ to 60$ per gram depending on their quality.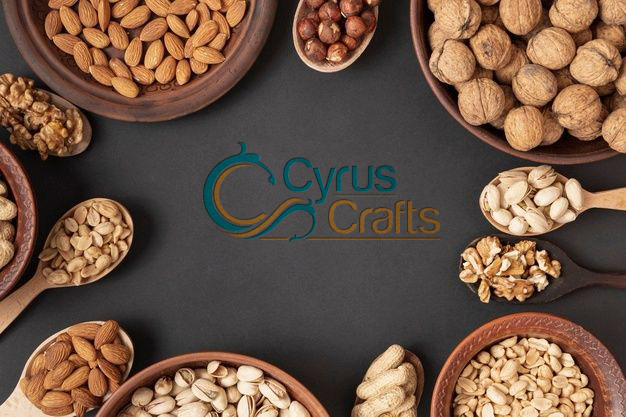 the Last Word About Buying Nuts Online
If you carefully read the preceding points, you will have become acquainted with and realized the numerous benefits of Iranian nuts, as one of the most delicious munchies at Iranian parties. For many years, nuts, like many other products prepared and produced in Iran, have been exported to other countries. It is consumed globally by all the people around the world. Therefore, CyrusCrafts strives to contribute to the export of high-quality products in this sector by utilizing its knowledge and capabilities.
CyrusCrafts will provide you with high-quality and unique products as part of its specialized activity in preparing, selling, and exporting the best Iranian nuts to Canada and United States so that you can have a wonderful and one-of-a-kind taste and serve your guests in a unique and different way.