Persian Rice
One of the main ingredients in most countries, rice feeds more than half of the world's population and has been grown in Iran for ages. Persian rice, ranking among the best in the world, has variants with unique aromas and tastes, which we'll get to further down. Let's start with the benefits of Persian rice.
Benefits of Persian rice
People in the past believed rice was a gift from God. Rice has a "cold temperament" in Persian traditional medicine, and its nutrients play a significant role in maintaining health.
Besides a distinct aroma and taste, Persian rice is beneficial for health in many ways, including:
·       Its carbohydrates are metabolized by the body, quickly producing energy.
·       Rich with nutrients, it's great for young children's growth and for treating malnutrition.
·       It's an important source of Vitamin B1.
·       It guarantees the good functioning of the digestive system and prevents chronic constipation.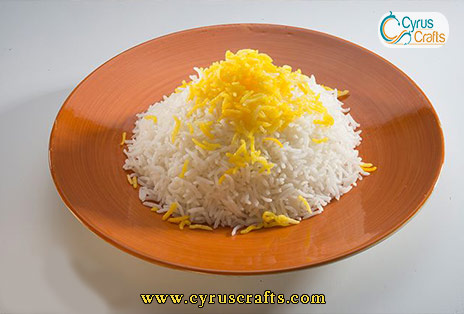 ·       It stabilizes blood sugar levels and improves the body's immunity against conditions such as bloody diarrhea, high blood pressure, and heart diseases.
·       The rice and its water improve skin health in many ways, including reducing premature skin aging as well as brightening the skin and giving it a glow.
·       White rice increases sperm count as well as breast milk and helps treat insomnia, kidney stones, varicose veins, stomach ulcer, and other conditions.
·       Brown rice can help you lose weight.
There are many other benefits to rice, but we'll skip them for now because the ones mentioned must have already given you enough reasons to include the grain in your diet.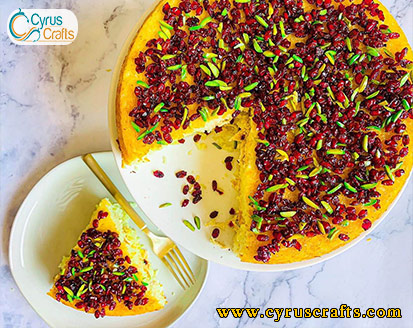 Now, another question arises:
Which types of rice are higher in quality and more nutritious?
Just like with every other product, there are low-quality types of rice. So, how should we tell healthy, nutritious rice from those low in quality, and where can we buy top-quality rice?
We'll answer these questions further on.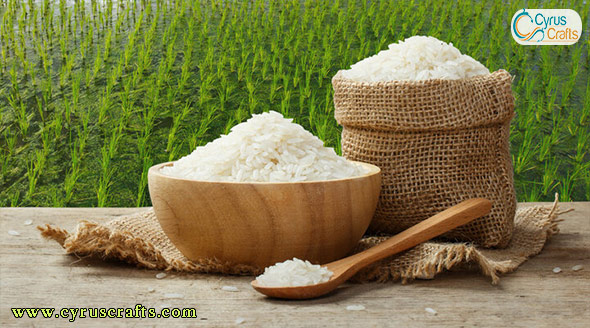 The most delicious and nutritious type of Rice
Remember: Don't fall for a product's low price or how good it looks when shopping for rice.
Persian rice undoubtedly has the most pleasant taste and aroma in the world.
Most of the rice consumed around the world is produced by Asian countries. Despite its pleasant aroma and taste, rice produced in Iran sometimes doesn't grow as long as Indian, Pakistani, and similar rice when cooked, which can make distinguishing top-quality rice confusing.
Thanks to the humid climate and the good-for-rice-growing soil in northern Iran, Persian rice smells and tastes better and has much more nutritional value than the other types.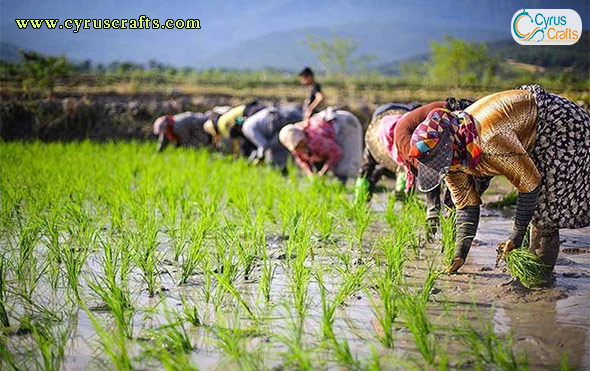 Most of the rice from countries other than Iran is produced using the "molding" method, which involves completely milling second-and third-rate rice and then molding the resulting flour into same-sized grains. For this reason, non-Iranian rice may look nicer!
Besides, the rice grown outside Iran is sometimes irrigated with sewage water, which is why it may contain extremely harmful chemicals such as cyanide and arsenic.
Another important thing to remember is that Persian rice is a bit trickier to cook than Indian, Pakistani, Thai, and similar rice. However, the health benefits, taste, and aroma make it worth the effort.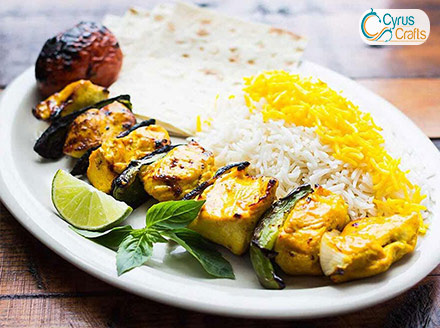 In conclusion, Persian rice is, without doubt, Premium quality rice in the world. But high quality comes at a cost; for Persian rice, that cost is its higher price, which is completely reasonable given what was mentioned so far and all the effort that goes into its production.
also, you can use Persian rice in different ways with different stew and kabab.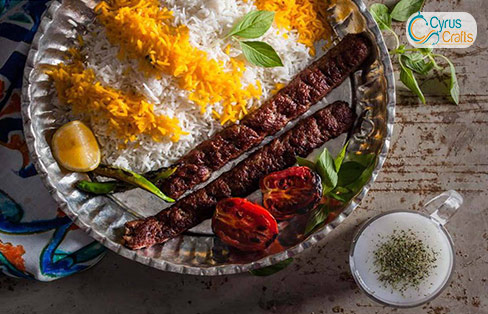 How to recognize top-quality Persian rice
Characteristics that make top-quality Persian rice distinguishable are:
·       Aroma and taste: It has a pleasant smell and taste.
·       Perfect grains: It's normal for a given portion to contain up to 5% of shorter or broken grains, but the rest of the grains are intact.
·       Dryness: It has zero humidity.
·       Half-bright tone: It has a half-bright tone, whereas non-Iranian rice is darker.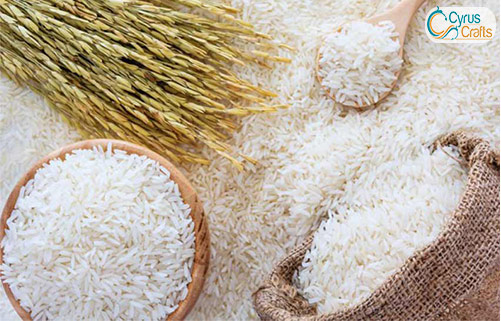 Different types of Persian rice
Here in Cyruscrafts you can get more information about different types of Iranian foods such as rice, palm, honey, saffron, etc, and buy them with confidence.
Persian rice is diverse, so you need to learn about the different types to make an informed purchase. By introducing the finest and most well-known types, Cyruscrafts will help you become more familiar with Persian rice.
There are different classifications of Persian rice:
classification Persian rice Based on grain length
·       Long-grain: The length of this type's grains is at least 3–4 times their width.
·       Medium-grain: This type has grains of medium length.
·       Short-grain: This type has the shortest grains, which make a sticky texture when cooked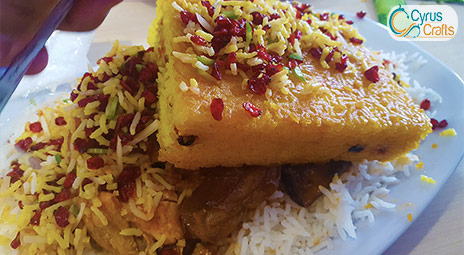 Varieties of northern Persian rice
Rice grown in northern Iran is diverse. Here are the most well-known varieties:
1.     Local Tarom rice: One of the most famous northern Persian varieties, local Tarom rice has long, beige-ish white grains.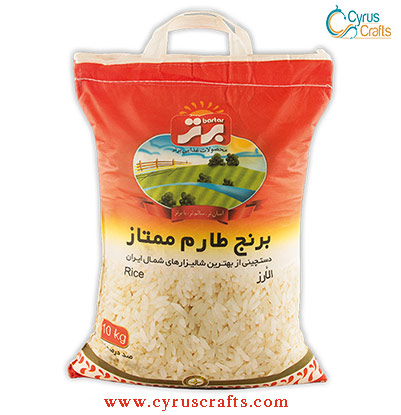 2.     Black-tail Tarom rice: This variety has beige-ish white grains covered in husks with black ends.
3.     Tarom-Hashemi rice: A medium-grain rice, this variety retains its softness and pleasant taste hours after being cooked.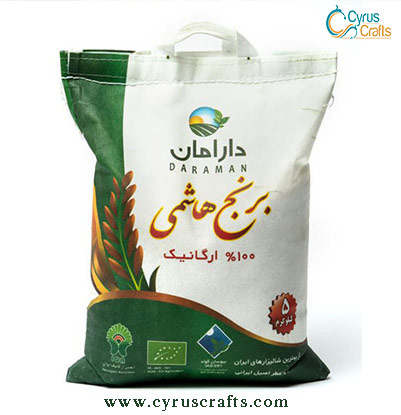 4.     Rasht Tarom rice: It has a very pleasant taste and smell.
5.     Deylaman Tarom rice: It's mostly grown in western Mazandaran Province, a region that's better suited for this purpose.
6.     Sadri rice: Grown in Gilan Province, Sadri rice has beige-ish white grains that grow considerably in length and look nice when cooked, making this variety a favorite for use in dinner-party dishes. There are three sub-varieties to Sadri rice:
a.     First-rate black-tail Sadri: One of the finest varieties of Persian rice, it has a pleasant smell and taste, as well as grains with a desirable length.
b.     Smoked Sadri: Sadri rice can be flavored by smoking. Smoked rice has its share of fans but may not be to everyone's taste.
c.     Yellow-tail Sadri: A long-grain rice, this variety is less expensive than black-tail Sadri.
7.     Fajr rice: Smelling very similar to Tarom rice, fajr grains are medium in length and light gray. This variety is the only genetically modified aromatic rice.
8.     Neda rice: This variety has bright white grains that grow in length when cooked, but isn't aromatic.
9.     Shafaq rice: It's produced by genetically modifying basmati rice.
10.  Sepidrood rice: One of the high-yield varieties introduced by the Rice Research Institute of Iran, Sepidrood is fiber-rich rice with long, slender grains.
11.  Shiroudi rice: This variety looks similar to Tarom and Hashemi rice but doesn't smell or taste as good, making it less expensive.
12.  Khazar rice: Grown in Mazandaran and Gilan, Khazar is a long-grain rice with a light gray tone.


classification Persian rice Based on the texture
Different types of rice make different textures when cooked, which is due to a difference in the amount of starch each has. Accordingly, rice is classified texture-wise into "sticky" and "partially-cooked":
·       Sticky rice
This type is also known as "sweet rice" because it's common to add sugar, grape syrups, or similar condiments while cooking it. The rice gets doughy when cooked and is mostly used for making rice flour.
·       Partially-cooked rice
This rice is light in weight because it's partially cooked with high-pressure steam before being milled. Pressure cooking is a process that causes starch gelatinization and produces grains that become light in weight and soft when cooked.


classification Persian rice Based on the color
Rice is brown in its natural state but becomes white once the bran is removed. There are different colors of rice:
·       White: The bran and germ of white rice are removed in the milling process. Rice with its bran removed is also called "milled rice."
·       Brown: This rice keeps its bran and germ, hence it's color. While it takes longer to cook, brown rice is rich in nutrients, including minerals and vitamins, insofar as many diets recommend replacing white with brown rice.
·       Black: Very high in nutritional value, black rice gets a little sticky when cooked and imparts color to ingredients mixed with it.
CyrusCrafts will provide you with high-quality and tasty meals as part of its specialized activity in preparing, selling, and exporting the best Persian rice (Iranian rice) so that you can have a wonderful and one-of-a-kind taste and serve your family and your guests in a healthy, unique and different way.