Accessory
Obviously, the first think seen by others is what we wear, but it is the accessories that can make and characterize the most beautiful form of appearance; these two complement each other to create a marvelous combination.
In a functional and conceptual sense, accessories actually show the standing of each person, create their style, and ultimately tell who they are. Accessories awaken the sense of distinction in people, create a new meaning and refresh the human soul.
In general, an accessory is something that can be added to clothing to make it more attractive. Wearable, decorative, or portable items are examples of accessories. Making jewelry, handmade jewelry, and other types of accessories such as bags, hats, watches, and so on has been common among Iranians since 2500 BC, which have been made with raw materials found in nature such as stone, leather, wood, plant dyes, and so on.
beautiful jewelry and accessories with a special elegance and unique designs and colors. 
Special and rare examples of original and precious Iranian jewelry can be found in some internationally renowned museums, demonstrating the incredible ability and creativity of Iranian creators and artists in the creation of jewelry.
Jewelry and accessories were worn as part of people's clothing in ancient Iran. Men, for example, wore metal necklaces, and some wore armbands as a sign of heroism, as well as small cloth bags tied around their waists to hold coins and money.

From then on, Iranian women adorned their hair with beautiful brooches and accessories, as well as jewelry such as earrings, necklaces, and bracelets.
In addition to jewelry, the collection of accessories now includes a variety of bags, hats, watches, wallets, scarves and shawls, glasses, fans, canes, belts, suspenders, ties, ascots, and other items.
jewelry
According to research, copper was the first metal discovered by humans and used to make various objects, including jewelry. Following that, other metals, such as gold and silver, which are more commonly used today, were used to create jewelry. In ancient times, a jeweler used a hard and sharp tool on metal to engrave patterns and designs known as "toreutics" but today modern tools and advances have been made.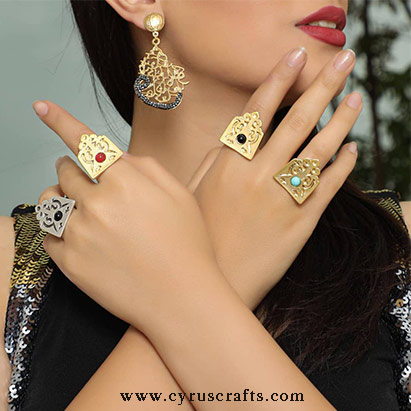 Making all types of jewelry and copper accessories is more common in cities such as Isfahan, Zanjan, Yazd, and Kerman than in other cities in Iran. You should keep your copper jewelry and accessories clean and dry if you want them to last a long time. Apply perfume, cologne, or cream before wearing copper jewelry to prevent these chemicals from coming into direct contact with your accessory. They should not be worn while swimming or bathing.
Copper accessories are useful in addition to being beautiful. Copper not only plays an important role in thyroid gland function, but it also has antioxidant properties that aid in cardiovascular health. Another advantage of copper is that it lowers bad cholesterol!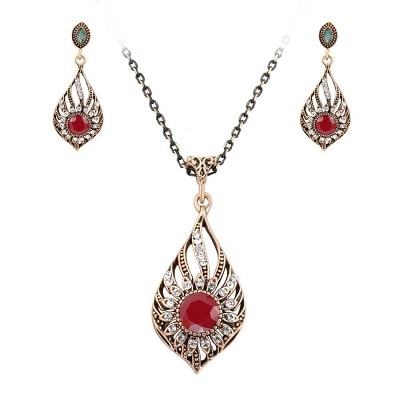 Bags
Since ancient times, the bag has been one of the most important accessories that we have had with us in various shapes and sizes; we use them in our daily lives and store many of our essential and valuable items in them. Initially, the bags resembled boxes and were made of thick fabrics. They were usually used for stacking money and were opened and closed by a strap.
This intriguing and useful accessory is now available in a variety of designs, colors, and sizes. Women's bags, men's bags, backpacks, passport bags, wallets, briefcases, handbags, and so on are just a few examples of this accessory's various models.
The bag is no longer a simple box, and sewing it requires numerous steps and details. Today's bags have multiple pockets and sections, zippers, handles or straps, buttons, and so on. In Iran, this accessory is mostly made of synthetic leather, but it can also be made of natural leather, and some traditional and handmade models are made of fabrics like felt, linen, tarpaulin, and handmade fabrics with kilim designs.
Shawls and scarves
Scarves and shawls are also common and widely used accessories in Iran, but these accessories are not limited to Iran or Islamic countries; they can be used as a very beautiful accessory anywhere because various ways of tying and matching them contribute to the beauty of your style.
People's interest in looking more beautiful, using special accessories, and selecting stylish and attractive clothes has been observed for a long time and is of great importance, to the extent that today special ceremonies, shows, and anniversaries are held about various types of clothes and accessories.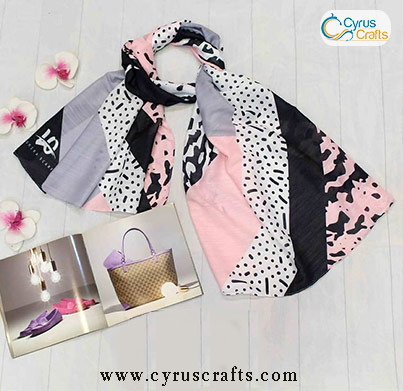 Shawls and scarves have their own appearance and shape in each culture and society, and for some groups, wearing them expresses a different meaning and concept. Some people use it in church or at funerals, others as kerchiefs, and in the Middle East and Africa, some people believe wearing a headscarf indicates a woman is married.
Hat
Hats are also one of the most commonly used accessories, not only for their beauty and attractiveness in style, but also for showing the job, as a meaning of protection, social class and etcetera are used in a variety of ceremonies. Warm hats made of wool, leather, or fur can be worn on cold winter days, while caps are worn on sunny spring and summer days.
Hats worn as accessories and for the beauty of the style come in a variety of styles, including fedora hats, caps, French hats, berets, straw hats, Chapeau hats, Persian Felt hats, and so on.
Several thousand years ago, Persian kings wore hats adorned with precious stones and jewelry as crowns. In addition, royal girls and women wore long scarves (similar to the nets worn on the bride's head today) with a small hat called basak placed on top to hold the scarf. 
CyrusCrafts has collected a massive collection of traditional and modern accessories available to the enthusiasts around the world. If you are interested in the geometric elements that are combined with art and turn into impressive accessories, you can browse and order incredible and unique ones at Cyrus Crafts.
Numerous accessories including necklaces, earrings, bracelets, rings, cufflinks, jewelry sets and half sets, brooches, anklets, jewelry maintenance supplies, handmade watches, watch tassel pendants, jewelry boxes, gold accessories, silver accessories, gold coins, piercing, accessory making supplies, precious and semi-precious stones, ingots and plaques, cling jewelry, to name a few, are part of this magnificent collection.