What is the use of an outdoor rug? Do you know what spaces this kind of carpets are needed for? In this article, we provide you with everything you need to know about outdoor rugs.
With the onset of summer, spending time on the porch, patio, and outside of the house is a great way to enjoy this season with family; but these spaces should be designed so that they are not only fully functional but also beautiful; because, in addition to the interior layout, the decoration of the outdoor spaces is also of great importance.
Elements such as special furniture or decorative pots and plants are usually used to decorate the exterior of the house, but one of the best options to have such a decoration - which is functional in addition to being beautiful - is to use the outdoor rugs. Iran is a pioneer in exporting carpets and rugs to all countries of the world, and an outdoor rug is one of the different types of Iranian carpets whose beauty you can enjoy at home!
Carpets and especially Iranian carpets have a unique identity and use, each type giving light and spirit to even the smallest and simplest spaces. When it comes to outdoor rugs, many people think of wicker rugs or doormats. Doormats placed in front of the front door have their own use, but outdoor rugs are produced in different sizes and designs with different uses.
Unlike indoor rugs or carpets, outdoor rugs are made of special materials – using special techniques - that make them resistant to outdoor conditions. Continue reading this article to learn more about outdoor rugs.
Do's and Don'ts about outdoor rugs
It usually takes a long time to choose a good and suitable rug, no matter whether you use this rug for the front porch, apartment balcony, or any part of the exterior of the building because an outdoor rug can create attractively and desired to look just like the interior of the house. Therefore, be sure to study these basic do's and don'ts properly so that you can make the best choice within the shortest time.
Do's:
The outdoor rug that you choose should complement the decoration and furniture prepared for that space and fit with them.
Do not use doormats and outdoor rugs together in your outdoor space.
Before you buy, think about the right size and shape you want for the rug.
Pay attention to the material of the rug, which must be resistant to sunlight and possible wetting in the rain, so that its color and condition do not change.
The color you choose for the outdoor rug should not be completely white or black. Choose a color that shows less pollution and dust.
Don'ts:
Do not use indoor rugs outdoors.
Do not be afraid to choose colorful and patterned rugs. There are outdoor rugs with beautiful Iranian designs and various colors that give a warm and intimate atmosphere to the space.
Never buy a rug before measuring and examining your space.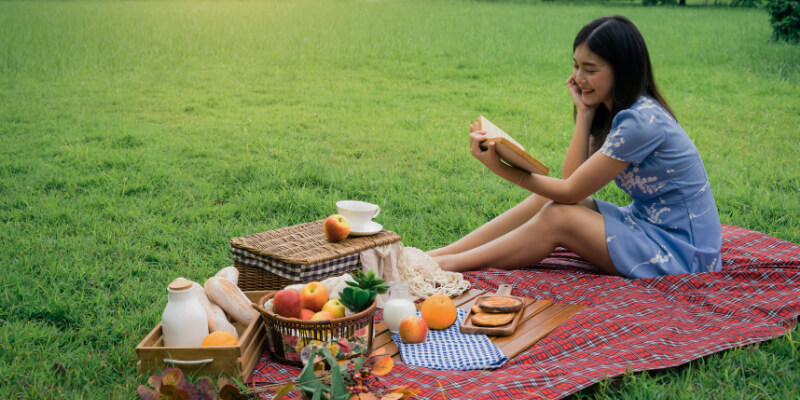 Price of outdoor rugs
Outdoor rugs are short or lint-free carpets that are cheap and designed for out of home in the front porch, patio, deck, or balcony to give you a striking outdoor decoration. Outdoor carpets have very diverse and beautiful designs that can harmonize with any environment. Buying outdoor rugs gives a different and unique effect to the environment and prepares it for friendly fun times in spring and summer. 
Here at Cyruscrafts, you can buy outdoor rugs at the best price. Their price can start from $39 and goes up to $159 approximately.
What are outdoor rugs made of?
Iranian rugs are produced and supplied with high quality, but the type of materials used in the texture of indoor rugs and carpets is different from that of outdoor rugs because these kinds of rugs must have more durability and resistance. Due to their more durable materials, outdoor rugs are also more durable in high-traffic environments.
Both synthetic materials and natural and plant fibers are used in the texture of the rugs produced for the outdoor spaces. Fibers such as bamboo, hemp, jute, sisal, and seaweed are some of the best options for outdoor rugs' texture; because these materials are not only sustainable, but also environmentally friendly, and can increase durability of the rug against sunlight or wetting in the rain.
These rugs have special styles and are affordable and easy to maintain. If you want to use jute-woven rugs outdoors, you should place them on a covered porch or patio, because jute-woven rugs, unlike other outdoor fibers produced by natural fibers, are at the risk of mold growth caused by the moisture.
However, sometimes, in addition to natural fibers, synthetic fibers such as polyester and polypropylene are also used in weaving outdoor rugs. Rugs woven with polypropylene fibers are stain-resistant and have high resistance. Most rugs with this material are sun-resistant and have a variety of designs and colors.

How to take care of outdoor rugs?
Although it is said that outdoor carpets do not need much maintenance, observing some points and taking care of this kind of rugs will allow you to enjoy it for a longer time.
Using a vacuum cleaner at regular intervals prevents dust from penetrating into the rug. Rugs that are used outdoors are usually not high-pile, but if your rug is a high-pile one, do not pull the vacuum cleaner back and forth on it, but pull it in the direction that is in line with the rug piles and then lift it and repeat.
Moisture is one of the influential factors in rug rot. Although outdoor rugs have high resistance, it is still better to dry them fast if moisture is created.
Before washing the rugs, check the surface of your outdoor space and, if it is necessary, first remove the dirt, then wash the rug with a suitable detergent. On rainy days and in autumn and winter, it is better to roll it up and keep it in a dry place.
In order to be able to make the right choice in your purchase, we have tried to explain everything about the Iranian outdoor rugs, their material, and maintenance in this article. By buying an Iranian rug, you will take the original culture of Iran and a work of art to your home and you will enjoy its beauties. Considering the fact that the Persian rugs have been produced, supplied, and exported to many countries around the world for many years, we still hope that given the capabilities and knowledge in the Cyruscrafts collection, this will be done more than ever in global markets.
With specialized activity in supplying, selling, and exporting the best outdoor rug samples, Cyruscrafts Collection provides you with high-quality and unique products in order for you to experience a wonderful and unique feeling in your home or workplace decoration.
Cyruscrafts collection with specialized activity in the field of preparing, selling, and exporting the best samples of outdoor rugs, provides you with high quality and inimitable products so that you can experience a wonderful and unique feeling in the decoration of your home or workplace.