Tasty !
Sociologically speaking, food and foodstuffs in general are considered one of the foundations of social culture in every society and they even manifest social relations, beliefs, culture, and religion of a nation. The older the human civilization of a region, the greater the diversity of food and foodstuff in that region.
The food industry, lying at the heart of every society, is a way of expressing emotions, which are manifested in different shapes and forms. We can call Iran a "world power" when it comes to food industry and diversity of foodstuffs.
Any tourist who has visited Iran would undoubtedly tell you about their memory of delicious Iranian dishes and treats. Each Iranian city has its own food, confections, and snacks that reflect the region's geographical, social, and economic conditions.
Iran, Home of Delicious Foodstuffs
Iranians have had their unique customs, arts, handicrafts, and the food industry since thousands of years ago. One of the cultural manifestations of the Iranian people, like many other people in the world, is their delightful food and foodstuffs they eat routinely. Iranians are "great cooks" who are highly skillful in cooking tasty meals and preparing assorted foodstuffs. They have wonderful foodstuffs catering for every taste; so, diversity in the Iranian food industry can be described as "exemplary". 
Many of these foodstuffs are well known across the world and have won the hearts of people in other countries. Each Iranian city has its own unique edible souvenirs, which have won the hearts of not only the Iranians but the people across the globe. From north to south, from east to west, there are irresistible foodstuffs that tempt everyone's taste buds.
Here is a list of some of the must-try, famous and popular Iranian foods that beside unforgettable taste, help you find out more about the traditions and culture of Iranian dishes
Gaz
Gaz is a centuries-old traditional, popular, well-known, and export confection from Iran. Gaz was originally produced in Isfahan and is still known as "Isfahan Gaz" but it is now produced in other cities as well.
Saffron
This precious plant is also known as "red gold" in Iran because it is difficult to plant, grow, and harvest, but it has many properties and benefits. In fact, saffron is used to give foods a distinct color and flavor. Saffron-flavored foods and snacks are unique in color and aroma all over the world. Saffron is obtained from a beautiful purple flower that has three red strings in the middle of its petals, which is the actual saffron. This beneficial plant has many properties, including aiding in the treatment of asthma, coughing, sore throat, insomnia, depression, anxiety, Alzheimer's disease, memory control, skin diseases, labor pains, menstrual cramps, and improving sexual desire.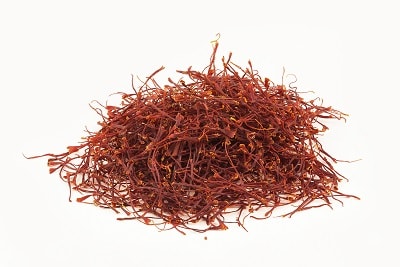 Qottab
Qottab is a traditional and local confection in Iran's ancient cities of Yazd and Kerman, with a special and widespread reputation as one of the most delicious confections for receptions at parties and celebrations. Qottab has a distinct flavor that distinguishes it from other confections.
This delicious confection also has a high nutritional value because it has almond, pistachio, cardamom, and rose water in its ingredients. It contains vitamins E, B1, B6, potassium, phosphorus, and zinc. The benefits of this delicious confection include strengthening nerve cells, preventing skin wrinkles, balancing appetite, lowering blood cholesterol, uplifting spirits, recovering, eliminating bad breath, improving digestion, and so on.
Sohan
souvenirs, and it is now available in a variety of shapes and sizes, including Sohan Loghme, Sohan Halvaei, and Sohan Gazi. Sohan is made primarily from germinated wheat, but it also contains egg yolk, cardamom, pistachio, saffron, and oil. Since Sohan contains germinated wheat, it is high in protein and an excellent source of vitamins and minerals such as vitamins E and B. It also has a calming and soothing effect on the body. Sohan is sweetened with natural sugars, which allows it to store energy and prevent fatigue. Furthermore, animal and vegetable oils are used in Sohan, so eating it will no longer cause you to have high cholesterol.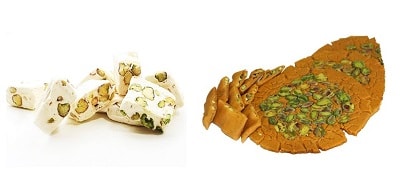 Nuts
Nuts are a dried fruit mixture with varying components to suit different tastes. Nuts typically contain almonds, pistachios, peanuts, and hazelnuts, but raisins, sunflower seeds, walnuts, dried berries, dried figs, dried apricots, and other dried fruits and nuts are sometimes included.
This combination is very enjoyable, delicious, and nutritious because each of the items mentioned has many properties, and their combination increases its nutritional value. Nuts should be consumed on a daily basis, especially for athletes, people on a diet, pregnant or lactating women, growing children, and so on.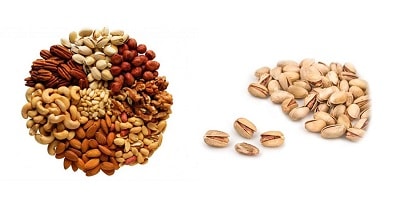 In today's world where food industry has a stunning place in the tourism sector, it's no wonder that food and foodstuffs play a crucial role in the cultural domain.
Sometimes it's not possible to travel to these cities and buy the delicious foodstuffs they offer, but, fortunately, there are other ways to help food lovers enjoy the taste of enchanting foodstuffs that represent the Iranian culture. One of the simplest ways to do so is to order these products online. The CyrusCrafts website is honored to offer a platform for online shopping of assorted Iranian edible souvenirs such as Gaz (Persian Nougat), pistachio, nuts, saffron, Baklava, Qottab, Sohan, etc. in an effort to better introduce Iranian flavors to the world.