When shopping for the perfect rug for your space, rug size and placement should be the initial contributing factors in your purchasing decision.The 4x7 rugs have standard dimensions of 1.5 m in width and 2.25 m in length. Due to the small dimensions of this area rug and its lightweight, it is very easy to move and wash it. These 4'x7' rugs are usually not used in the living room, and in this part of the house, Persian carpets of a larger size are used. These Persian carpets are used in smaller rooms such as bedrooms. Carpets with these dimensions are available in both hand-woven and machine-woven types in the CyrusCrafts carpet collection. However, recently these dimensions have become more popular for machine-woven carpets.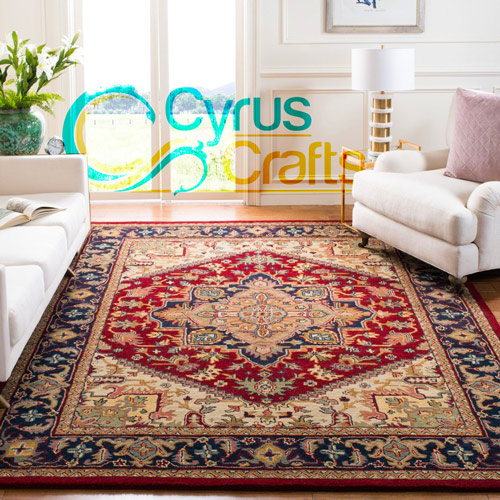 Types of 4x7 Rugs
4 by 7 area rug can be used in different parts of the house. For this reason, these carpets can be divided into several categories:
4x7 Entry Rug
A 4x7 entry rug is just what you need to make a bold, stylish statement at your front door. The 4x7's rectangular shape and neutral color palette blend easily with most decor styles, while the rug's durable construction ensures that it'll stand up to years of foot traffic and sunlight exposure. You can find various options for your 4x7 entry rug online in Cyruscrafts.
4x7 Bathroom Rug
Take your bathroom to the next level with a 4x7 bathroom rug. This size is ideal for any small room and can be used as a bath mat, runner or even in front of the toilet. With so many color options to choose from, you can easily find one that fits your style and decor. At Posh Home Decor, we have multiple brands and styles of rugs starting at less than $20 per square foot.
If you're looking for something smaller than 4x7 feet, check out our selection of 3x5 rugs as well!
4x7 Runner Rug
If you have a not-so-narrow hallway and are looking to fill it with a Persian rug, don't forget the 4 x 7 runner rugs!
They create a very good view in the corridors and some staircases and give a special color and glaze to the house.
4x7 Outdoor Rug
Are you looking for a suitable carpet for your outdoor space? 4 x 7 carpet is one of the options. 4 x 7 rugs have relatively small dimensions and can be used to spread under chairs, tables or benches outside the house. Of course, apart from the size, paying attention to the material used in outdoor carpets is essential.
Is 4x7 Too Small for a Living Room Rug?
The 4x7 area rug is a popular choice for many homeowners. It's an optimal size for smaller rooms yet still large enough to provide plenty of coverage. Plus, they're easy on the eyes and can be purchased in a wide array of colors and styles, making them attractive additions to any space. But is 4x7 too small for a living room rug? Well, let's find out!
The 4x7 rug is the smallest size of a living room rug. If you are looking for a large enough area to cover your living room floor, then the 4x7 might not be big enough for you. However, if you're looking for something that adds quality and style to your space without taking up too much space, then this size could work for you.
4 by 7 Area Rugs in cm
If we want to express the dimensions of 4 x 7 carpets in centimeter units, we can say that these carpets range from 121 x 213 cm to
They include 152 x 243 cm. Before buying a carpet, be sure to pay attention to where you want the carpet and whether it is suitable for that place.
Our consultants at Cyrus Crafts are trying to offer you the best 4 x 7 rug that fits your needs and budget.