Marquetry
The Persian word for marquetry is mo'arraq-kāri, with mo'arraq meaning "piece" or "section". So, any object made up of sections can be called a mo'arraq. Marquetry is the art of creating designs and pictures on handmade objects by small pieces of wood, fabric, ceramic, or other materials.
What's the difference between marquetry and woodcarving?
Don't worry at all! Most people actually wonder about this. Here's how we'd answer it:
·       Marquetry (Moarraq) involves cutting different shapes out of wood and then arranging the pieces together, while in woodcarving, a block of wood is carved into a relief sculpture.
·       In marquetry (Moarraq), first, the design is transferred onto the wooden base surface and then cut along the outlines using special tools. Next, the cutouts are carefully arranged together. However, a work of woodcarving is simply a single-piece object carved out of wood.
The difference between marquetry and woodcarving provides a great opportunity to skillfully combine the two art forms into a single artwork, with the distinct features of each making for an incredibly eye-catching result. For example, the top surface of a table can be ornamented with marquetry, while stunning designs can be carved out along the sides of the top and the feet.
Uses of marquetry
Marquetry is done for a great variety of purposes, including:
·       Making standalone artworks (that are typically framed and hung on the wall - tablou)
·       Decorating doors, windows, display cabinets, bookcases, furniture, and tabletops
·       Interior design 
Arabesques are the most common motifs used in Persian marquetry.
Beautiful interior design with marquetry
Marquetry works fabulously in interior design. Decorating the interior walls, ceilings, floors, and, especially, furniture of houses is a perfect use for a marquetry artist's creativity. Sometimes residential building lobbies are also adorned by this woodworking technique, which gives them an exceptional look.
What materials are used in marquetry?
These materials make for great marquetry surfaces:
·       Wood
·       Stone
·       Ivory
·       Natural oyster
·       Parts of a work of khatam-kari
·       Metal (copper and brass)
Wood marquetry is the most common type of this craft and involves the arrangement of wooden pieces of varying colors on a wooden or black polyester base surface.
How to distinction authentic from fake marquetry
Genuine, masterly works of marquetry are distinguished by three characteristics:
·       Perfectly flat surface
·       Meticulously-arranged wooden pieces, with no visible gaps between them and the base surface
·       Full polyester finish coating, which is applied to enhance a work's beauty and durability
Marquetry products
·       Decorative gift boxes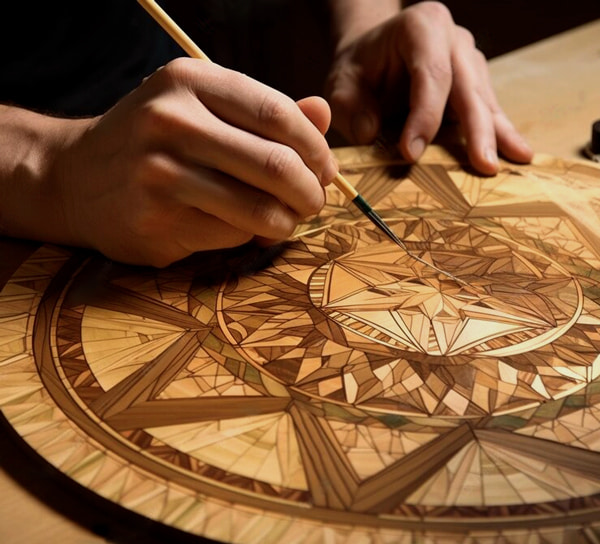 ·       Lidded bowls
·       Mirror frames
·       Backgammon boards
·       Chessboards
·       Coffee tables
And many others.
Major centers of marquetry in Iran
Iran's marquetry production is centered in Tehran, Qom, Isfahan, Karaj, Yazd, Kashan, Ardabil, and the northern cities, with Isfahan being one the most important centers of the craft.
Persian marquetry export
Exported to numerous countries, wood and copper-based Persian handicrafts are very popular around the world, especially in the US and Europe. The countries where Persian marquetry is in demand include Canada, the UK, Italy, China, the UAE, Iraq, Turkey, and Afghanistan.
Cyruscrafts specializes in the supply, sale, and export of the finest Persian handicrafts, including works of marquetry. We bring you high-class, one-of-a-kind products that will liven up and individualize your home or workplace.

Handicraft
Marquetry wall clock Suitable as promotional gifts Made by Professional Artists in Isfahan / Iran