Turquoise Jewelry
Blue, mysterious and exquisite, Turquoise is one of the world's most precious and eye-catching gemstones. Turquoise is created by the effect of copper oxide on phosphorus stones and fossils in the heart of soil for thousands of years. Persian Turquoise has been used in jewelry for thousands of years and will most likely continue to be used for thousands of years. It has been used to embellish royal crowns and precious objects for centuries. Its excellent color inspired Iranian artists to glaze tiles in Persian mosques and historical monuments like the Sultanieh Dome and the Goharshad Mosque. In Iranian culture, art, and even literature, the turquoise gemstone is regarded as an icon due to its beautiful Persian name (Firoozeh), used as a girl's name.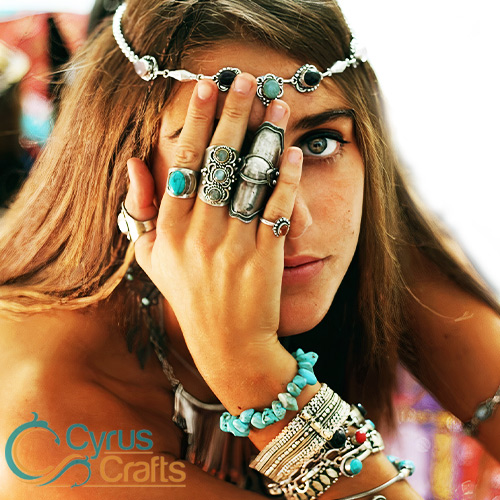 Today a turquoise object is one of the top souvenirs of Iran as one of the essential Iranian accessories and handicrafts. It has a unique place in travelers' suitcases when returning from Iran. "Cyruscrafts is proud to bring you turquoise jewelry decorated with genuine Neyshabur turquoise
Turquoise Jewelry and Home Accessories
Although seen on the exterior of some old places of worship in Iran, Turquoise is mainly used in jewelry making as:
turquoise rings

turquoise earrings

Bracelets and other items.
Turquoise jewelry products
All types of Fashion Turquoise Jewelry include:
Turquoise rings

Turquoise earrings

Turquoise bracelets

Turquoise Pendants

Turquoise necklace sets

Turquoise belt buckles

Price of Turquoise jewelry
Many factors must be considered to justify the value of a particular piece of Turquoise Jewelry. Most Persian Turquoise Jewelry is hand-made with one-of-a-kind Turquoise Gemstones that range in size and quality. The craftsmanship of the Silverwork ranges dramatically according to the particular Silversmith or Artist that made the piece. Overall, Turquoise jewelry prices are around $80 and $2,000.
Benefits of turquoise stone
Turquoise products are frequently used for their therapeutic benefits. Like agate, Turquoise also has numerous benefits, such as:
Relieving stress and depression

Alleviating phobias

Boosting mood and attracting good luck

Improving eyesight, circulation, and throat health

Providing treatment for a wide variety of internal illnesses!

Chakra stimulation and activation

Relaxation

Unleashing your inner power

You will get rid of headaches and migraines

Epilepsy treatment 

Benefits of wearing Turquoise gemstone
Pick a piece of Turquoise jewelry and bring the tools of compassion and communication wherever you go. A necklace places the stone at the center of the throat chakra, whereas a Turquoise Bracelet keeps those low and lovely vibrations thrumming against your pulse. Having the stone directly against the skin is the best way to make its power bloom into being. Those looking for the most delicate healing vibes will find that healing gemstones against the skin bring the most benefit to your world.

The Best Ways to Take Care of Turquoise Jewelry
Gemstone owners should use caution when wearing perfume on their neck and wrists while adorning themselves with Turquoise Jewelry or any other form of gemstone jewelry. 
Chemicals will damage the stone's finish and may change its color. 
Skin oils may also negatively affect natural Turquoise. 
Avoid cleaning the gem with commercial jewelry cleaning products. 
Before putting on a Turquoise jewelry item, apply makeup and sunscreen in addition to hairspray. It is a great idea to gently wipe the stone with a soft, clean towel, preventing residue from developing after wearing your gemstone jewelry or Turquoise Jewelry. 
The best is to use a rouge cloth or jeweler's cloth. 
You can also store Turquoise in a separate compartment away from other jewelry pieces or gems as Turquoise may become scratched; however, it is rare for it to be damaged so easily.
CyrusCrafts specializes in supplying, selling, and exporting turquoise jewelry. We bring unique, one-of-a-kind products that will liven up and individualize your home or workplace.