When shopping for the perfect rug for your space, area rug size and placement should be the initial contributing factors in your purchasing decision. When you are looking for a rug, consider your furniture and be aware of different layout options. 4x6 rugs are actually small carpets that are suitable for bedrooms, hallways, in front of sofas, under small tables, etc.
Although these carpets are small, their impressive effect on decoration cannot be ignored. 4x6 rug gives character to the space in which it is placed. If you are one of those people who are not interested in carpeting the entire space, you can use several carpets with 4'x6' dimensions to carpet large spaces like the living room. Also a 4'x6' rug can look great in front of a sink or in a reading nook.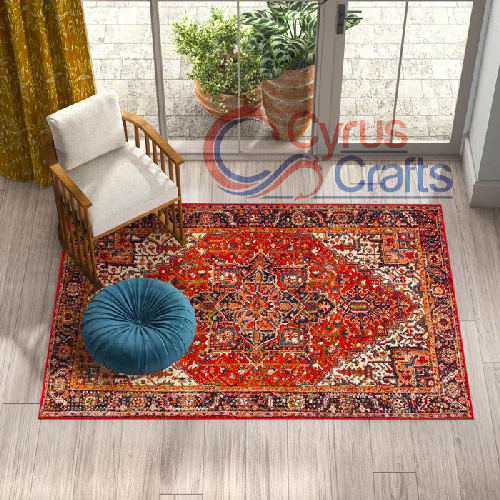 Choosing the Best 4x6 rug
By now, you've probably narrowed your search to 4x6 area rugs and chosen the room where you'll place them. However, before you get any further in your shopping, take one more moment to consider the scale of the rug to the rest of the room and furniture. Fortunately, many people have a natural sense of scale, as they can tell when something is too large or too small. How you scale your rug to the room and its other furniture also plays a factor in this next step.
Choosing your 4x6 area rug will depend highly on which room you're decorating and if it overlaps with any furniture. 4x6 area rugs can be placed completely in front of furniture, underneath its legs, or completely under it in a living room. With a smaller/medium-sized rug like this, you'll find that it's most common to place it either in front of or underneath the front two legs of the furniture. The same principle applies to bedrooms. 
The center of an open space, like a hallway or bathroom, can be covered by a 4x6 rug. You can also set your rug in front of a vanity or shower/tub in bathrooms. Last but not least, if your kitchen is too big for a 3x5 but too small for a 5x8 rug, consider a 4x6 rug.
4x6 Rugs in cm
All 4x6 indooroutdoor rugs have not precisely the same size; there may be a few differences between them. It can be said that 4x6 rugs include 121 x 182 to 152 x 213 cm rugs.
Can You Machine Wash a 4X6 Rug?
Always check the label of your rug for washing directions, finer materials like 4x6 wool rugs and silk rugs should not be placed in the washing machine. 
In terms of dimensions, 4by 6 area rugs are relatively small and easily fit in the washing machine. Of course, pay attention to the fact that handmade carpets are not suitable for washing with a machine. Leave them only to reputable carpet cleaners.
Where Should You Place a 4X6 Rug?
Due to their small size, 4 x 6 carpets have no limitations for use and can be placed in any environment you want. But interior designers recommend that small rugs like this be used in the bedroom, hallway, entrance, kitchen, etc., and the living room be filled with one or two larger carpets instead of several 4 x 6 carpets. Also, it's a common idea to use 4x6 outdoor rugs in the patio, balcony and terrace.
4 by 6 area rugs bring a ton of style into a compact space. Whether you're looking to style an entryway, create a cozy seating area, or create a play area for your children, we have a wide range of design and color options to choose from in Cyruscrafts.