Rings are used as accessories by both men and women. They are one of the most symbolic jewelry pieces since some rings are wedding rings, and some of them are parts of a family heritage passed down from parents to children. Furthermore, evidence indicates that it has an ancient history...
Rings Review, Select, and Buying Guide
Among the oldest pieces of jewelry in human history, Persian rings have a great deal of potential to complement a person's appearance. A turquoise stone, for example, will make any person remember you! They will remember the thing that once belonged to you. Because a turquoise ring is not something everyone could even find to own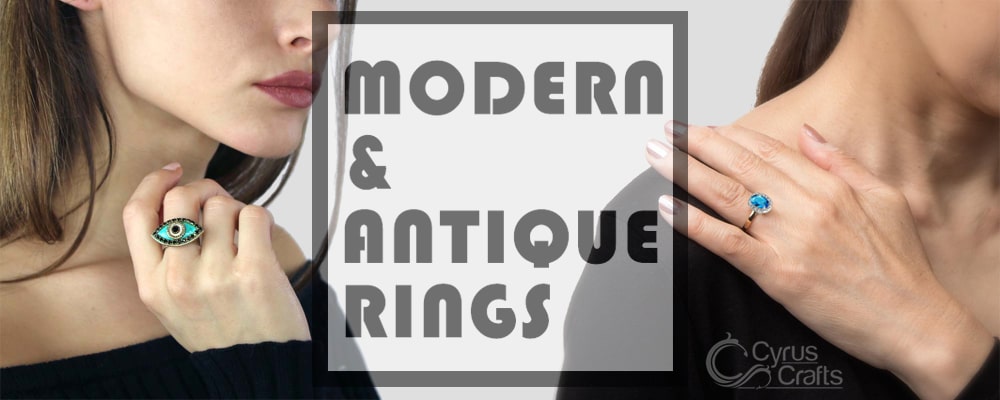 Signet rings were also produced by the Hittite civilization, but they have only been found in a few rare instances. There are many rings found in ancient Persia, although many have still yet to be discovered.
Different Styles of Rings
There are more than 30 types of rings and they are the most popular piece of jewelry (necklaces, bracelets, and earrings) to be worn by both men and women, from simple gold rings for special occasions to the ever-important engagement ring and wedding sets. Our main focus will be on two accurate types of them. They may have one of the most distinctive looks of all rings that can be found, being both antique and modern, Iranian handmade rings meet high-end materials and great techniques.


Antique Rings
A ring must meet certain requirements before it can be considered an antique ring. The term "antique ring or vintage ring" refers to a ring that is at least a hundred years old, and older. It is even possible to find antique rings dating back to the art deco era, which is amazingly beautiful and rare. But what makes Iranian rings even rarer could be their style and materials. Some believe that some of these stones have spiritual powers! Agate for example, besides absorbing power, it is also believed that Agate also protects its wearer against bad thoughts and dreams, relieves stress, and depletes energy, it also balances energy and awakens talents. The variety of men's turquoise rings makes them hard to choose yes, but it also makes them exceedingly unique.
But what about Antique/Vintage ring's prices? A vintage men's ring can be very valuable, although vintage rings do not contain any gemstone. Observe some of the examples…
• Halo Rings: A halo ring typically has a stone in the center, despite their timeless appeal, halo designs are still in style today.
• Scroll Rings: Since scrolls have been a part of jewelry and art for more than three millennia, they are the oldest motif.
• Initial rings/Signet Rings: Signet rings are those that are typically engraved with an image or icon meant to signify something memorable. Initial rings, on the other hand, have single or double letters on them which is a great choice for wedding rings.
• Unusual Rings: In addition to different, unique jewelry touches incorporated into pieces as soft references and nods to cultural aspects, there are also many subtle references to broader regional aspects.
• Floral Rings: Especially for vintage-inspired brides, a flower wedding ring offers a timeless, romantic option.
• Leaf Rings: Pretty much similar to the floral style but sometimes it can be a bit larger.
Note: Vintage engagement rings can be an excellent choice due to their non-expensive price.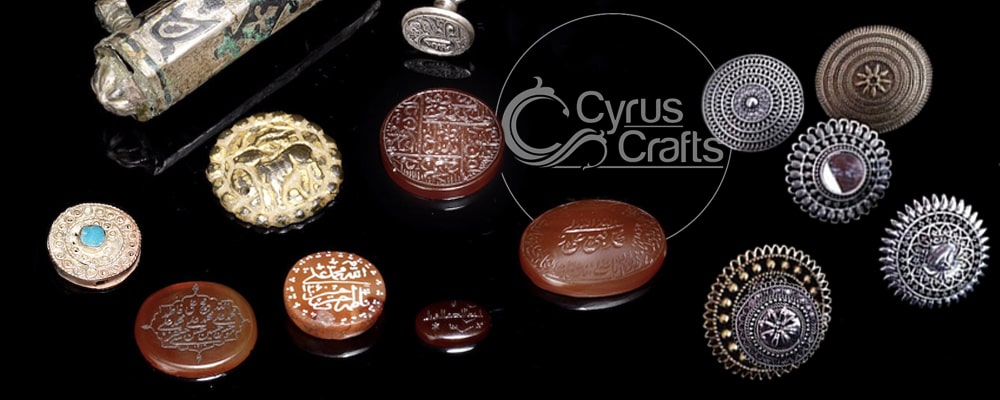 Modern Rings
Known for its sleek aesthetic (handmade rings), clean lines, and simple look, contemporary ring designs are characterized by a minimalist approach. The traditional stones used in Persian rings are often rough or natural, just like moonlight rings, or dark onyx rings. Being innovative, unconventional, and ahead of the curve are key. It's obvious that fashion won't fit into regular fashion in 2022. Maybe now is the perfect time to experiment with something completely different, something unexpected - be weird, be different, or even wear something vintage that you enjoy. The point of contemporary style is to express YOU and your distinctive characteristics.
Modern initial rings feature gemstones and diamonds set into solid settings to create a stunning array of contemporary wedding bands and diamond rings. Embraced by chic brides-to-be all over the world, the contemporary engagement ring style is a popular choice among debonair brides. The simple gold ring is of the most popular rings nowadays. Hither a number of modern rings…
• Modern Gold Rings: Due to its durability, it costs more, but in the long run, it will be more valuable than tarnished metals. The proportion of other metals in 9 karat gold is greater.
• Modern Stone Rings:  Sapphires rings, black onyx rings, emeralds rings, moonstone rings, and rubies rings are popular stoned rings. A number of other stone engagement rings are becoming popular, including aquamarine engagement rings, crystal rings, and turquoise rings. Despite this, some of these stones are difficult to maintain over time.
• Modern Handmade Rings: Individuals who create modern handmade rings are enthusiastic about their work. The time, effort, and love put into handmade jewelry will be far greater than anything produced by a factory.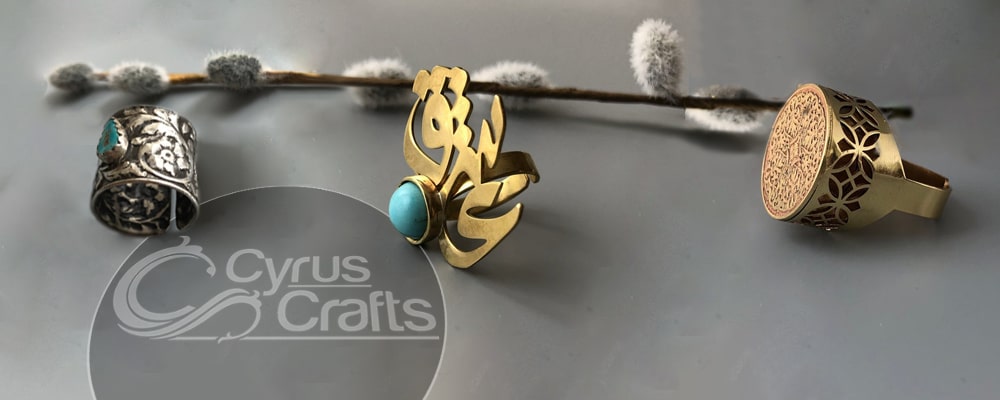 Women & Men Rings
On average, women wear rings more than men just and a daily regular decorative item, men on the other hand wear rings to mark anniversaries, birthdays, and commemorative occasions. In addition to the obvious occasions such as marriage and commitment. Although vintage men's rings are getting well-liked contemporarily. 
Rings' sizes are well obvious, In US and Canada, women wear rings in sizes 7 and men wear rings in sizes 10. But the style can get really tricky, like are there any rings that can be worn by both women and men? Yes, some people really like the idea but ring styles can quite vary depending on one's sex.
Women Ring Styles
There are a whole ton of styles for women's rings, maybe these are some of the most popular ones:
• Solitaire: Solitaire rings are one of the more classical and traditional types of rings. It is named after being made up of only one stone. Solitaire stones are generally mounted in a simple band with a prong or claw setting to showcase their beauty. If you value simplicity and elegance, the solitaire is a great option for you. And maybe the most popular one is the solitaire turquoise ring for women.
• Cluster: Also known as illusion rings. Their affordable price makes them an excellent choice for engagement rings. You can get the maximum without spending so much money with cluster stones. Alternatively, you can choose an antique gold ring or a turquoise ring.
• Vintage Engagement Rings: Vintage rings are generally defined as those made in the past decades, but at CyrusCrafts we consider vintage rings to be anything 20 years or older. And sometimes just by the look of these traditional rings, we sort them as Vintage.
• Hug Ring: Symbolizing passion, friendship, love, and protection, a hug ring is an important symbol. With its double hands, this hug ring reminds you to live fully, love freely, and give hugs whenever you can.
Men Ring Styles
Men's rings styles, on the other hand, do not usually have much variety yet there are some to be mentioned, such as vintage men's rings which have that antique look to them and are truthfully popular. Men's turquoise rings which is a proper choice for those who are after extraordinary look and want to be different. Choosing a gold ring for men is a great choice because gold is a timeless color and can last for an extremely long time.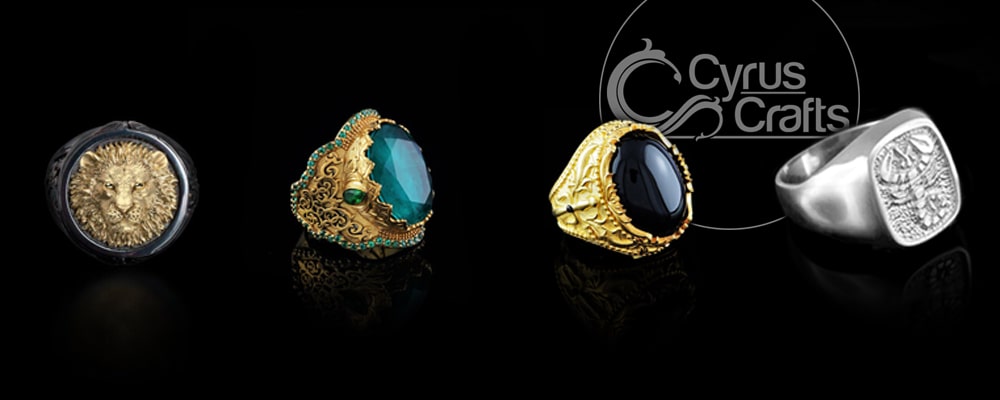 Tips for Buying a Ring 
Best Ring materials
First, you need to pick a material for the ring. Rings can be made from different materials, and there is no restriction on the type of ring you choose. Several precious metals, such as platinum, titanium, yellow gold, and white gold, can be selected depending on your taste, budget, and style. Due to its high hardness, platinum is the best choice for a
wedding ring
that should be durable. Metals such as platinum and gold have different colors and are hard to work with, though gold is known for its white color. Next is gold, which has yellow, white, and rose gold colors. The world of today is dominated by rose gold, especially among traditional couples, whereas yellow gold is more popular among couples. The addition of a coating to white gold makes it lose its white color over time, so it is not recommended. White gold in the form of platinum should not be purchased.
Best Ring Styles
Based on your taste and comfort, choose the design and material of the rings. A simple design or delicate ring will never fall out of style. A ring can have several styles at once. A number of rings have sharpened appendages to which stones are attached. Daily use of these sharpeners causes the stone to move back and forth, which may separate the stone. Therefore, round and flat rings are better. The designs of some rings are slightly different for women and men, but they can be bought in similar pairs.
Buying your engagement ring in pairs or sets is a wise suggestion for loving couples. You can bypass this, but you'd better be a techie who knows what he's doing!
Price of the Rings
Making a well-designed and handcrafted ring may require an art honor or degree. Providing you with a custom order will require finding specific materials and stones, which will take some time before the item is made. Since you are not purchasing large quantities, the materials and time required for the maker will be calculated. Additionally, the price sometimes starts from $20 and goes up to $200,000.
Last Word about Cyruscrafts rings
For many years, Iran has exported handmade rings around the world. However,
Cyrus Crafts
' capabilities and knowledge have enabled these products to be available on global markets today.
We specialize in the supply, sale, and export of modern and antique/modern rings and other types of jewelry such as modern and fancy necklaces, unique bracelets, and handmade earrings. We bring you products that will liven up and individualize your home or workplace. 
Read More