Qottab| Tasty Pastry
Qottab (or Ghottab) is one of the most famous traditional Iranian pastries. Although it is a famous souvenir of Yazd and Kerman, it is very popular among all Iranians. This article will provide you with useful information about Qottab (Ghottab) and its recipe and ingredients.
Qottab has been baked and consumed for hundreds of years! This traditional cookie is not one of the fatty and sugary harmful confections, but rather one with a high nutritional value. It is typically prepared in two flavors, pistachio, and walnut, and resembles a morsel made from special dough filled with walnut or pistachio kernels. The kernels inside are sometimes mixed with powdered sugar or honey and placed in the dough.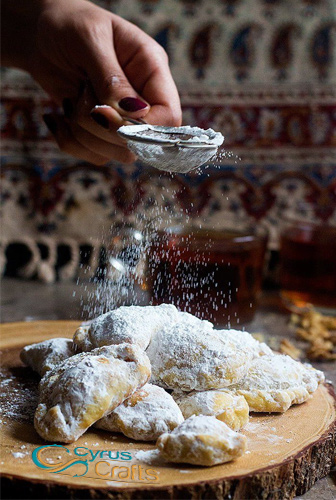 Qottab pastry recipe first stage
people in Yazd prepare Qottab Pastry in two stages: first, they prepare the dough, and then they bake it. The following are the ingredients for this Tasty Pastry dough:
Wheat flour
Yolk
Softened butter
Sourdough
Yogurt (thick and sweet)
Baking powder
To make the dough a flavorful pastry, you can use a small amount of sourdough instead of baking powder and remove the baking powder completely from the recipe. It is important to keep the dough warm and the ingredients at room temperature so that they do not cool, as this will result in a healthier and more natural dough. However, if the Qottab dough is needed to swell more, you can add some baking powder to it. Another point to remember is that you should cook the dough as soon as it is ready because if you wait too long, it will develop a sour taste.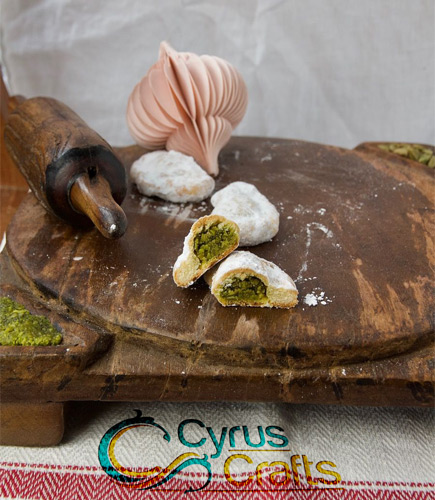 How to prepare the pastry dough?
If the sourdough is of a type that needs to be dissolved in water, it should be mixed with a very small amount of water, powdered sugar cube, and salt, and rest for a few minutes. However, if baking powder is used, it should be mixed with yogurt and then added to the ingredients. Yolks are stirred and mixed with softened butter and yogurt. Then the flour is sifted three times and added to the yolks together with sourdough.
While they are being stirred, flour is gradually added to ensure that the dough does not stick to the hands and does not become too stiff. The dough is covered with a plastic bag and left to swell for one to two hours. The flour should be sprinkled on the surface of the table where the dough is prepared. Then the dough is spread on the table with a rolling pin and is cut using a circular mold.
Qottab pastry ingredients
Pistachio or almond powder
Soft powdered sugar cube
Cardamom powder
If desired, a small amount of rosewater can be added until the ingredients form a stiff dough.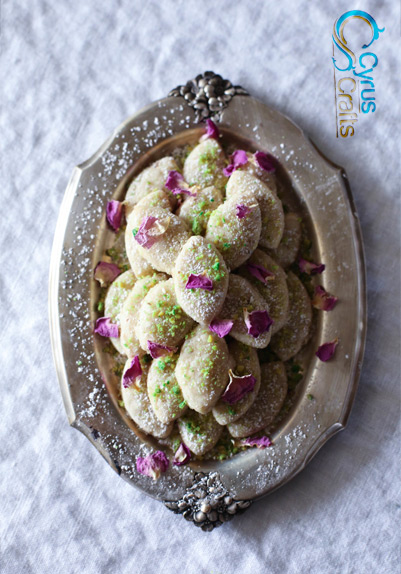 Qottab recipe second stage
Almond powder, cardamom, and sugar are mixed and some amount of them is placed in the middle of each circle. Cardamom powder can be replaced by cinnamon powder to which a small amount of rosewater can also be added. It is critical that the ingredients are placed directly in the center of the dough and not smeared around it. Then, one side of the dough must be placed on the other side and pressed to keep the ingredients inside, and the dough edge must be twisted and stuck so that the Qottabs take on a semi-circular shape.
At this point, it is time to bake the Qottabs, which can happen in two ways. One method is to heat the oil in a large bowl and fry the prepared Qottabs in it before removing them from the oil and placing them on a wire rack to drain the excess oil.
Oil is not used in the second method, which is used for those on a diet; Qottab Pastries are placed on a tray and baked until cooked and golden in color. They are then removed from the oven and allowed to cool.
Regardless of whether the frying method or the microwave oven is used, sugar cane powder is sprinkled on the Qottabs and the Qottabs are rolled in the powder until their entire surface is covered.
Qottab Pastry baking tips
Milk can be used instead of yogurt in its dough.
Honey can be used instead of sugar or sugar cube powder to have a honey Qottab.
If the Qottabs are fried in oil, they should be rolled in oil using a wooden spoon so that all parts of them are fried smoothly.
The baking powder used in baking Qottab or any other cake and pastry should be mixed with yogurt and added to the rest of the ingredients. It should not be mixed with flour.
If the Qottab pastry is baked in the oven, it is better to grease the bottom of the tray and also prepare a mixture of milk and oil and apply it on the Qottab using a brush.
If the dough is left out in the air for an extended period, it will not swell and the confection will not be in good shape.
Other kernels such as hazelnut, almonds, and walnut can also be used as its filling.
Yazdi Qottab is an ancient, indigenous, and delicious Iranian confection that varies in price depending on the raw materials used and the region in which it is prepared. However, if you order it from CyrusCrafts, you will be able to get it at the most reasonable price.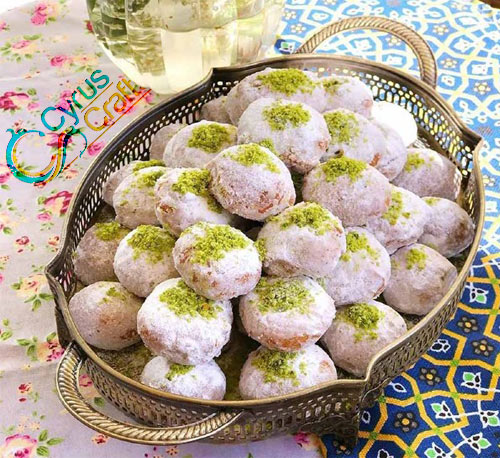 The last word about Buying tasty pastry
It is hoped that you have got a grasp on "Qottab", a nutty, healthy, and nutritious Iranian Pastry. Qottab and other Iranian products have been produced and exported to other countries for several years, but we intend to contribute to their production and export by relying on the capabilities and knowledge available on CyrusCrafts.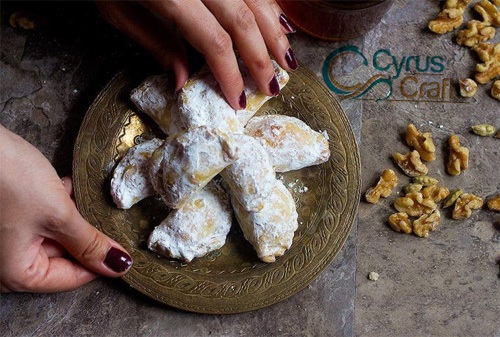 CyrusCrafts will provide you with high-quality and unique products as part of its specialized activity in preparing, selling, and exporting the best Qottab (Ghottab Persian cookie) so that you can have a wonderful and one-of-a-kind taste and serve your guests uniquely and differently.
Tasty!
Kashani
Ta-311
Produced in Iran with almond kernels In package of 900 gram (31.74 ounce)
Tasty!
Haj khalifeh
Ta-858
Produced in Iran (Yazd) With almond kernels With cardboard packaging In package of 630 gram (1.38 pound)