Wallets
Your digital assets, money, pieces of jewelry such as rings, necklaces, bracelets, and the most important one, your ID can be stored in your wallet at one time. Wallets and purses also come in a variety of sizes and patterns, wallets and purses are used by both women and men, but they are one of the most important men's style accessories.
You never know who is out there trying to con you out of money!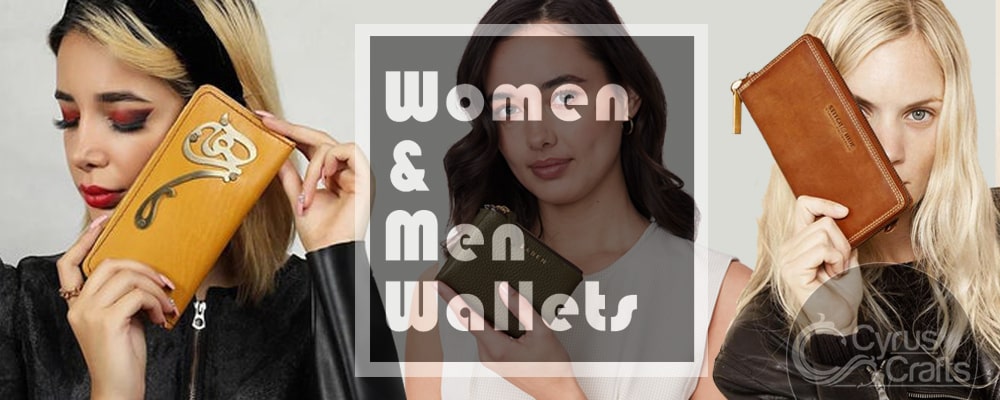 Different Types of Wallets & Purses
Foremost, usually, a purse belongs to a woman, and a wallet usually fits inside a purse, which is smaller than a purse. In a wallet, you keep money, credit cards, and identification materials, like your driver's license, in one place. Now here are the types of wallets and purses available...
If you are one who changes by fashion, grab a purple or red wallet, it's getting really popular.
Women's Wallet and Purses
Women's wallets have many card slots, interior pockets, and a coin pouch. Everything is organized in these wallets.
Purse: A purse is some sort of a handbag that is commonly used to carry money and items that are used every day. Although they feature a zipper on top (except for circular purses which work differently), purses can vary in size and capacity.
Coin Purse: Change and loose coins can be placed in the Coin Purse. The modern Coin Purse is often made of leather and has a magnetic snap, replacing the traditional cloth coin pouches.
Clasp Purse: Several different materials can be used to make a Clasp Purse, including nylon, cloth, and leather. There are two clasps on each side that fasten the purse shut.
Long Wallet: This is a longer style of wallet that has a snap-on strap for fastening and can include a coin purse. Long Wallets are often referred to as Continental Wallets and are designed to hold banknotes flat and uncreased.
Zip-Around Wallet: A Zip-Around wallet or zipper wallet can be very similar to a Long Wallet, but it's fastened with a zipper instead of a button. These wallets can be long or short and are available in both long and short sizes. This one can also be used for men.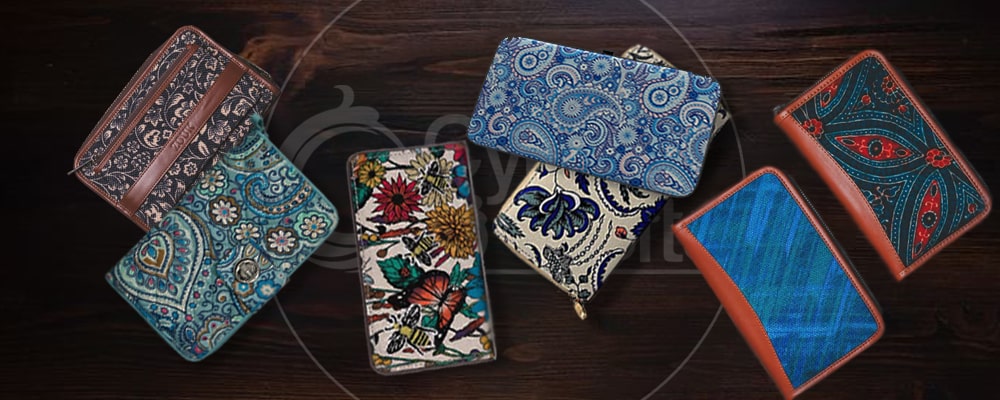 Men's Wallets
Men's long wallets are made for suit coat pockets, and are also called breast wallets, coat wallets, or coat wallets, and can hold cash in a flat position without needing to fold. There are plenty of slots for credit cards as well. Slim wallets for men are preferred as they can fit in the pocket easily.
Tri-Fold Wallet: There are several types of wallets available today that fold into three equal parts. Tri-Fold Wallets are usually made of leather, however, carbon fiber Tri-Fold Wallets are becoming increasingly popular.
Wallet with Chain: They feature a chain and hook connected to one side of the wallet and the extra security measured and fashion statement. If you're into leather wallets with chains, make sure you browse our selection.
Passport Holder: It's also called a Travel Wallet or Passport Wallet, and is often made of leather or nylon for durability. Also called a Passport Holder or Travel Wallet, the Passport Holder or Travel Wallet is designed to store passports and other travel documents.
Credit Card Wallet: There are many kinds of Creditcard Wallets, but the main difference between them and Card Holders is the size. A Credit Card Wallet has plenty of pockets to organize and store all of your cards, from credit and debit cards to business cards. And mostly belong to men by design.
Wallet with Strap: There are many types of wallets that are attached to a strap for easy handlings, such as wristlet straps and shoulder straps.
Bi-Fold Wallet: It comprises two halves, the centerfold being used to fold over banknotes, while the cards are folded over and stored in either a vertical or horizontal position depending on the wallet design.
Phone Case Wallet: In addition to acting as a purse and a phone case, Phone case Wallets can also have straps or tassels for added comfort.
Price of Wallets
The price of some wallets is higher than others simply because they are made from better materials and are often handcrafted, which adds to their premium status. Each wallet involves a lot of handworks, and they are much more difficult to make than bags. Wallets cost around $5 initially and can reach as high as $5,000 depending on the style.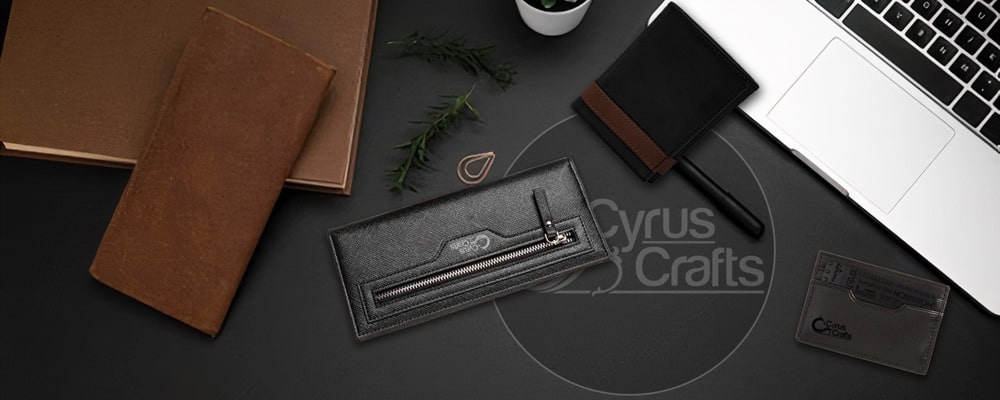 Last Words of CyrusCrafts' Wallets
Despite Iranian artists' efforts to export their wallets and purses to many parts of the world, these products are becoming increasingly unavailable in global markets, but it is about to change, thanks to the capabilities and knowledge offered by CyrusCrafts.
Interested in high-end, unique accessories for both men and women? Cyruscrafts specializes in the design, manufacture, and sale of extreme quality, accessories, and jewelry (rings, earings, necklaces, bracelets, etc).