What are decorative vases, and how do they differ from planters? These containers are used to hold flowers. Artists can use materials such as glass and ceramic to create them. Some plain pots are decorated or painted delicately. These are most commonly used for decorating homes. Specially handcrafted ones.
So the terms "decorative vase" and "planter" is used interchangeably. Decorative Vessels generally hold one plant and are smaller than planters and large vessels. There are many kinds of planters, which are typically meant for outdoors, come in various sizes, and can hold many plants at once.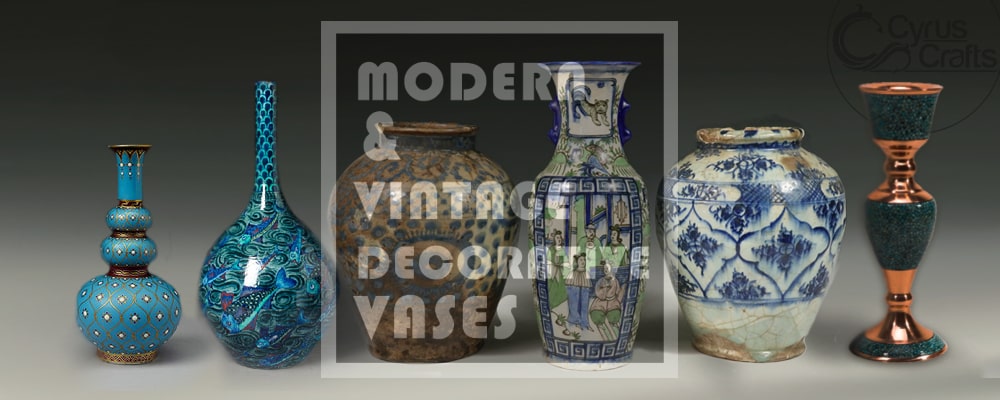 Types of Decorative Vessels by Shape
It can be challenging to select the right vessel due to the wide variety of styles and materials of pot available either for gifting (workplace gifts, birthday presents, souvenirs) or personal uses.
Here are a few of the most common furnishing containers, as well as some tips on incorporating these items seamlessly into your home decor:
Bouquet decorative pot: The medium size bouquet containers make them great for displaying vibrant colors almost anywhere in your home, whether on a shelf or as a table centerpiece.
Floor furnishing vessel: A pair of floor decorative large vases are especially useful for creating pleasing visual symmetry when placed on either side of a large piece of furniture; a sofa, bench, or shelf.
Decorative Jar: Traditional rustic design accents such as jar vases can be found among artisans and artisans working in various environments, such as jar glass, ceramics, and stainless steel, so you are not limited to reusing household jars.
Modern vessel: Thanks to its roots in simple yet functional designs that are pleasing to the eye, the modern vase remains a great choice for decorating themes ranging from modern to rustic. They are usually small and can be used as table vases.
Pan vessel: containers in the shape of pans are most commonly used as centerpieces. If you choose a piece of glass that's waterproof, you can put fresh plants and flowers on them.
Wall Mounted vessel: In addition to the unique shapes of the wall pots, their frames attach them to the wall, allowing the product to have an additional visual component.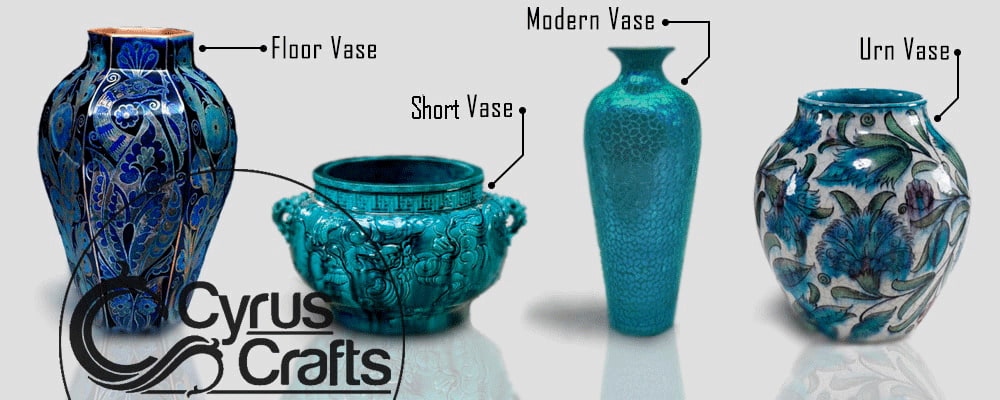 Price of Decorative Vases & Vessels
It is very difficult to estimate the price of handmade crafts such as decorative vessels and pots; to determine the price of handicrafts, one must also consider factors such as the materials and tools used to make them, as well as the amount of effort devoted to them by the artist. Often, the process can be challenging, and many mistakes can be made. It is for this reason that some of these containers start at $90 and go up to $800 in the US and Canada.
Material Types of Decorative Vases
The most popular container material is ceramic, along with glass, but there are other materials that are being used to create Persian vases following topic discusses what these timeless materials are, their benefits as container materials, and then how to utilize them to bring your home into balance. We start with common materials!
Turquoise Inlaid Vases
You might not believe this, but turquoise vases do exist! But they are mostly a little hard to afford due to the hardworking process of making these sorts of vessels, and the price might be higher than other kinds of containers (Especially in different parts of the United States).
Glass Vases
Choose from clear glass or painted glass vessels, or go for different colors, such as (black vase, blue or teal vase, green vase, etc.) These colorful, unique vessels can be difficult to find everywhere, and exporting glass containers can be challenging. You will be able to add a fresh glow to your living space with glass vessels when the sun shines.
On the other hand, clear glass vessels are great for fresh flowers since they allow you to see the stems and see the beauty of the flowers from top to bottom.
Ceramic Vases
If you ask me which material makes the most popular pot, ceramic comes close to the glass. Easy to clean and able to endure constant use, they are known to be durable and scratch-resistant. It Won't take long for you to find a unique vase on CyrusCrafts. Just take a look at the vessel section and you'll find lots of creative and unique white ceramic vases. The ceramic vessels are usually handmade, which makes them a high-value item, plus, you can choose from endless shapes, sizes, and glazes to make the most unique shapes and sizes you've ever seen.
Metal Vases
A metal pot, such as a bucket, looks beautiful with rustic farmhouse decor. Industrial and modern spaces also benefit from some contemporary pieces. Stainless steel, pewter, aluminum, brass, copper, and more metal containers are available. We also offer very small to extremely big flower vases!
Wooden Decorative Pots
Marquetry or wooden containers are pretty unique, because of the Persian designs, patterns and the quality of the wood! some may believe that Canadian wood is the best wood ever but the way Iranians take care of wood is insane. You should at least give them a try... The look of the raw wood is much preferable to that of painted vessels but some do really prefer painted wooden vessels. Lighter-toned wood features an authentic country feel while darker pieces add a level of sophistication. It isn't so easy to locate wooden tall vases, though if you look closely you may.
Earthenware Ornamental Vessels
Despite its classification as ceramic, earthenware is fired at a relatively low temperature, so it is similar to porcelain and stoneware. Generally, glazed clay vessels are waterproof, but unglazed ones are not.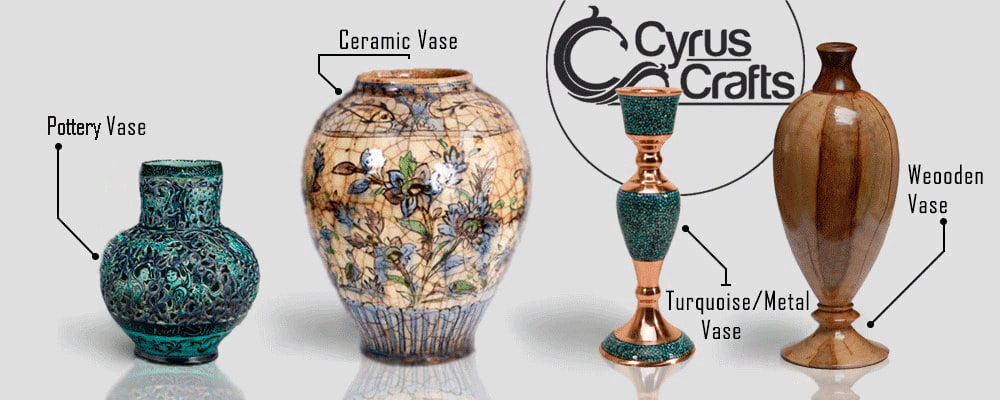 CyrusCrafts' Decorative Vases
Since the Iranian policy has changed in recent years, traditional Iranian handmade vessels are being exported less than before, but that is changing now thanks to CyrusCrafts and their capabilities and knowledge.
CyrusCrafts online store can export handcrafted vases and decorative plates to Canada, the USA and Europe. Our mission is to liven up and enhance your environment with our high-end quality products.