Baklava| Tasty Cookie
Baklava is a tasty cookie. Each Iranian city and region has its selection of confections. Baklava is a specialty and souvenir of Tabriz, East Azerbaijan Province, but it is also baked and consumed in other cities such as Qazvin, Kashan, Yazd, and so on.
Sugar, cardamom, rosewater, yolk, powdered sugar, milk, baking powder, and oil are used to make this delicious treat. It comes in tubular, rhombic, and square shapes and is frequently baked with walnut, pistachio, coconut, almond, and caramel flavors. Furthermore, a special type of nectar is poured on it during serving, making it even more delicious.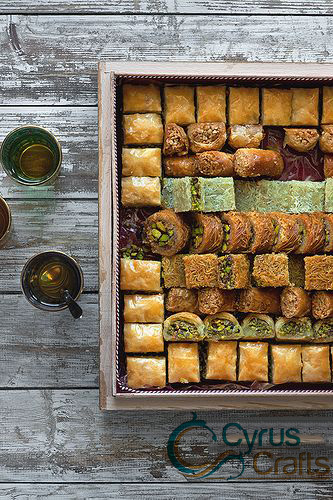 Ingredients of Tabriz baklava tasty cookie
These steps must be followed to bake baklava in the Tabrizi method. First, prepare the ingredients, which are as follows:
Sheet dough
Egg
Walnut powder
Melted butter
Pistachio and coconut powder
The following ingredients are required to make the syrup:
Water
Sugar
Rosewater
Lime juice
Cardamom powder
Tabriz baklava cookie recipe
Baklava is baked in various ways throughout Iran, but the following method is used in Tabriz. After you have prepared all of the ingredients, turn on the oven to give it time to heat up. Use large tray-like molds that are slightly deep. Using a pastry brush, lubricate the bottom and walls of the mold with oil or melted butter.
Spread a layer of dough sheets on the bottom of the mold and brush with butter, repeating until 4 sheets are spread one by one and brushed with butter. Then, evenly sprinkle the required amount of walnut powder over the entire surface of the mold. Place the dough on the walnut once more, this time with butter and walnut powder. This should be done for the first three layers. Cover the walnuts with dough and butter it after the third layer, and repeat until the dough is finished. Then, using a large, sharp knife, cut the baklava vertically and horizontally into small equal squares before baking it until golden.
The main difference between baklava and other confections, as well as the source of its flavor and aroma, is the syrup that is added to the baklava; thus, syrup preparation is critical. For this purpose, boil a proportionate amount of water and sugar together until the sugar is completely dissolved in the water. Then add the dissolved saffron in water, as well as the cardamom powder, and boil until the ingredients are smoothed out. Finally, add rosewater to the mixture and remove it from heat after a minute. Add a few drops of fresh lime juice to improve the flavor.
Now it comes to baklava again. When the baklava is baked enough and gets a golden color, take it out of the oven and set it aside to cool. Then add the prepared syrup to it and finally add a small amount of pistachio powder or coconut powder to garnish.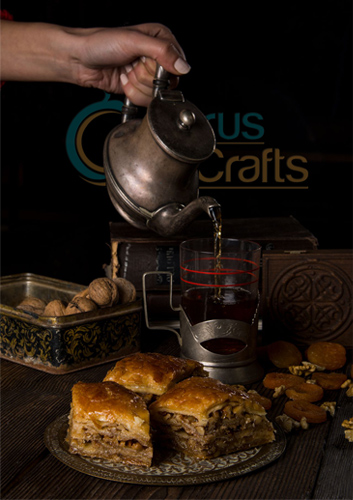 Coconut Yazdi baklava cookie recipe
Unlike other varieties, this variety of baklava does not have many layers and has a spongy texture like a cake. It is a very delicious confection with a special flavor which you can prepare for parties and gatherings and surprise your guests. Its ingredients are:
Sugar
Wheat flour
Egg
Liquid oil
Coconut powder
Vanilla
Rosewater
Cardamom powder
Baking powder
In Yazd, coconut baklava is made in the following manner. First, the eggs are mixed with a proportionate amount of sugar and a little vanilla, and the ingredients are smoothed out with a mixer. Then coconut powder and oil are added to it, and the ingredients, as well as a mixture of flour and baking powder, are gradually added to it, and the ingredients are mixed until a smooth dough is formed. A flat mold with at least two 2 cm edges is used, and the bottom is covered with parchment paper.
The mixture is placed in the bottom of the tray, and cardamom or sesame powder is sprinkled on top. The mold is then placed on the oven's preheated middle floor. The oven is turned off after 30 minutes when the baklava is done, but it is left in the oven for another 20 minutes until golden and crispy. The tray is then taken out of the oven and the prepared confection is cut into desired shapes.
Rosewater and sugar are heated with water to make the syrup. The noticeable point is that the syrup must be quite cool, but the baklava must still be hot for the syrup to absorb more effectively.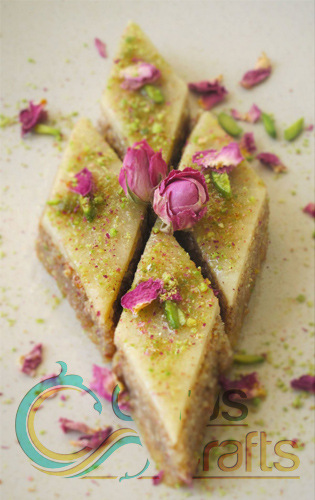 String baklava recipe
String confections are one of the most delicious and crispy types of baklava, popular not only in Iran but also in Arab countries. Its ingredients are as follows:
Honey milk
Soybeans noodles (Sherie)
Butter
Pistachios and walnut
Cinnamon
Cardamom powder
Water
Rosewater
Iranians cook noodles in the following manner: they first lightly chop pistachios and walnuts, then heat the chopped kernels without using oil until they are roasted; the important point is that the kernels should not burn!
They completely chop the soybean noodles specifically used for baking baklava, also known as Sherie, heat them slightly until they turn golden, and then add butter and heat it again until fried. Then they add cardamom powder, honey milk, and cinnamon to the noodles. They mix the ingredients well and simultaneously add water and rosewater, and continue stirring the ingredients.
At this stage, they cover the dish to allow the ingredients to be cooked and the noodles to be softened. After a few minutes when the ingredients' water evaporates, they remove the dish from the heat.
They cover the bottom of a large tray with aluminum foil, put the resulting material on it, and make it completely flat and smooth. They add a mixture of chopped walnut and pistachios to them and wait a while for the ingredients to cool. Then wrap the ingredients with the foil like a roulette cake. They wait half a day for the rolled sweet to be ready before cutting the baklava.
Delicious Iranian baklava confections have various types such as Tabrizi baklava, string baklava, Yazdi baklava, Kanafe, Kadaif, etc. each of which has a different name, flavor, and price depending on its ingredients. However, you can get baklava at the most reasonable price by ordering it from CyrusCrafts.
Price of Baklava
Baklava is available in wide varieties as desserts and sweets, and each type of them has its fans. The price of Baklava is determined based on its type. 
The materials used in it are another factor that affects its price. The cost of Baklava directly relates to the number of nuts used in it. Baklava is more expensive if it has more nuts included. The type of nuts in these sweets also dramatically impacts its price. For example, the cost of Baklava with pistachio kernel is slightly higher than the price of other baklavas. The different types of Baklava's price range from $15 to $60. Cyruscrafts offer you healthy, high quality, and tasty Baklava, so you can enjoy its taste and health benefits at the same time.
The last word about buying tasty cookies online
It is hoped that you have got a grasp on "baklava". This article was an attempt to provide you with more information about the original Iranian culture and its various dishes, produced in different cities and regions of the country. Baklava and other Iranian products have been produced and exported to other countries, including Europe and the United States, for several years, but we intend to contribute to their production and export by relying on the capabilities and knowledge available on CyrusCrafts.
CyrusCrafts will provide you with high-quality and unique products as part of its specialized activity in preparing, selling, and exporting the best Iranian baklava (Persian Sweets) so that you can have a wonderful and one-of-a-kind taste and serve your guests uniquely and differently.
Tasty!
CyrusCrafts™
Ta-528
Produced in Iran (Yazd) Delicious baklava Traditional baklava In package of 500 gram (1.10 pound)
Tasty!
CyrusCrafts™
Ta-263
Produced in Iran (Qazvin) High quality baklava With wooden packaging In package of 34 pieces With layers of almonds and pistachios
Tasty!
CyrusCrafts™
Ta-320
Produced in Iran (Tehran) with pistachio and almond kernels in package of 2 kg (4.40 pound)