When decorating your home, a beautiful rug is one of the essential items you can have. It is the first thing people notice when they walk into your house and can pull an entire room together with its bold colors or simple patterns. However, picking the right size can be tricky if you do not know what type will work best for your space. Luckily, we have put together this guide on oversized 9x12 area rugs, so you will know exactly what size rug will fit in any room!
You can place 9x12 area rugs in front of a sofa and chairs to create a cozy sitting area. It can also be used as a runner in the hallway to add color and style to an otherwise dull space.
A beautiful piece of furniture may look great in your living room, but it only does a little for you if you do not have any way of storing it when not in use. The best option is often an ottoman coffee table that doubles as storage space and offers extra seating when needed."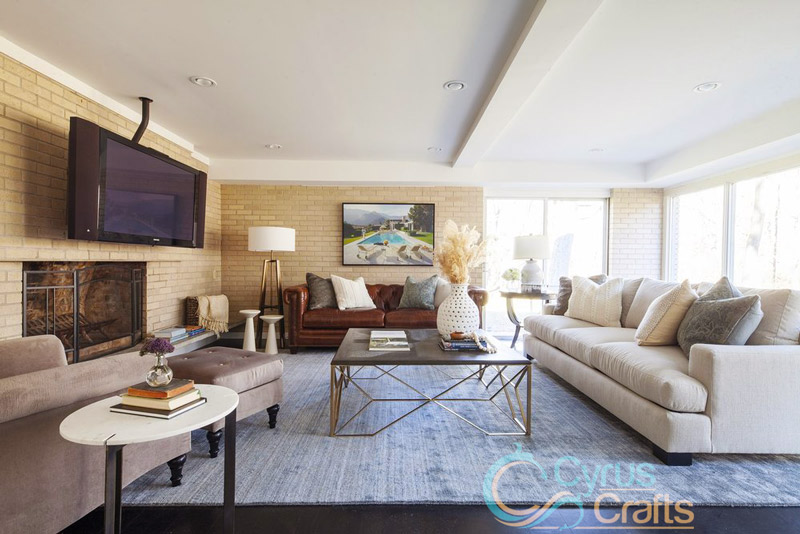 Best Places to Put a 9x12 Rug
You can place them under the king-size bed and any other large furniture. When you are not using it, you can fold it and store it in a container until you need it again. You can also put your 9x12 rug on a wall, making your room look more beautiful, especially if the floor is made of wood or tile.
9x12 rugs by material
Wool rugs are incredibly durable and long lasting. They are also naturally flame resistant and can be cleaned easily with soap and water. Wool rugs come in various colors, so you are sure to find one that enhances the decor of any room.
Cotton rugs are made from sustainable materials that are soft on your feet but hardy enough to stand up against wear and tear. They are easy to clean and maintain, making them great for busy households or people who want something low-maintenance for their home decor.
Silk is a luxurious material that is beautiful to look at, comfortable underfoot and durable over time - perfect for families with children or pets! You can use silk rugs outdoors and indoors, so you will never have to worry about where you put it down once it has been cleaned (which is easy because these types of carpets do not attract dirt like other types might).
A jute rug is an innovative and natural choice for your home. This durable fiber is easy to clean and withstand heavy traffic and constant foot traffic, making it perfect for kids' rooms and kitchens. Jute rugs are often made with trims that are both eco-friendly and beautiful, such as recycled cotton or recycled sari silk. However, the thing that doubles its usage is the large dimensions of a 9 by 12 rug. 
You can use a jute rug on hardwood floors as they absorb sound better than other flooring materials. Please do not use them in high-traffic areas; they are great at absorbing sound throughout your home, so you do not have to worry about any echoes after an entertaining party!
How Big Is a 9x12 Rug?
How big is a 9x12 area rug? It can be challenging to know precisely how large an area rug will be when shopping online. The best way to ensure that your new rug will fit in your space is to measure the dimensions of the room that it will be placed and compare them with the size of the rugs available on our website.
A small, round rug for your entryway or living room may be smaller than other rugs because they typically only cover one corner of a room. However, if you want an extra-large piece under your dining table or sofa, we recommend checking out some 9x12 area rugs!
9 x 12 Rugs Are Just Right for Any Room
The smallest size available on our site is 4 feet by 6 feet, which makes it perfect for hallways and bedrooms but too small for most bedrooms - unless yours has very high ceilings or low furniture! Most people use this size in their bathrooms, though, since it is not much else inside besides maybe just one sink countertop (and even then).
How to Place a 9 x 12 Rug Under a King Bed?
Placing a 9x12 rug under your king-size bed is easy to create a cozy, welcoming feel. It is also the perfect place to display your favorite rugs and add color and texture to your bedroom.
Here are some of our favorite spots in your home where a 9x12 rug will fit perfectly:
Your Bedroom Living Room Area (BLOA)
Bedside Table Area
Around the Fireplace
9 by 12 area rugs can be used as an accent piece or integrated into your living space, whichever you prefer. A large rug like this will help define your space and make it feel much cozier. Nevertheless, it can also make it feel smaller if not placed correctly!