Pistachio
Pistachio is the fruit of a small tree that is commonly found in Iranian provinces and cities such as Rafsanjan, Kerman province, Semnan, Damghan, and Yazd. It is, however, found in some foreign countries, including Turkmenistan, Syria, and western Afghanistan. Pistachios are eaten both fresh and dried, with the fresh variety being particularly popular in late summer as one of the most popular and filling munchies. Fresh pistachios, on the other hand, are only available for a limited time each year, which is why they are dried and processed to be used all year.
To make trail mix, dried pistachios are mixed with other types of nuts such as almond, hazelnut, cashew, peanut, and sometimes raisins, dried apricots, dried figs, walnut, and so on. It is eaten as a traditional snack on special occasions such as Nowruz, Yalda night, and Chaharshanbe Suri night, along with other snacks!
According to their appearance and production area, Iranian pistachios are generally classified into four types of fandoghi, Kaleghoochi, Akbari, and Ahmad Aghaei, but all have high properties and nutritional value.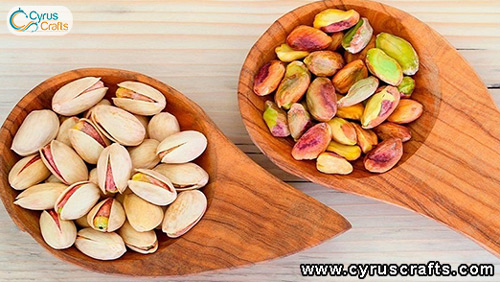 Nutritional value of pistachios
Protein, carbohydrates, fats, amino acids, dietary fiber, iron, potassium, calcium, sodium, zinc, copper, and essential vitamins such as vitamins A, B6, C, K, thiamine, folate, and betaine are all found in pistachios.
According to research, pistachios have the following amounts of minerals and vitamins per 100 grams:
·       Calcium 130 mg
·       Iron 7.5 mg
·       Phosphorus 500 mg
·       Starch 15 g
·       Fat 54 g
·       Water 5.2 g
·       Potassium 950 mg
·       Protein 20 g
·       Vitamin B1 0.7 mg
·       Vitamin B3 1.5 mg
·       Vitamin A 230 IU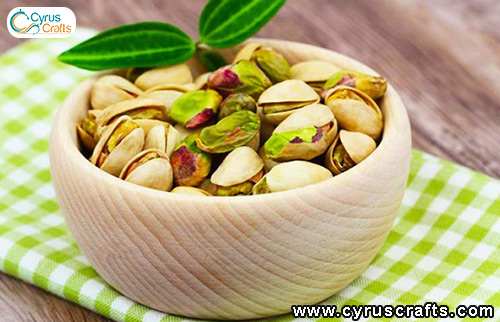 Medicinal properties of pistachios
Pistachio, one of Iran's most popular snacks, has many properties for disease prevention and treatment. Among its medicinal properties are the following:
·       Because its kernels are high in iron, they aid in blood formation and are beneficial to people suffering from anemia if consumed on a daily basis.
·       It boosts sexual stamina.
·       Its kernels are also useful for stomach.
·       It is recommended to consume pistachios for liver health.
·       It also strengthens the brain and mind.
·       It calms the heart and nerves if consumed on a daily basis.
·       It also helps soothe coughs.
·       It is useful for treating diarrhea and even dysentery.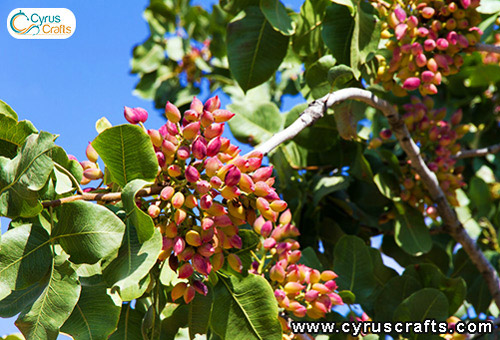 Unique and numerous properties of pistachios
Pistachio has a variety of other properties that benefit the body's health and vitality. Here are some of the advantages of this member of Iranian trail mix.
Pistachio consumption on a daily basis lowers LDL or bad cholesterol in the body. It is high in amino acids, which help prevent blood vessel narrowing and the formation of blood clots.
Pistachios, both raw and unprocessed, are especially beneficial to those on a diet. They aid in weight loss and help people maintain their ideal weight because they are low in calories, fat, and protein.
Cellular metabolism releases radicals that cause heart disease and cancer, but pistachio consumption neutralizes these free radicals due to high antioxidant levels.
Pistachios are also high in lutein and zaxtin (carotenoid antioxidants), which help reduce the risk of macular degeneration, a disease that is common in the elderly.
It also contains a lot of copper, which helps the body absorb more iron from food, which can help fight anemia by increasing the number of hemoglobins and blood flow.
Another benefit of this tasty and useful trail mix is that it is an excellent source of dietary fiber, which helps the digestive system function better.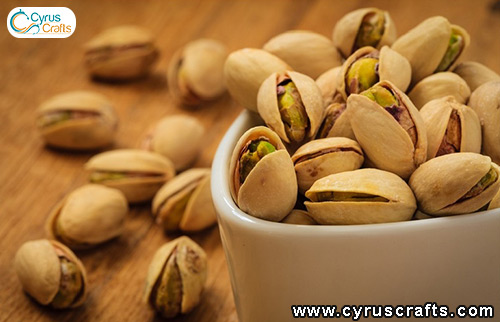 Agro-ecological requirements for pistachio growth
Winters in areas that are cold but not freezing are ideal for pistachio cultivation. Those with a warm summer and a little rain are a better bet. Pistachio trees prefer desert and semi-arid climates, with temperatures above 37 degrees Celsius being ideal.
Pistachio trees do not grow well in highlands due to the low temperatures. They never grow in cold weather, especially temperatures below 9. Furthermore, they do not grow well in very humid environments.
Pistachios can be planted from seeds or saplings, but seed planting takes several years for them to grow and become trees, so saplings are preferable for faster results.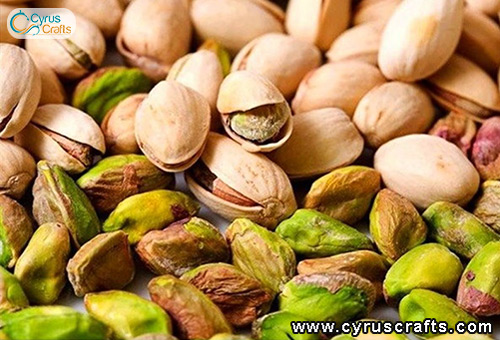 Use of pistachios in a variety of foods
Pistachio is used in desserts, confections, and other foods in addition to trail mix and munchies. It can be used to make pistachio butter, which you can eat for breakfast. All of the pistachio's properties can be found in its butter, making it a nutritious and complete breakfast.
Sliced pistachios are also used to garnish and flavor a variety of traditional Iranian desserts, including sholezard, ma'joon (a mixed drink), ice cream, pistachio pudding, confections, and so on.
Pistachio milk is one of the thickest and most nutritious Iranian beverages, and it is frequently the best choice for athletes, dieters, growing children, and guests. Furthermore, some pistachio powder can be mixed into other beverages such as banana milk or coconut milk.
Pistachio kernels are also used by Iranians in delicious foods such as gaz and sohan, where they add flavor and beauty.
Its sliced and slightly fried kernels are used in some Iranian foods such as Gheymeh Nesar, Shirin Polo, Morasa Polo, and others, in addition to its use in Iranian drinks, desserts, and confections.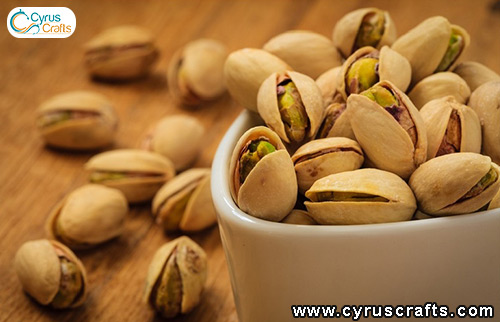 the last word about buying pistachios
We hope that this article has provided you with useful and comprehensive information about pistachio and its properties, as well as delicious and traditional Iranian treats. It is worth noting that pistachio and its various by-products have been produced and exported to other countries for several years, but we are attempting to increase their supply in global markets by leveraging CyrusCrafts' knowledge and capabilities.
CyrusCrafts will provide you with high-quality and unique products as part of its specialized activity in preparing, selling, and exporting the best Iranian pistachio, so that you can have a wonderful and one-of-a-kind taste and serve your guests in a unique and different way.