Pink rugs give living spaces a feminine vibe. Dark, bright shades can add energy and excitement to a room, while soft pastels set a relaxing mood. Pink area rugs can help you achieve whatever effect you want by carrying your pink color scheme to the floor. CyrusCrafts has thousands of pink area rugs available for every space, from the busy front hallway to the formal living room to the guest bedroom.
Pink Rug Review, Select, and Buying Hints
Pink rugs, with their versatility and style, seamlessly weave elegance and warmth into the fabric of your home. Their soft, feminine hue is a delightful touch, whether in the delicate blush of dawn or the bold intensity of fuchsia.
Indeed, a shade of pink rug is explicitly designed to complement your unique style and elevate the ambiance of your space. In this piece, we shall traverse the enchanting realm of pink Persian rugs, exploring how they metamorphose your space into a sanctuary of beauty and comfort.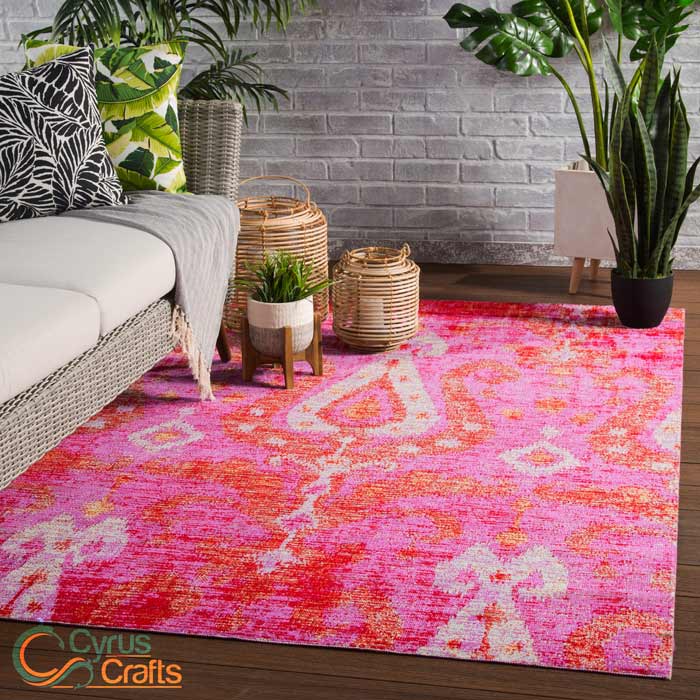 The Psychology of the Color Pink
Before we embark on our journey dissecting the transformative magic of pink rugs, let us pause to appreciate the psychology underpinning the color pink. With its gentle whisper, pink is often linked to femininity, tenderness, and love. It paints our emotions with calming and soothing strokes, making it an exemplary hue for fostering a serene and relaxing atmosphere within your abode. Moreover, pink is a beacon of compassion and nurturing. It is an excellent choice for spaces where harmony and tranquility are desired, such as the sanctuary of bedrooms or the comfort of living rooms.
Why Choose Pink Rugs?
Pink is a color associated with love, happiness, and romance. You can use pink rugs in your child's room and bedroom. In addition to being associated with mental cleanliness, pink conveys lovely energy to a space. In any living room, a pink rug has a calming impact. A popular color among infant girls is pink, which is also considered a feminine hue. Your daughter's room will look great with a pink rug.
A shaggy pink rug would be the best choice for comfort and durability. When a pink rug is combined with different colors of pink, such as a pink and grey rug or a pink and green rug, it becomes even more beautiful. A pink rug has a monochromatic appearance that provides a touch of tenderness and clarity to home décor.
How Pink Rugs Can Transform a Space
As we continue our journey through the enchanting realm of color psychology, it's time to delve into the transformative power of pink rugs. These eye-catching accents can invigorate a space with a splash of color, especially in rooms adorned in muted tones or dominated by stark white furniture. A pink rug unfurls a vibrant wave of color that instantly enlivens the room, making the space more visually compelling.
Pink rugs are not merely a color injection but can command attention, serving as a captivating focal point in a room. The strategic placement of a pink rug, perhaps in the heart of your living room or nestled under your dining table, can draw the eye, making it the star of your space. This addition enhances visual intrigue and fosters a sense of balance and harmony within your room's overall design.
In open-concept spaces, pink rugs can also serve as boundary markers, helping delineate different areas within a single room. By stationing a pink rug in the seating area and another distinct machine-made rug in the dining area, you can establish separate zones within the same room, each with its unique character. This approach adds depth and dimension to your space, promoting better organization and flow.
What Colors Go With A Pink Rug?
The design works particularly well for living rooms or dining rooms if you keep the rest of the room black and white. Add black pinstripes to one wall to create a striking focal point. Keep the walls white. Opt for sleek black furniture with clean lines, giving the room a modern feel. Pops of white and pink in cushions, curtains, and throw pillows balance out the darkness of the black. In wall art, black and white photos give the walls a simple, sophisticated look.
Ideas for Home Decoration With Pink Rug
Using pink color in home decoration is a bit challenging. Because it is not a very common color, for this reason, the use of this color requires observing several points. In the following, we will examine some of these points:
If the pink color of your rug is bright, using light neutral colors can give a beautiful effect to the room. White, cream, and ivory are good colors. But using brown combinations can also be an attractive choice for decoration. For example, if you are using a light pink rug, using a brown curtain can be an attractive choice.
In addition to very bright colors, dark colors such as black can be a desirable choice, especially with a pink rug for the living room or dining room; this color combination is an excellent choice. The use of white color can also add to the room's charm. You can also use black and white for the walls.
You may not want to use pink rugs in your decoration. But do not intend to replace it either. Because pink color does not fit many color schemes, it may spoil the decoration of the house. But don't worry. The pink area rug is one of those rugs that can be completely hidden. To cover the perimeter of the rug, use neutral colors such as black or gray and spread the pink rug in the middle of the room. Then, try to arrange the furniture more in the middle of the room. With this method, the effect of the pink rug will be completely lost.
Consider a thick or shaggy pink area rug or fluffy pink rug for areas where you often walk barefoot. Silk rugs will be the softest options. Cotton is also pleasant underfoot and is more durable for moderate-traffic areas.
Light Pink Rugs in Decoration
The light pink rug gives the environment a sense of grace, youth, joy, passion, and lasting love. So, with a light pink rug in interior decoration, you can give love, desire, admiration, perfection, happiness, and kindness to family members and guests. 
The light pink rug in decoration and its combination with colors such as purple and neutral and cold colors such as grey and blue is an example of the power of this color theme in showing the home space. The pink and grey decoration is one of the most popular applications of color in home interior design. Therefore, you can use a  light pink rug and some grey rugs to decorate your home so that each of these colors shows their best.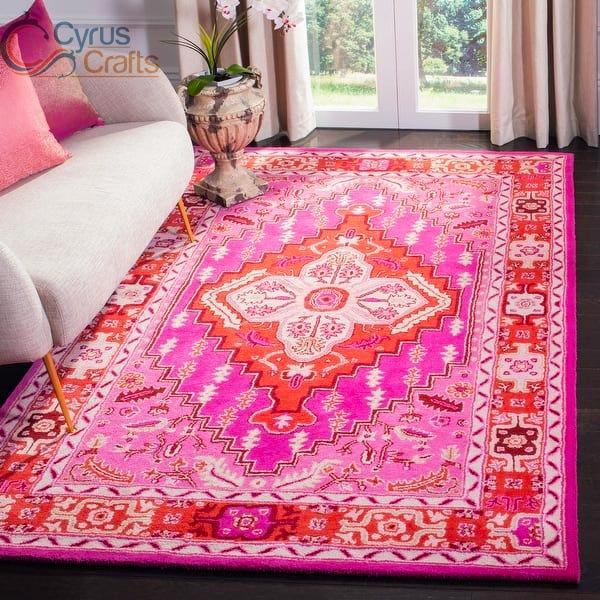 Where to Place Pink Rugs in Your Home
Now that the perfect size and silhouette for your roseate rug have been selected let's journey through various corners of your home where this charming addition may create an immensely powerful effect. The living room, an eternal favorite, is one such spot.
Introducing a pink rug into your lounge can magically morph the room into a snug and welcoming sanctuary. Whether you position this plush centerpiece beneath your coffee table or station it before your hearth, a pink rug can inject an air of luxury and finesse into your lounge aesthetics.
The bedroom is another haven where a pink rug can leave a profoundly enchanting impression. Nestling a pink rug beside your bed can conjure a delicate and romantic milieu, ideal for unwinding and recharging. The tender tone of the rug will engender a calming aura, aiding you to decompress after an exhausting day. Moreover, a rose-hued rug could also find its home in children's rooms, infusing a vibrant and fanciful vibe into their personal space.
Pink Rugs Styling Tips
Having found the perfect spot for your blush-toned rug in your abode, it's time to delve into a few decorative tips to blend it flawlessly into your current decor. To achieve an equilibrium of style, pair your pink rug with furnishings and accessories in neutral shades. This approach allows the rug to command attention while fostering a unified and harmonious design aesthetic. Conversely, if you're inclined to make a daring statement, harmonize your pink rug with furnishings and decor in contrasting hues, like midnight blue or emerald green. This bold combination will yield an energetic, captivating look that will leave a lasting impression.
Regarding patterns, pink rugs offer various designs, ranging from monochromatic tones to intricate floral arrangements. Selecting a pattern for your pink rug should consider your room's overarching style. A rug featuring sleek lines and minimalist patterns would be a fitting choice if you're after a contemporary and modern vibe. Conversely, if your room radiates a more traditional or bohemian charm, a vintage rug adorned with elaborate patterns and floral emblems could be an ideal match. The golden rule is to pick a pattern that complements your existing décor and uplifts your space's overall ambiance.
Different Sizes of Pink Rugs
Pink rugs come in various sizes to accommodate diverse spaces and tastes. A petite 3x5 rug such as a kilim or Gabbeh is ideal for infusing a hint of pink into smaller rooms or niches such as entryways or home offices. It can also grace the area in front of bathroom vanities, creating a soft and feminine ambiance.
A moderately sized 5x8 rug can subtly magnify the room's allure in grander spaces without overpowering its overall ambiance. As a captivating focal point, its charming elegance can be showcased in living rooms, dining halls, or sleeping quarters.
For those fortunate enough to possess an extensive area demanding a statement piece, a sizeable 9x12 rug beckons. This scale is impeccably suited for open-concept living spaces or opulent master bedrooms. Here, one desires to express an audacious and lavish aesthetic.
Regardless of its dimensions, a pink rug harbors an enchanting power to metamorphose your space, propelling your home decor onto a loftier plane of elegance and sophistication.
What Is the Best Way to Clean A Pink Rug?
Avoid using a vacuum with a beater bar to keep the fibers in their optimum shape.
If you want to keep the shade from fading over time, be gentle when cleaning your pink rug.
If a liquid is spilled all over a wool pink rug, it requires special attention. Before soaking it in detergent, please do not rub it with anything.
Cleaning reddish pink Wool Area Rugs with oxy-type cleaners is not suggested.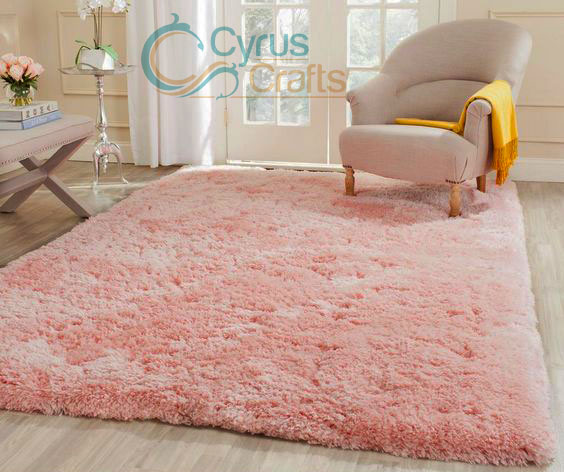 A pink rug can be a great addition to any room, but it may not suit your needs. If you're looking for more than just the run-of-the-mill pale pink, plenty of options will fit your style and personality! Whether you want bright pinks or subtle pastels, these choices will satisfy you.
Maintenance and Care for Pink Rugs
Like any beloved artifact, pink rugs demand consistent attention and care to retain their allure and durability. To preserve the radiance of your pink rug, it's advisable to vacuum it consistently to eliminate dust and dirt. Should you encounter spills or stains, swift action is crucial. Blot the area gently with a clean cloth or paper towel to soak up the liquid. Refrain from rubbing the stain, which might cause it to smear or become more deeply entrenched in your rug's fibers. For more resistant stains, it's wise to seek the expertise of a professional rug cleaner who can safely eliminate the stain without damaging your prized possessions.
Moreover, it's crucial to rotate your pink rug occasionally to avert uneven wear and tear. By giving your rug a half-twist every half year or so, you can ensure that it wears uniformly and retains its original allure. Lastly, when shifting furniture or redecorating your space, handle your pink rug carefully to avoid tugging or distorting the fibers. With meticulous care and maintenance, your pink rug will continue to be a transformative element in your space for countless years.
If you require additional information, please visit our website. Also, keep an eye on our daily specials. Cyruscrafts online store has now provided a collection of the most beautiful handmade rugs in pink color for you. You can also easily find your favorite fancy pink rug in this collection.

Read More