Despite being frequently used, especially in apartments, and have an important function, doormats don't get the attention they deserve. You're probably one of those people who always do a bit of research about a product they want to buy, to make sure they're making the right choice. This article explains everything you need to know about doormats, including their types, benefits, and uses, as well as why you should use them. So, read on if you want to learn more about doormats.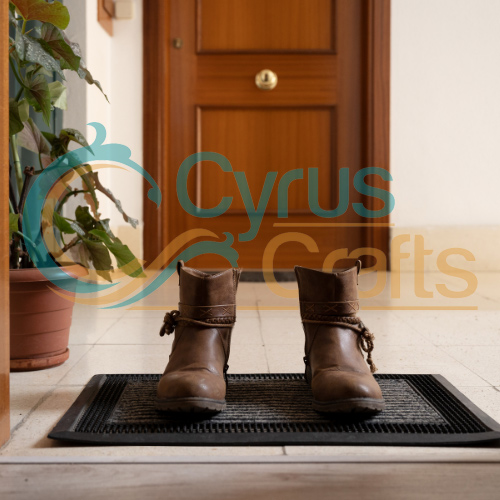 A doormat is a small moquette, kilim, or flatweave rug that's placed — as the name suggests — outside a building's front door to prevent the dirt on the soles of shoes from entering the place. Doormats come in especially handy in winters when they're used to dry or clean the mud off of shoes.
Different Types and Uses of doormats
There are different types of doormats in the market and there are many people who use them also as decoration. That's right: Doormats are among those objects that, despite their simplicity, can enhance the interior design of your apartment.
Doormats come in various and interesting designs and colors, which makes them suitable to be used not only outside front doors but also inside homes. You can put one by the bathroom door, where it can dry your feet when you leave the shower, in addition to serving as a decorative element.
Many people also use doormats in their kitchens and bedrooms, which is why doormats are considered to have an important place in the interior design of homes and even workplaces. So, make sure to take into consideration the color, design, and quality of the doormat you want to buy, so that it looks nice to visitors and makes them feel good.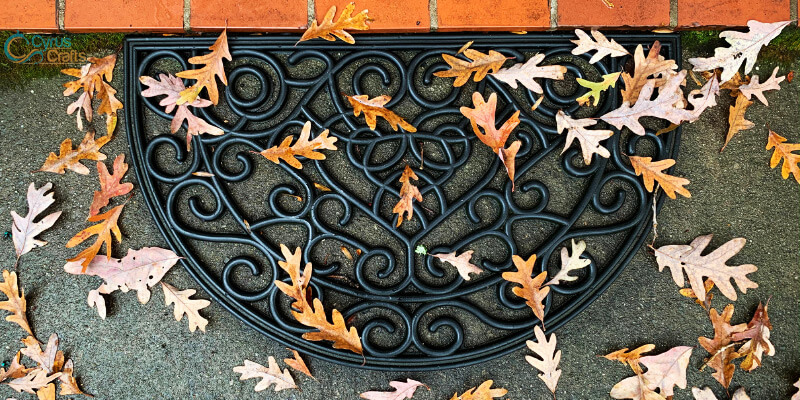 Why does doormat material matter?
If you're looking to buy a good doormat, you should take a few things into account.
Today, there are other types of doormats made besides rug, kilim, and moquette doormats. The new types include felt leather and machine-made doormats. There are also handmade doormats, which rank among the most luxurious and expensive doormats in the market.
Iran is a big producer of doormats that are diverse in material, high in quality, and reasonably priced.
An ideal doormat material is that which prevents slipping and absorbs moisture. We recommend going for darker colors because they're harder to get visibly dirty. Doormat size matters as well, so you need to choose a doormat based on the size of the space you intend it for.
Where and what for a doormat is going to be used should also be taken into account when buying one. For example, a bathroom doormat should be of a different type than a front door doormat, because the bathroom doormat is to absorb the moisture of bare feet, while the front door doormat is to clean mud and dirt off of shoes.

Doormat shapes and sizes
Hopefully, the last section has given you a good idea of why it's important to consider the material when buying a doormat. Next, we'll cover a few things about the shapes and sizes of doormats.
While most doormats come in the traditional rectangular shape, there are also round, half-round, heart-shaped, flower-shaped, and cartoon character doormats, to name a few.
If you're looking for a doormat of a specific shape or size, then you've come to the right place, because Cyruscrafts has a diverse collection of doormats for you to choose from. Thanks to technology, you no longer need to physically go out shopping; so just stay home and simply go on Cyruscrafts, where you can check out doormats of different shapes, sizes, designs, and prices. Choose the doormat that works best for you and purchase it online.
Price of doormats
Doormats are usually cheap items at home that are also very practical. We can use them in different house places or in front of the entrance according to their dimensions and material. Plastic doormats are usually cheaper than kilim or wool models and are not very decorative, so they are better used than the front entrance.
Some doormats are hand-woven and valuable; in their use, attention to location, good visibility and harmony with the environment is significant. These hand-woven doormats are usually relatively expensive, and like all other examples of Persian hand-woven carpets, their value is constantly increasing. It can be considered a long-term investment, not just a simple doormat!
Here at Cyruscrafts, you can buy stunning doormats at the best price. Their price can start from $39 and goes up to $99 approximately.
Proper doormat designs and colors
After deciding on the doormat material and size, it's important to also carefully select the color. You should choose a color and design that goes best with the interior design of where you want to use the doormat. For example, as mentioned earlier, simple designs and darker colors work better for front door doormats, because a dark-colored doormat hides dirtiness better and is more resistant to color fading.
If you're one of those folks who use doormats in their bedrooms, then you don't need to stick to dark colors; you can just choose any color that goes with the color scheme of your room.
Also, if you're looking to buy a doormat for your child's bedroom, you can go with vibrant colors and colorful, cartoon-themed designs. Similarly, kitchen and bathroom doormats can be chosen such as to match the colors in the surrounding space.
To recap, we learned that doormats come in various materials, colors, shapes, and sizes and that taking these aspects into account instead of just focusing on the design of a doormat, enables you to make the right choice.
In addition, points to consider with buying the right doormat though, there are things you need to do to care for your doormat because if you take proper care of it and use the right cleaning agents, you can increase its life and use it for years to come. However, we recommend using indoor doormats for no longer than three years, because by the end of the third year, they will have collected enough dirt to be practically unhygienic to use.
Cyruscrafts specializes in the supply, sale, and export of the finest doormats. We bring you high-class, one-of-a-kind products that will liven up and individualize your home or workplace.