A Persian word, Khatamkari (inlaid) refers to the art of decorating objects with a mosaic of small triangles. While pattern designs vary in Khatamkari or inlaid, they are all similar in being orderly arrangements of geometric shapes. The mosaic in the work of Khatamkari is created by laying small triangular pieces of wood, metal, or bone over an object.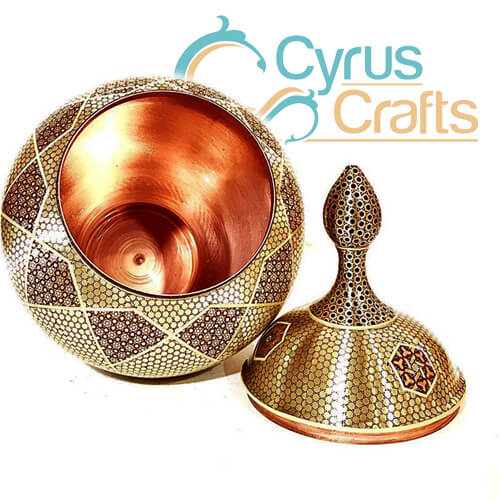 Materials used in Inlaid (Khatamkari)
Different materials are used in inlaid, including:
Wood: Zelkova, bitter orange, ebony, jujube, kingwood, and boxwood
Metal: Wires of gold, silver, aluminum, copper, and brass
Bone: Ivory, artificial bone, and oyster
Steps of Khatamkari
Khatamkari has two steps:
Khatamsazi ("making khatam"): Involves designing the pattern, preparing the materials, making the qāmeh (a rectangular block made up of long wooden sticks), and finally cutting up the qāmeh into "khatam layers."
Khatamkari ("khatam laying"): Involves designing the base surface, gluing khatam layers onto the base surface, and applying a finishing material over the completed work.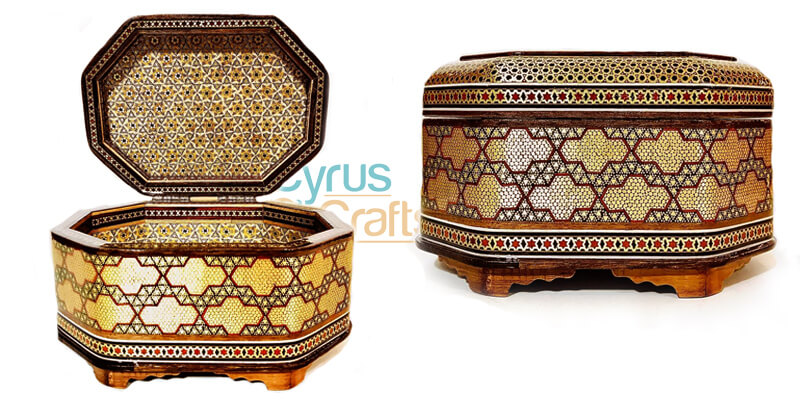 Uses of Khatamkari / inlaid Decorative dishes
One of the uses of these decorative objects is that they can be considered a great corporate gift that with its beauty and uniqueness, makes you and your company unforgettable and has a great impact on your partners and customers.
In addition traditionally, in Iran, Khatamkari (inlaid) was mostly used to ornament religious objects and places of worship, with results that could be described as fascinating masterpieces. Today, its use has broadened to include a greater variety of objects, including boxes, chests, vases, tissue boxes, and lidded bowls.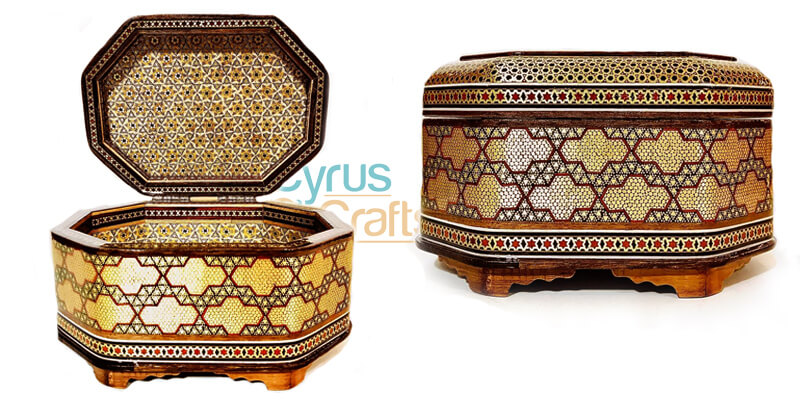 inlaid / Khatamkari home decor products
What sets Khatamkari apart is that it can be done on different kinds of surfaces, which makes it possible to ornament a wide range of decorative, antique, and vintage objects using this technique; objects such as:
Cake/dessert stands
Picture frames
Backgammon boards
Chests
Chessboards
Pen cases
Persian Wood Inlay Price & Determining Factors
There are many parameters that go into determining the price of a inlay product on the market, including the volume of the work done on it, the colors, the patterns, delicate workmanship, the frame accuracy, the size of the patterns on it, painting skills, and much more. But CyrusCrafts' Inlay products has been collected directly form the producers. The price of wood inlay on this marked starts from $60 and goes up to $700.
How to tell authentic from fake inlaid
One thing that people always wonder about when shopping for works of inlaid and similar handicrafts, is how they can identify a high-quality work. Here are the key things we recommend you check to tell whether a product is genuine or fake:
Neat paintwork
Full polish coating
Perfectly flat surface
Flawless geometric shapes
Even colors
No empty spots
Perfectly symmetrical patterns on all sides
Flawless corners
Type of wood – Recommended: areca, ebony, and teak
Meticulous patterns – The tinier and more delicate the triangles, the higher the quality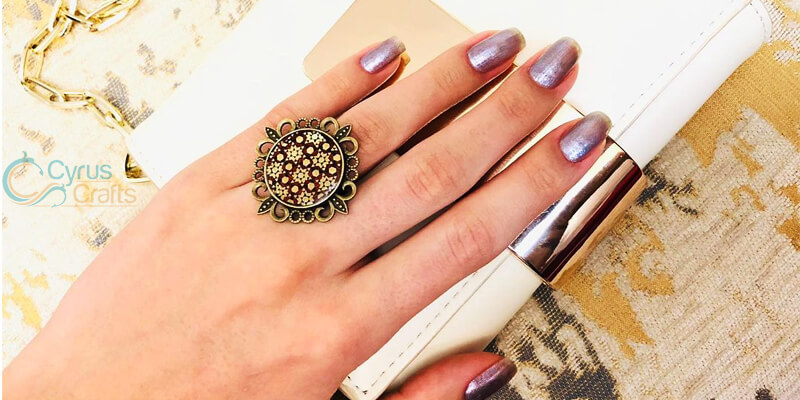 Also, the more metal (especially brass) pieces used in a work, the higher is its quality. Finally, a truly authentic khatam is one whose every piece is made by hand.
Which cities in Iran produce Khatamkari?
The beautiful city of Shiraz is the most prominent center of Khatamkari production in Iran, and the craft is also widely practiced in Isfahan, Golpayegan, and Tehran. Iranian khatam makers produce a good variety of products, a great portion of which is exported to European countries, as well as the UAE, Qatar, Kuwait, Oman, Canada, and the US. Cyruscrafts is working to bring further international exposure to Iran's rich art and culture by introducing and selling various Persian handicrafts, including exquisite and outstanding works of Khatamkari made by Iranian artists.
Cyruscrafts specializes in the supply, sale, and export of the finest Persian handicrafts, including works of Khatamkari. We bring you high-class, one-of-a-kind products that will liven up and individualize your home or workplace.