Caviar is known as a very beneficial food in the world. In this regard, Iranian caviar is mentioned as one of the best caviar in the world and the black pearl of the Caspian Sea. In this article, you will get acquainted with the properties, features, Maintenance method, method of preparation and consumption, and compare Iranian caviar with other countries. For more information about unique Iranian food, you can join us in the tasty section.
Caviar is obtained from a type of starry sturgeon fish, which is the spawn of the female of this fish. This food is full of nutrients that have a more significant impact on human health. It is one of the best sources of antioxidants and according to research, caviar, due to its omega-3, in addition to preventing joint diseases, also prevents depression and cardiovascular diseases.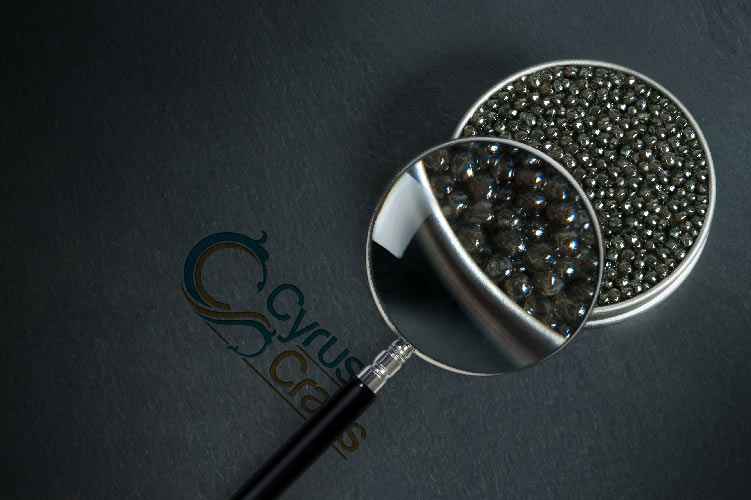 Types of Caviar
There are many different types of caviar, but all share one common trait – they are a luxurious treat. Among all of the varieties, there is sure to be a type of caviar that will tantalize your taste buds like Iranian caviar. Iranian caviar is one of the best in the world. There are several types of caviar, including:
Beluga Caviar
The most luxurious caviar in the world, Beluga caviar is the epitome of culinary sophistication. With large, pearlescent eggs of a light glistening grey, Beluga is prized for its smooth, buttery texture and a rich and subtle flavour that melts in the mouth.
Osetra Caviar
It's not Beluga, but it's the next best thing. Among the higher-end caviars, golden Osetra is a strong contender for the title of 'best caviar in the world. Osetra Caviar varies in colour from golden to brown, with firm grains of medium size and a nutty and rich flavour.
White Sturgeon caviar
This is an excellent substitute for the world-renowned Osetra or Siberian Sturgeon. Its medium dark beads, mild taste and clean buttery finish will be greatly appreciated by those whose palate is used to mildly flavored foods. Comparably moderately priced and excellent quality makes it a preferable choice for a high-end event with many guests. 
Baerii caviar
Baerii caviar is known for its rich fine grain, granting it a smooth and elegant appearance immediately identifiable for its fantastic quality and exquisite feel. With colours ranging from a classic smoky grey to a pure black, its clarity of taste and creamy finish are just a few of the best things about this almost sensually smooth product.
Sevruga Caviar
Among all sturgeon species, the Sevruga from the Acipenser Stellatus reproduces the quickest, resulting in lower market prices for this delicious caviar. You'll find that these small and delicate grey-to-black eggs are a pleasure to bite into, with a crunchy texture. While other types of this food dissolve in your mouth, Sevruga playfully crackles and pops with a more intense flavour.
Kaluga Caviar
Kaluga was initially produced from the huso Daricus sturgeon. These days it is mainly farm-raised to ensure sustainability and quality control. One of the top-of-the-line caviars in the market today, Kaluga caviar is creamy and smooth, with an almost buttery texture and a great firm pop. Combining all the beautiful characteristics of Beluga caviar, you can eat luxurious Kaluga eggs knowing you are consuming eco-friendly, sustainable caviar of the highest quality.
Hackleback Caviar
Caspian sturgeon is another contender in place of the classic.
This Caviar Similar to the Sevruga caviar both in the size and texture of its eggs, Hackleback has small, firm eggs that are dark brown to black. Hackleback sturgeon has the smooth and delicate flavour of Caspian sturgeon but is milder, with a little extra nutty punch.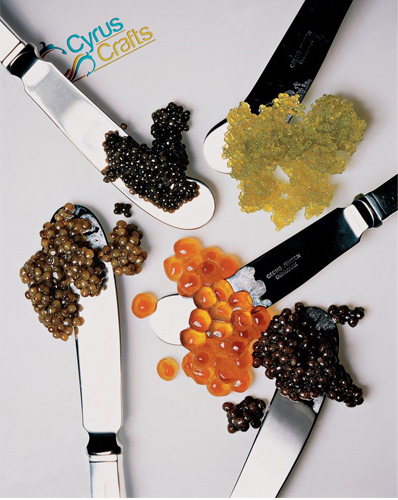 Features and properties of caviar
Caviar provides an endless list of benefits. Some of them include the following:
Supply of essential antioxidants to the body
Prevention of Alzheimer's and heart attacks
Treatment of high blood pressure
Increase body health
Fight against various viruses
Strengthen muscles
Help treat depression
Strengthen bones
Coping with stress and migraines
Beautify and strengthen the skin
Strengthen the kidneys and liver
Cancer prevention 
beneficial properties of caviar for children
Caviar is one of the best foods for children due to its higher omega-3 content than other foods and the presence of vitamins A, D, K, and iodine and helpful fatty acids DHA, which have a significant impact on their growth and intelligence.
How to maintain caviar?
Before consumption, put the can in the refrigerator at about -3 to +4 degrees Celsius. The best consumption time is written on the body of the can. The expiration date is about 3 to 4 months after packaging. After opening canned food, it can be consumed in 7 to 10 days if stored in the refrigerator; otherwise, it will rot.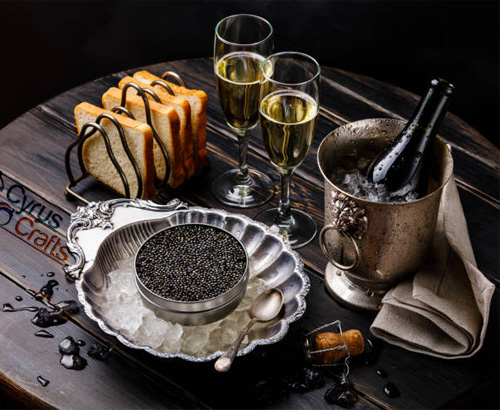 How to consume caviar?
It is composed of vitamins and proteins, and the ingredients in caviar contain 75% of the listing and 25% of the cholesterol. This food should be served cold and raw along with other foods. It is recommended to consume this beneficial and nutritious food at breakfast. The original caviar can be used with eggs or boiled eggs, toast, and honey for breakfast or with pasta, shrimp, sushi, or any food that suits your taste in other meals. It is possible to enhance the taste of caviar by adding butter, pepper powder, and sour lemon juice. Cooking caviar destroys its vitamins, so you should avoid it.

How to distinguish genuine caviar from counterfeit?
Its seeds are originally grey and dull in color, while the counterfeit color is blacker and clearer.
The original caviar grains are oval and sticky, while the counterfeit ones have smooth and round surfaces and a moist and vicious appearance.
The veterinary code, production, expiration date, place of production, type of breeding conditions, and maintenance conditions are listed in the original caviar package.
Comparison of Iranian caviar with other countries
Iranian caviar has incredible texture and heavenly taste, making it the most popular type in the world compared to other types, such as American caviar. Most famous hotels and restaurants worldwide mention Iranian caviar as a particular part of their menu. Despite its competitors, such as China and Russia, it has a special place worldwide. Iranian caviar is currently exported to the European Union, Asia, Australia, the United States and Canada. This product is so popular that some countries pre-purchase it.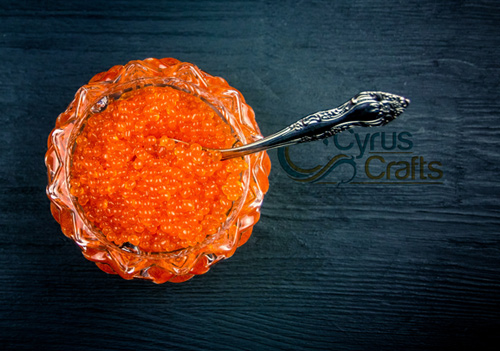 Caviar breeding conditions
The ideal temperature for fish farming is between 15 and 27 degrees Celsius. If the temperature is less than 6 degrees Celsius, feeding will stop, and its growth will slow down. Temperatures between 19 and 21 degrees Celsius are the best temperatures for this species to grow. Salinity should be between 4 to 10 grams per liter of water. Proportional oxygen is between 6 to 8 mg per liter of water, carbon dioxide is less than 10 mg, and The pH of the water should be between 5.8 and 7. For many years, all kinds of authentic Iranian caviar have been exported to different parts of the world such as the United States and Canada. Today, due to the capabilities and available knowledge in the Cyruscrafts collection, this is happening globally.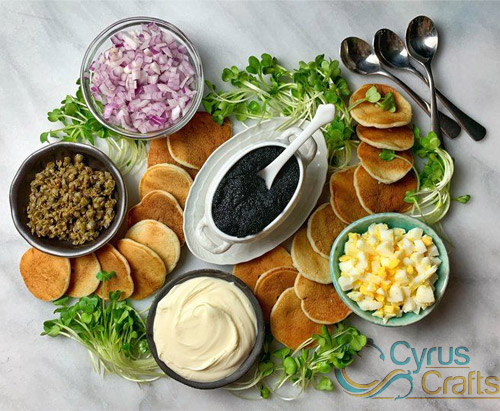 Price of Caviar
Iranian caviar is one of the most expensive and, of course, the most delicious and energetic foods globally, which has a natural taste and almost no additives. 
In addition to its unique and delicious taste, this food is one of the most valuable foods in the world, used to prevent many diseases. But due to the risk of extinction of sturgeon, their fishing has been limited in recent years. Because of that, the price of some kinds of original Iranian caviar can go higher than $5,000 per kilogram!
25% of caviar fat is cholesterol, and 75% is lecithin. Arginine, histamine, isoleucine, lysine, and methionine make up its protein.
Cyruscrafts online store provides you with high-quality, original, and delicious Iranian caviar that you can enjoy as food and profit from its health benefits.