Sohan is one of the most popular traditional products in Iran due to its special features and taste. To get acquainted with different types of Sohan, properties, features, recognize the quality of Sohan and etc. stay tuned to the Tasty section until the end of this article.
Sohan in the Iranian dictionary means desirable and pleasant. This highly nutritious and high-calorie food is effective in treating many diseases, including improving heart function and preventing depression. Although this product is produced in some cities of Iran, the main production center is Qom. It should be noted that for the first time during the Qajar period, this delicious product was presented by a person named Shamaei during a glorious ceremony, which was praised by the guests.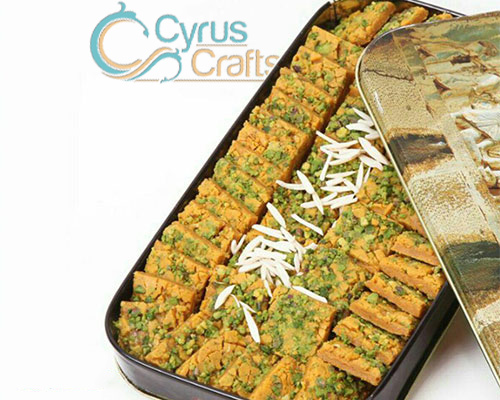 Sohan candy Ingredients
The ingredients used in baking Sohan are very effective in their quality and freshness. Flour, wheat germ, white flour, sugar, animal oil, saffron, butter, honey, cardamom, rose water, pistachio and almond are among its ingredients.
How to prepare a Sohan?
Sohan is prepared in two traditional and industrial ways. The traditional method of preparation is not cost-effective at the moment, so the industrial type is common.
Properties of Sohan candy
Due to its egg yolk, it contains a lot of protein that strengthens bones and improves central nerve function.
 The cardamom prevents stress.
Wheat germ used in it due to its vitamins B, E, calcium, phosphorus, zinc, iodine, and selenium prevents hair loss, eliminates dandruff, improves various skin problems, and also prevents cancer.
Reducing blood cholesterol and improving heart function and eliminating depression are among the benefits of saffron in Sohan.
Pistachios in Sohan prevent cancer and heart attack and are exhilarating.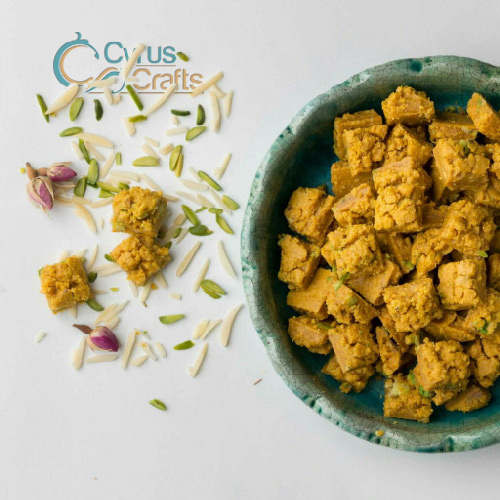 Different Types of Sohan candy
Thin flower Sohan: This Sohan is one of the most delicious ones that is produced in large and small sizes. Usually, the large size is thicker and the small size is thinner.
Coin type Sohan: This Sohan, like its name, is similar to a coin and is smaller than a thin flower. One of the most suitable options for catering.
Baklava Sohan: It is similar to baklava in appearance and this Sohan is thicker than a thin flower, which is very tasty and yummy.
 Cube Sohan: This type is very small and somehow fragmented. This model is not suitable for parties and is recommended for personal use.
morsel Sohan: This species is in the form of small morsels that are filled with foods such as Gaz, nuts (pistachios, walnuts, almonds), and cotton wool.
Nut Sohan: one of the models of morsel Sohan is its nuts, which are available at a higher price than other samples due to having many nuts.
Sohan dessert: It is one of the newest models that is used as a dessert and is softer than other Sohans.
Sohan model of pastry: It is one of the best types of Sohan and is produced in the form of very thin slices in different sizes. In metal containers and in the form of a board, it covers all the surfaces of the dish and a large amount of pistachio powder is poured on it.
Honey Sohan: The amount of honey in this type of Sohan is much more than other types.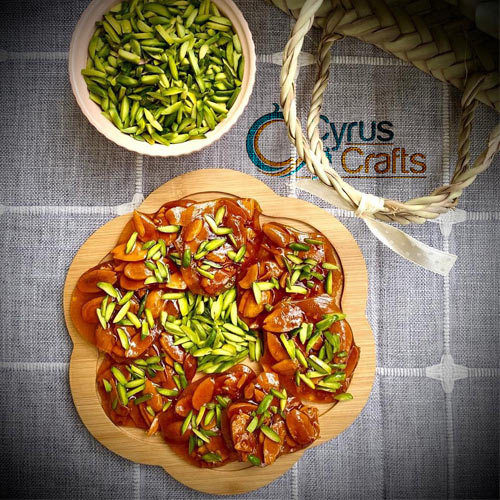 Features of high-quality Sohan candy
Candies Color: A good Sohan has a light brown color, good aroma, and taste.
candies Oil: Sohan oil should not be covered with scabs.
The Safety of the file inside the candies box: After opening the lid, it will not be crushed by more than one piece. Therefore, avoid buying chopped parts of Sohan.
Crispness: A good Sohan candy does not stick to the teeth.
A few tips about Sohan candy
The Sohan should be wrapped in wax paper or any other sanitary napkin and then packed in stainless steel or crystal plastic containers suitable for food.
The name and specifications of the factory, health license, net weight, date of production, the expiration of consumption, and its components must be written on the package.
It is better to keep the Sohan in a dry and cool place.
Do not forget to brush your teeth after eating this delicious food.
Do not place the Sohan behind the car window and in front of the sun under any circumstances.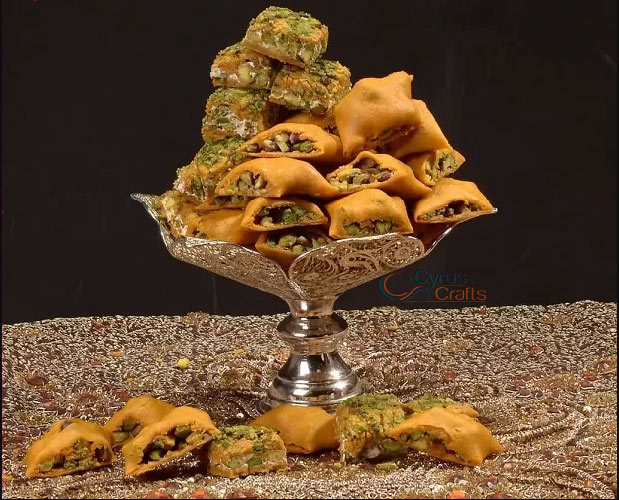 Sohan is mainly produced in the cities of Qom, Yazd, Kerman, etc, so this product is considered an important food item for export and is currently exported to European countries, the Americas, and Asia (Arab countries and China).
Cyruscrafts collection with specialized activities in the field of supply, sale, and export of the best Sohan samples (Iranian sweets), provides you with good quality and unique products. Experience a wonderful and unique taste and be special and different in entertaining your guests.
Read More