Persian Turquoise Accessory HC- 16
Primary Stone: Persian Turquoise
Material: Silver, Stone
Metal Color: White
Weight: 10 gr
Usage: Accessory
Color: Silver
Persian Turquoise comes from a number of mines in modern day Iran. The stones from all mines show a great color variation. Many mines were worked around Nishapur, 225 miles east of the southern end of the Caspian Sea, close to old caravan routes.
About Persian Turquoise Accessory HC- 16
Persian Turquoise has been highly coveted in the middle east for centuries. Firm evidence exists that Persian Turquoise mines were heavily worked beginning in the 10th century, but there is also evidence that some of the mines near the surface may have been exploited as early as 2100 B.C. Persian Turquoise ring has been used in jewelry for thousands of years and will most likely continue to be used for thousands of years more.
Persian Turquoise mines in Iran mostly belong to Neishabour near Mashhad, there are more than 100 caves for excavation. Iran has also had a mine in Damghan (Bagho Mine)and a newly opened mine in Kerman (it is too new and selling from this mine is not permitted yet, but Iranians can find some in the market) which has good quality.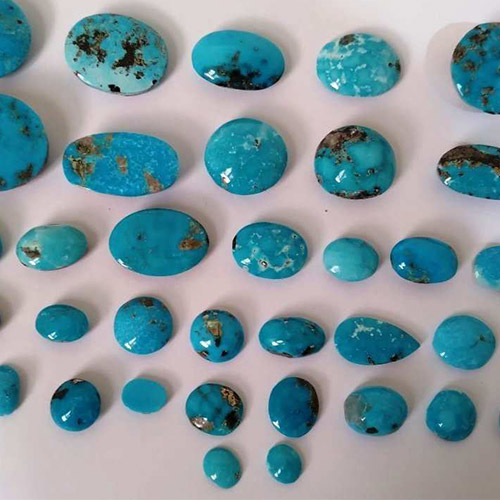 Why CyrusCrafts™?
CyrusCrafts™ by an excellent infrastructure background,  professional and specialized activity in the field of sales and export of high-quality vintage and modern Iranian goods to different parts of the world, is now proud to offer you the most peculiar accessories and decorative items with the latest transfer processes, Support Customers and after-sales service, responsibly.
We present The Originality, quality, beauty, uniqueness, health, and a good sense of a safe purchase and delivery.
You might also like
Accessory
Fam
AC-104
Size: free-size (adjustable) Height: 2.5 cm Material: 925 silver Weight: 6 g Technique: Engraving
Accessory
Fam
AC-105
Width: 5 cm Height: 8 cm Weight: 12 g Material: 925 silver, turquoise Note: This product is just a pendant and does not include the chain.
Accessory
Alireza Zaheeri
AC-751
Material: 925 silver Ring size: up to 57 (produced based on your wrist size) Ring Weight: ~ 5 g Bracelet size: free-size (produced based on your wrist size) Bracelet weight: ~ 13 g Height of ring and bracelet: ~ 1 cm Producer and Designers: Alireza Zaheeri & Khorshid Joulaee