No one wants to hear the sound of the bed being dragged on the floor! Cause it is annoying. Besides, cold bedroom floors are challenging in the morning.
You can make it easier to get out of bed on those oh-so early mornings by putting down an area rug that is large enough to give your feet a soft landing. This article presents the guide to choosing the right-size queen and king bedroom rug.
The most common mistake with queen bed rugs is selecting too small ones. A giant rug may seem scary at first, but you will be pleasantly surprised by its impact in a room! 
If you use a king bed rug smaller than 5'×7', the bed does not fit well on the rug. Furthermore, it will look much smaller than it is.
When decorating your bedroom, carpet size matters a lot; you should go up to a 9'x12' rug if you have the space and the budget for it. Using the right-size rug in a bedroom is much more pleasing aesthetically than it might sound. If your room is small, there are other options (such as using a runner rug on each side of the bed to save space).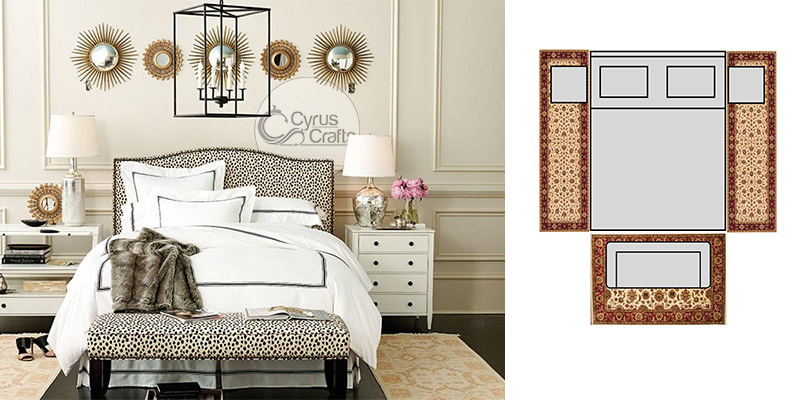 What if your rug is too small for your queen bed, but you still like it?
There is a solution if you have a small queen bed rug and still love it! You can layer it over a larger carpet.
Layered rugs add depth, dimension, and interest to a room and are most successfully done when one of them is patterned and exciting and the other is simpler and more subdued.
What is the best-size rug for a queen bed?
Generally, a rug should extend 18-24 inches beyond the sides of your bed. The following design guidelines tell you the ideal size of a queen and king bed rug for placing under the bed. The dimensions of a typical queen bed are 60" wide, so you should choose a carpet that is 96-108" wide.
Combining that measurement with the ideal rug width gives us an 8-9' square rug! Unfortunately, this isn't exactly a standard rug size. Several options for standard-size rugs will work well for a queen-size bed, including creating your custom-sized square rug.
5'x8′ Queen size bed Rug
A 5ft x 8ft rug is the minimum size you should use under a queen-size bed. A small rug is a good choice if you have a small bedroom or a tight budget, since they are cheaper than larger ones. You can even place the rug near your nightstands or even extend a small portion of it beyond your bed if you want to. In general, an excellent placement for this size of rug is to open it about 18″ beyond the foot of the bed, as shown in the picture below. This solution will give you a nicely balanced look while also showing off your beautiful rug!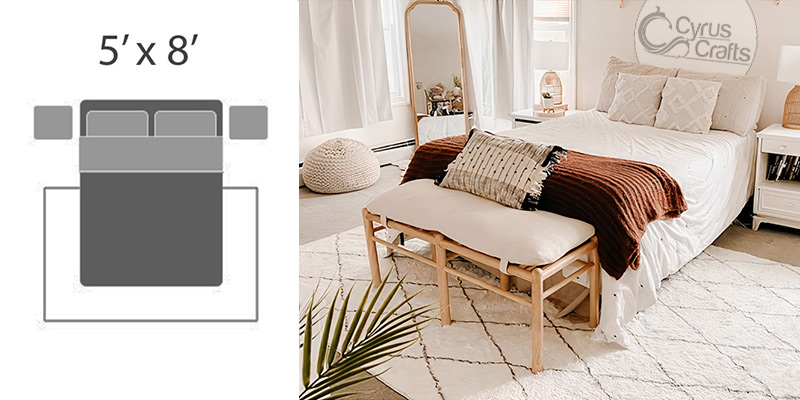 6'x9′ Queen size bed rug
Moving to a slightly larger 6′ x 9′ rug will give you a bit better coverage on the sides of your queen bed. It is also possible to extend your 6x9 rug beyond the foot of the bed if you place it under the bed but not under the nightstands.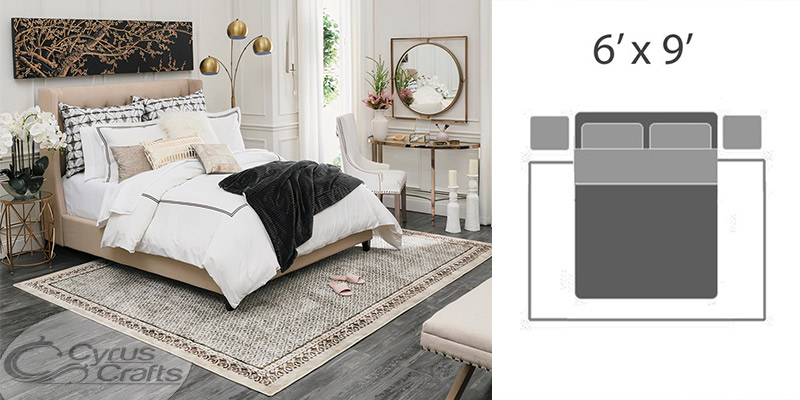 8'x10′ Queen size Bed Rug
An 8x10 rug is the ideal rug size for a queen bedroom! Unless your room is tiny or has a tight budget, this size will be your most suitable option because it offers maximum coverage and flexibility. You can place an 8'×10' rug under your nightstands, and it will sufficiently cover the floor on all sides of the bed. You can also use this rug with wider nightstands that you want to use on top of your carpet.
The other great thing about an 8'×10' rug is that you can go further than just the size of your bed. It will be wide enough to fit a table next to your bed.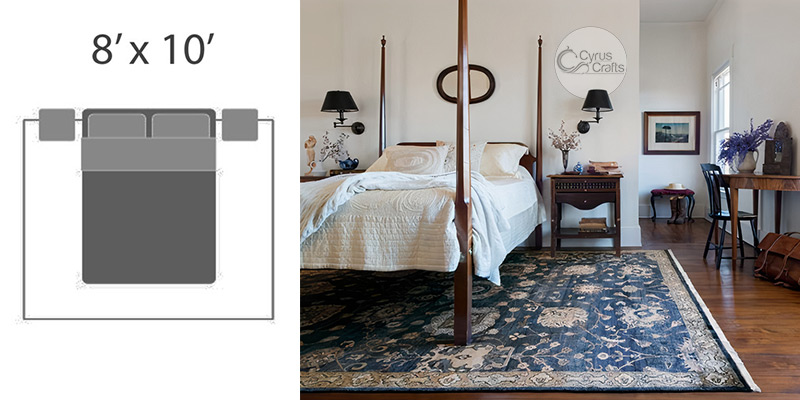 Your room size and furniture should influence your rug's size and orientation. It's essential first to measure the area you want to cover or the space you want to define, and then think about what size works best.
We hope this article can help you choose the right rug for your queen bed. Click here to view and buy bedroom rugs with various dimensions and designs, only on CyrusCrafts.
Leave a comment if you have any idea or experience...
Comments (5)
Johan Lenin
2022-04-04 00:57:11

Hello staff, it was indeed really helpful. I might have a problem though, my bed is in the very corner and I don't really want to move it. Do you think it's better to fit the room with a large rug or two smaller rugs? I don't know, I got no other ideas. Maybe experts like you can help me decide. Thank you.

CyrusCrafts
2022-04-04 06:56:35

Hi dear Johan, Thank you for following us. We suggest using one rug instead of two, but with the correct dimensions! This will organize your room in a better way. It is better to know that the carpet should be at least 12 cm away from the wall for small bedrooms and 20 cm for large bedrooms. For a small bedroom with beds in the corner of the room, a small rug that fills the space next to the bed seems to be a good choice as it helps to make the room look bigger and more modern. I think you can find what you are looking for on our online shop.

Hello, thank you for this useful article, I had a question, my queen bed is bigger than the standard size because I made it myself, can I choose the carpet under it with the same bigger ratio?

Cyruscrafts
2022-11-12 05:25:35

Hello dear Lele. Thank you for reading this article. Yes, of course you can do this, just write down the sizes mentioned in the above article and compare them with the size of your bed.

EMILY
2022-11-12 05:26:46

Hi, thank you for this very useful content. Is it weird to use a circular rug for a rectangular living room? I don't like runner carpets :(