How important do you think the workspace is in harmony with the nature of your work and profession? The answer is that this harmony is fundamental. In fact, choosing a suitable working area in harmony with the type of professional activity will profoundly affect the work process. The design of the work environment will affect everything from how it is implemented to the number of mistakes and the satisfaction of employees. CyrusCraft team has prepared a clear illustration of the importance of interior decoration in the work zone so that you can easily decide on your workspace.
You may find it funny to imagine a situation where one of the customers will stop working with you because he/she doesn't like the decoration of your office space. Still, you will be surprised if you know how much decorative elements affect people. We are naturally and unconsciously drawn to people with similar views and interests to our own lives. You have the best choice of impressive components on the handicrafts and interior design page of the CyrusCrfats online store.
In the principles of the interior design of office atmosphere space, basic elements are significant. The same essential things such as color selection, ergonomics of desks and partitions, decorative decoration, office space lighting, choosing suitable plants for the interior space, and the primary division of interior spaces make the interior design of the office area stylish and eye-catching.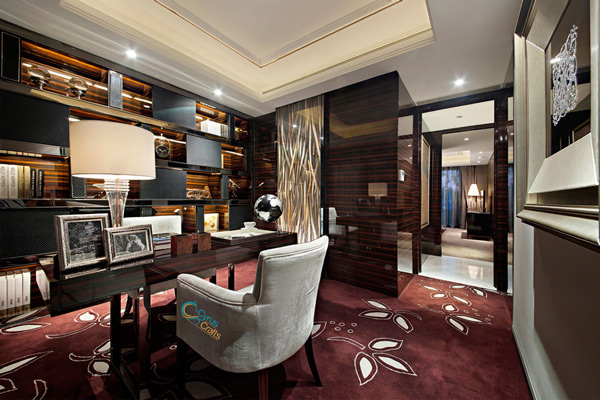 Effects of reception desk in workspace
The reception counter of a company is the first place customers, and clients see; Therefore, your brand should fit in the best way in the eyes of these people.
Create an office in a completely white chalk color without panels, flowers, plants, color decoration, etc. An office with a few blank walls is not attractive and efficient. Neither the employees are highly productive, nor the customers get a positive effect from it.
To design your reception counter, you need color and personality so everyone can see your signature in your office. Decorative wall art with a unique branding design, beautiful flower boxes, sufficient light, and unique and standard office furniture can give your office the spirit of life and vitality. You can also read the office wall art guide and use the recommendations to improve the appearance of the workspace to get the best result.
In general, when choosing office flooring textiles, it is important to evaluate both layout and function. Because the separate room has a distinct role, one commercial carpet likely won't work for your whole office. What works in a lobby won't necessarily work in your office kitchen.
Effects of color choice in work office design
Designing a colorful workspace is a help to the body and mind. At first, glance, choosing a color for the psychology of the work environment may be considered the most effortless action, but it is not really so; Perhaps choosing the color is the first step, but it is undoubtedly an essential step.
When choosing a color, the first option for everyone is to go to the colors used in the design of the logo and brand of the company. According to the research on the National Institute of Health website, colors profoundly affect how people work and function in the workplace. Even colors make people do their work in the best possible way or leave it half-done.
Many prominent and large companies such as Google, Microsoft, and eBay have combined these colors in their work atmosphere design. Of course, it can be said to some extent that it is in harmony with their logo and brand. This time, pay more attention to the advertisements and the role of these 3 colors, i.e., blue, green, and red; you will definitely see these 3 colors a lot.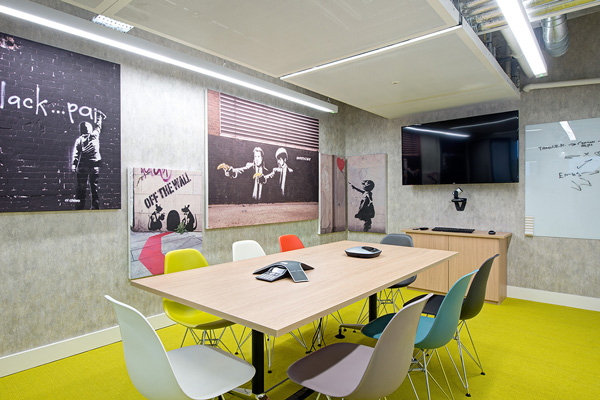 Use of stimulating colors
The area's color is one of the most effective components in office interior design. Visual beauty and high attractiveness are created using appropriate and consistent colors in the office decoration space.
White and yellow colors can be used ideally to increase the happiness and morale of the personnel. The color of the table, furniture, and office environment are convenient and effective in creating a stylish and modern atmosphere. Colors play an essential role in crystallizing and stimulating people's feelings. The office space can be immersed in peace and freshness by choosing the right and effective color.
Blue is a color known for its calming effect. It helps increase workplace productivity and create a sense of relaxation in people. Blue can also be used as a base color, making it an excellent choice for the workplace.
To instill efficiency and relaxation in your office simultaneously, you should use green color. This is an excellent option for places where people work for long hours. This color can keep employees refreshed and refreshed and help increase their efficiency.
Yellow is a color that strengthens people's sense of optimism and creativity. Yellow is an excellent color for architects, artists, designers, and professionals who need professional creativity. You can benefit a lot from this happy color.
Red is a color often associated with emotion and passion. This color is full of energy and conveys a sense of excitement. Of course, it is better not to use this color in places that need more relaxation.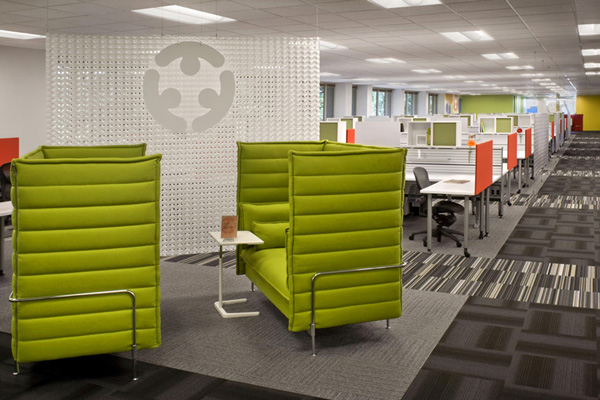 Indore plants in office design
You can beautify your workspace with the help of flowers and indoor plants. Green plants are an essential factor in making you more efficient and productive, and they also provide an excellent visual. It is better to choose plants that require little maintenance.
When your customers feel comfortable and have positive energy, they are likelier to you! They trade more efficiently and ask their mental questions.
Don't forget to add some green and attractive plants to the design, preferably near the windows, because they will give your office a new life and a sense of peace. The workspace should always be attractive and suitable for all tastes. Herbs are great for improving people's health and mood. Interacting with nature can positively affect mood, but you can't spend much time in the sun or green space while working.
To maintain the employees' morale, be sure to use plants suitable for growing inside the building in the interior design of the office space. You can use a green wall or large modern pots.
All around, if you track the rules, you can achieve extraordinary looks. Get a lot closer to what you have in mind by reading Office Decor Principals.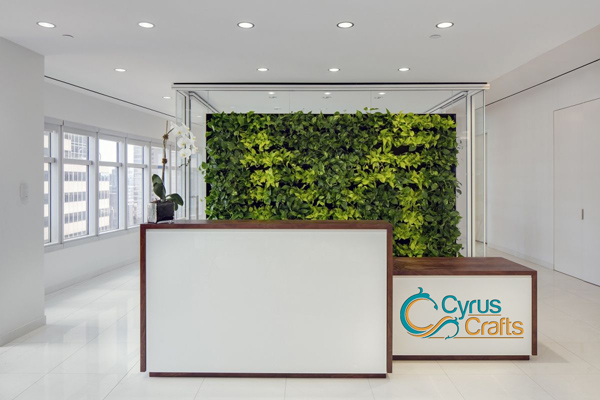 Access to natural light
Natural light is one of the effective and efficient elements in office design. Imagine an office with big and tall windows that give light to your office. We all fall in love with such an office zone and get a great feeling from it (both as an employee and as a client), making us feel more positive and relaxed. It does not matter whether your office is a home office or a small or large company; Access to natural light can prevent you from losing energy while working.
If you cannot have large windows, you can use unique lighting systems to deliver light like daylight. It is worth mentioning that you can also use decorative lights to provide light and more beauty to your workplace. If you need more light, it is better to use halogen lights. Halogen helps with more clarity of colors.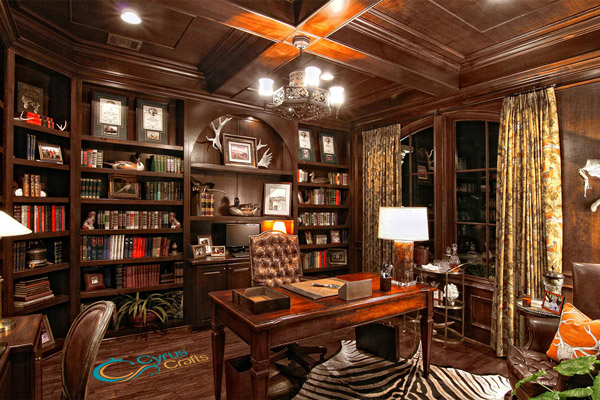 Final point
Can office decoration and design really make or break a business? Making business decisions based on first impressions is wholly unfounded and incomprehensible, but that's what everyone does. Everyone makes decisions very quickly based on what they see, and it is undoubtedly challenging to change their minds after this. That's why you should take the time to design the decoration of the office space with beautiful decorative elements. But be careful that paying too much attention to aesthetics does not prevent you from maintaining the primary value, which is the efficiency and productivity of your employees. We hope this article is helpful for you, and you can contact us for more information in this field and to find answers to your questions.

Comments (0)
No comments at this moment