How to Choose the Right Rug Sizes For King Bed? (Rug Size Guide)
Placing a rug under your king bed is a great way to add a finishing touch to your room design. Rugs add color, texture, and warmth to a room, making the space feel more comfortable and cozy. Carpets offer a soft, warm landing place for your feet in bedrooms with hardwood floors or tile. What's the right rug size for a king bed? In this post, we'll share our recommendations on rug size and placement options for your king bed.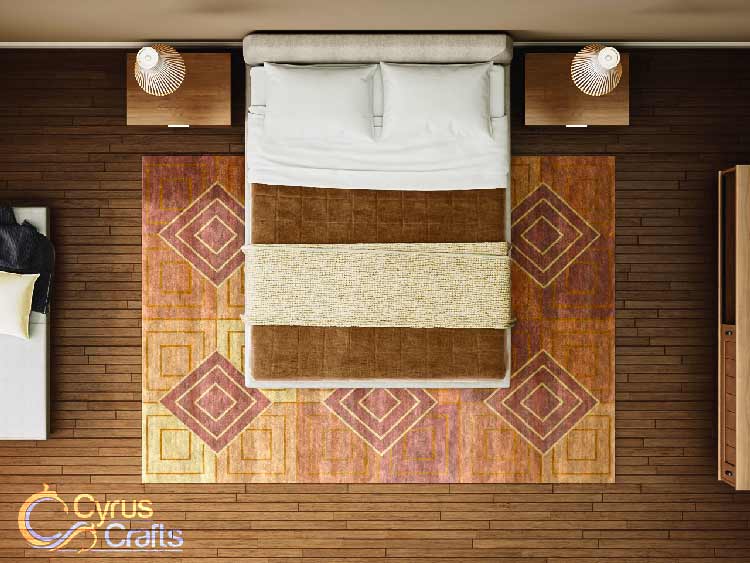 Why Do We Need Persian Carpets in The Bedroom?
Persian rugs in the bedroom can add an extra level of comfort to your toes as you get out of bed.
If you have beautiful flooring, it may seem unreasonable to cover it with carpet. But this is not the case with expensive carpets such as Iranian handmade carpets. Rest assured that a beautiful Iranian rug not only does not reduce the beauty of your flooring but also gives more effect to the space.
It's no secret that carpeted floors are much softer than hardwood or tile. The softness of Persian rugs lets your floors absorb the weight of your footsteps.
Persian wool carpets are cool in summer and warm in winter. It seems that in any season of the year, Stepping on a Persian rug, especially after you wake up in the morning, transmits positive energy and a good feeling to you.
You can significantly reduce noise in your space by using a rug. It's quieter inside your house without the sounds of footsteps clicking back and forth across the bedroom, and it also makes your room less echoey.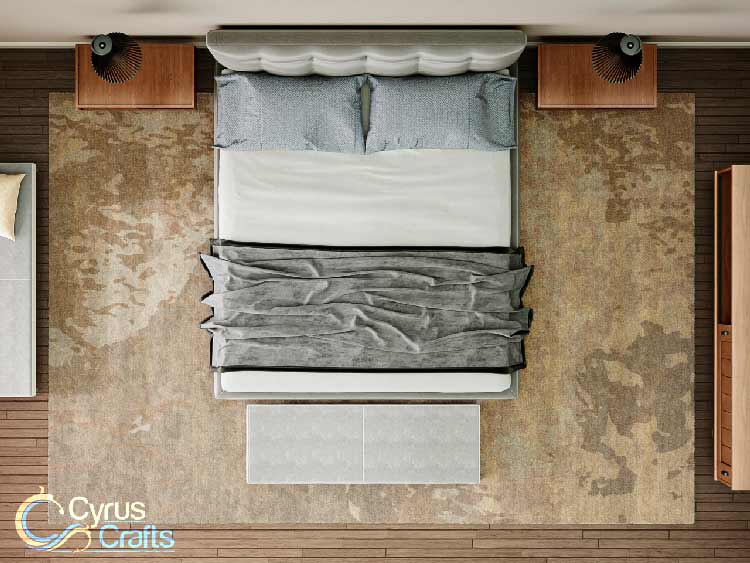 What Type of Rug Is Best For The Bedroom?
The type of rug you choose for the bedroom will depend on the appearance you want for the room and its purpose. Area rugs are incredible for covering large spaces. If you want something cozy to step onto when you get up, runners can also be a great addition to the sides of your bed. The bedroom is typically a low-traffic area, so plush cozy rugs are also great. Don't feel confined to a rectangle rug; round rugs can also be a good choice.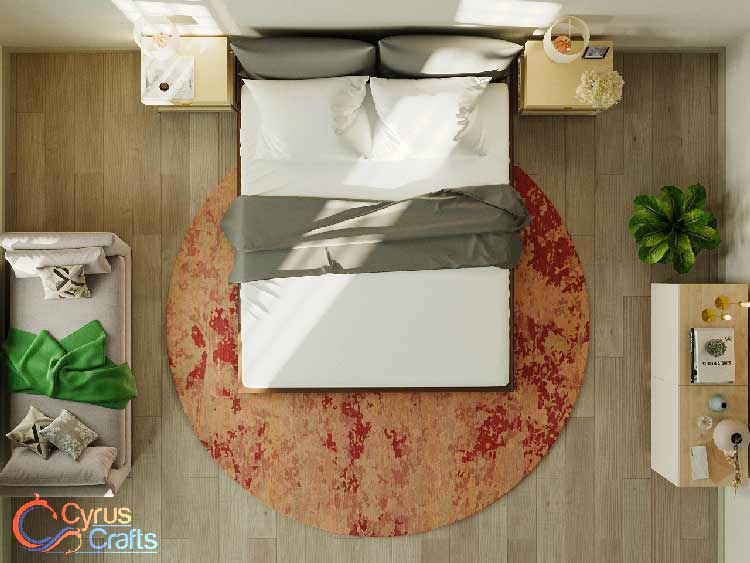 What Size Rug Should You Get For a King-sized Bed?
A king bed is the largest standard bed size, measuring 76 inches wide by 80 inches long. Finding the right rug for it, is not easy, given its large size.
It can make the room look smaller if the carpet is too small. On the other hand, a large rug that extends too close to the wall can swallow the room.
Firstly, the rug for a king bed should not be too small. A bedroom rug should extend at least 18 to 24 inches past the sides and end of the bed.
Likewise, you don't want a rug that is too big. This is not as straightforward and also depends on the layout and size of your room. Rug edges should not be closer than 6 inches to walls in general. Ideally, you should leave a few inches between the rug's edge and the feet of a dresser.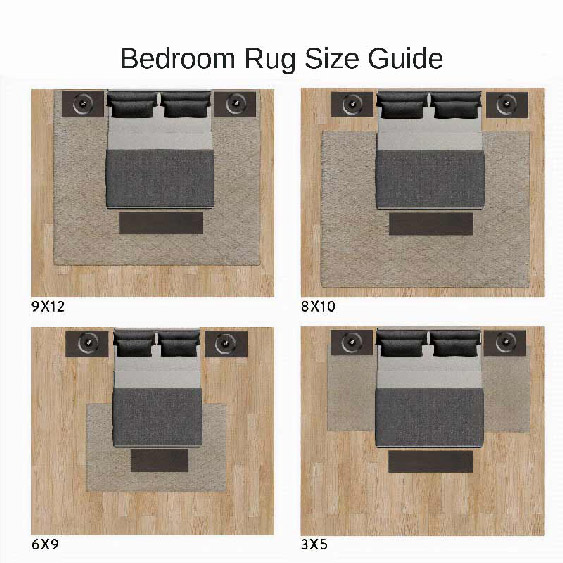 Now, let's take a look at the different sizes and placement options for a rug under your king-size bed.
8'x10′ Rug For King Bed
An 8' x 10' rug is the minimum size you should use under a king-size bed. Perfect size for a smaller bedroom, it can be placed under both the bed and nightstands, covering all sides of the bed. But with this placement, you'll need to keep in mind that you might not be able to place all of your nightstands on the rug. This might limit how large your nightstands can be.
9'x12′ Rug For King Bed
It will cover the floor on all sides of the bed, and also allow for a bench at the foot! Place a 9'x12' rug under your nightstands and it will adequately cover the floor! 
Generally, 9'x12' area rugs work best in large rooms, and you should check the size of your room before you purchase one.  
6'x9′ Rug For King Bed
A 6'x9' rug will always look classy as this will fit perfectly in proportion to the queen-size bed. However, this rug size will not allow you to include any nightstands on your rug, although there is enough walking space with at least 14 inches available on either side.
But in the case of the king bed, this rug size can only cover the upper or lower half of the bed, and there is not much space left for the nightstands.
3'x5′ Rug For King Bed
Small-sized rugs like this can either be arranged along the bed's side or flush against the wall. Alternatively, it can be placed at the foot of the bed with a bare strip of floor around the edges.
So What Rug Size Is Best For a King Bed?
In most cases, a rug of 9'×12' is the minimum recommended size for a king bed. If you want your carpet to cover the lower portion of your bed, you can use a smaller rug such as an 8'x10'. In larger rooms, you may choose a rug even larger than these recommendations.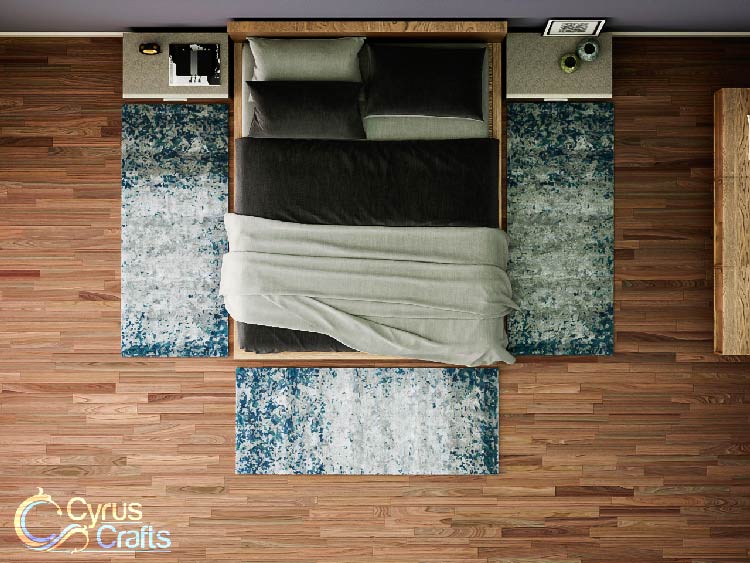 ---
Product added to compare.