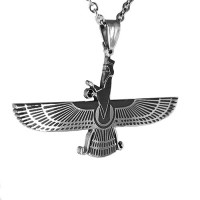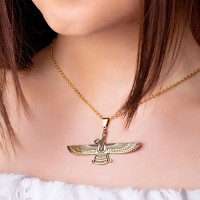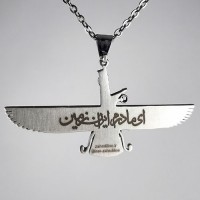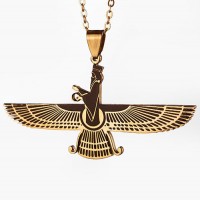 Forohar Steel Necklace AC-1620
Material: Steel & Tungsten chrome
Color: Silver & Golden
Target Gender : Unisex 
Dimensions: 6*2.5 cm | 2.36*0.98 inch 
Forohar necklace is made with steel and brass materials. It can be used in two colors, gold and silver, for men and women, and you can order it as a set.
Details of Forohar Steel necklace
About Forohar: In Zoroastrian religion and ancient Iran, Forohar is an important symbol. This unique design is a sign of being human because Forohar is a symbol of good behavior, good speech and good thoughts.
Forohar motifs have been carved in most of the historical monuments before the arrival of Islam in Iran, and it is the main symbol of religion in all Zoroastrian places of worship.
Suitable style with Forohar necklace
This necklace is designed in a classic style and is in harmony with classic and casual styles, and you can use this necklace in your style according to the style of your clothes.
Also, the Forohar necklace is a good choice for a gift because it is a symbol of culture and history, and therefore it is an ideal choice for Iranians who love their country.