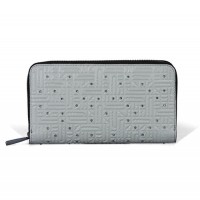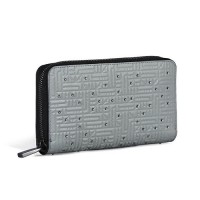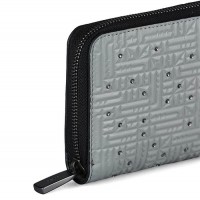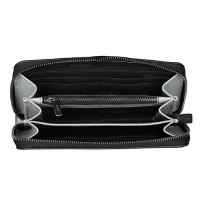 Women's Gray Zipper Wallet AC-1638
Material: Leather
Size: 19*10*2 cm | 7.48*3.93*0.78 inch
Color: Gray
Gender: Women 
Women's gray zippered wallet is made with natural cow leather material and Swarovski crystals. With a modern and unique design, this wallet can be ordered for women.
Women's gray zipper wallet AC-1638 details
The zippered wallet with a modern design is made luxuriously. This wallet is made with natural gray leather and Swarovski crystal beads. This wallet has an internal zipper and three separate spaces for storing cash, bank cards, passports, mobile phones, Etc.
About the Dorsa brand: In Iran, many famous brands produce natural leather products, but one of the best brands of natural leather products is Dorsa because it produces natural leather bags, shoes, wallets, jewelry and accessories with a modern and luxurious design. Therefore, it has many fans.
Natural leather: The best material for making unique and durable bags and shoes is natural leather because it can be used for years without getting old with proper maintenance. So it is economical and makes the style unique.
Matching style with women's gray zipper wallet AC-1638
The gray women's wallet has a luxurious design and is suitable for formal parties, weddings, family celebrations and important work events and is easily matched with party clothes. Of course, match your shoes and accessories with a bag and use silver, gold, green, blue, navy and white colors in your style.
In the Cyruscrafts online store, we offer you the best Iranian products and send them to all European countries, America and Canada in the shortest possible time.
Size

7.48*3.93*0.78 inch

Material

Leather

Color

Grey

Target Gender

Womens Bag and Wallet