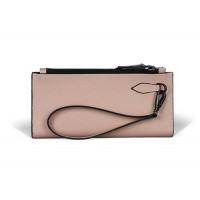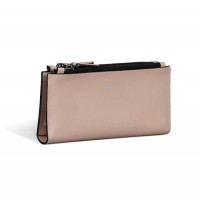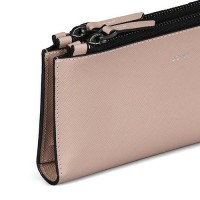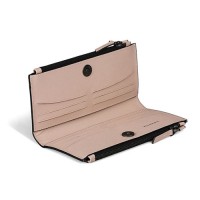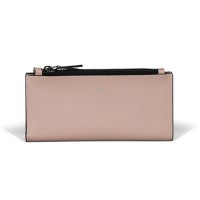 Hand Wallet For Women AC-1604
Material: Leather
Size: 19*10*2 cm | 7.48*3.93*0.78 inch
Color: Pink
Gender: Women 
The hand wallet for women is made of natural cow leather material. This bag has a suitable space for keeping bank cards, cash, Etc. In addition, it has a small strap to hold in hand and can be ordered in pink color for women.
Hand wallet for women's AC-1604 details
The hand wallet for women AC-1604 is designed modernly and has six compartments for bank cards and two zippers for cash, according to daily needs. It also closes with a magnetic button and has a short strap for carrying. This women's wallet is made with the best Iranian cow leather.
About Dorsa brand: One of the best Iranian brands that produce diverse and high-quality natural leather products. Dorsa brand makes bags, shoes, wallets and accessories with modern and luxury designs. In addition, it has many fans due to its quality and unique design.
About natural leather: For making quality and durable bags and shoes, the best material is natural leather because, with proper maintenance, leather can be used for years without getting old. Also, natural leather is beautiful and unique and is the best choice for a gift.
Matching style with hand wallet for women's AC-1604
Hand wallets for women are ideal for shopping because they are easy to use with a strap. This bag matches casual and classic styles, and you should use appropriate colors such as blue, white, navy, brown, green and cream in your style.
In Cyruscrafts online store, you can buy the best products of Iranian brands at reasonable prices so that we can send them to you in the shortest possible time.
Size

7.48*3.93*0.78 inch

Material

Leather

Color

Pink

Target Gender

Womens Bag and Wallet