Persian Hand Carved Oxidized Silver Bracelet AC-762
Height: ~ 2.5 cm
Weight: ~ 22 g
Material: 925 Silver
Artists: Khorshid Joulaee & Alireza Zaheeri
This bracelet is made of excellent 925 silver and designed with Iranian motifs (Khataee & Eslimi) by engraving the pattern. All the Designs are handmade by professional artisans, and a look of oxidized silver has been given to them.
Persian Hand-Carved Oxidized Silver Bracelet AC-762 Features
With our charming accessories, you will draw everyone's attention to yourself without doing anything special. The color and design make the jewelry an elegant option for every man who keeps his style good-looking and gorgeous. You can wear it to a formal event, a party, date, work, and so on.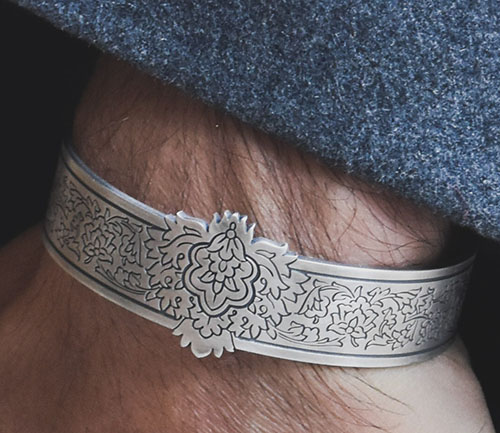 Silver provides a lot of health benefits to the body. Silver's antimicrobial properties have been proven to prevent infections, reduce the symptoms of colds and flu, and speed wound healing. It maintains blood circulation and regulates body temperature.
Maintenance Tips for Persian Hand-Carved Oxidized Silver Bracelet AC-762
Silver products need more care since they may tarnish if exposed to the air, water, and chemical liquids. 925 silver is a more resistant alloy that barely gets tarnished. However, you should still keep it away from chemicals. And be careful about hard impacts and harsh contact with sharp stuff since sharp items may scratch their surface.
If you'd like to purchase this luxurious bracelet for yourself or as a special gift for a friend, boyfriend, husband, father, or brother, all you need to do is purchase it online, and we will deliver it as soon as possible.
Why CyrusCrafts™?
CyrusCraftsTM, with excellent infrastructure and professional and specialized activity in the field of sales and export of vintage and modern Iranian products to various parts of the world, offers the most original and original decorative and tasty items with the latest transfer processes, Customer Support, and After-Sales Service, responsibly.
You are presented with Originality, Quality, Beauty, Uniqueness, Health, and a good feeling of a safe purchase and delivery.
Material

Silver

Weight

22 g

Color

Silver

Target Gender

Mens clothing