Hand-Woven Pictorial Carpet "Rural Weekly Market"
Size: 98 x 141 (cm)      3' 2 x 4' 6 (ft)
Origin: Persian, Tabriz
Foundation/Material: Fluff & Silk
Border Material: PVC
Border Color: Brown
Weave: 100% Hand Woven
"Rural Weekly Market" Hand-made Pictorial Rug
Rural Weekly Market 100% Hand-Woven Pictorial Carpet (Tableau Rug) is a woven carpet in Tabriz, Iran. The silk thread used in this carpet has given it unique glory and beauty.
For installing a pictorial carpet (Tableau Rug) in the living room, it is better to install them behind the main sofa or on the enormous wall to make it more visible.
The best way to ensure your board is at the right height is to place it one arm (one inch) higher than the sofa. Each sign's center should be approximately 150 cm from the ground.
The Difference between Rug and Carpet
One key distinction between Persian Rugs and other Oriental rugs is the design. A conventional Persian Carpet can include four primary patterns: all-over, compartment, central medallion, and one-sided. Most styles feature symmetrical designs or at least designs that appear symmetrical.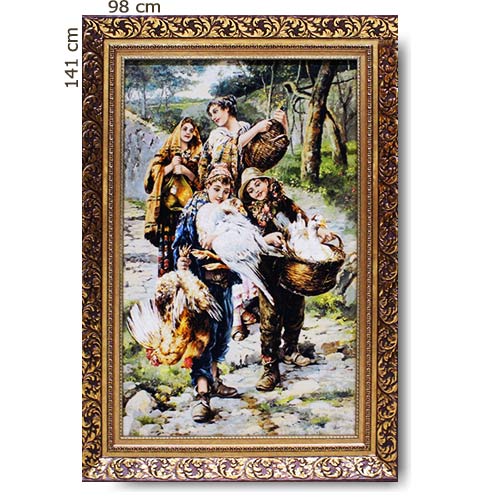 Why CyrusCrafts™?
CyrusCrafts™, with an excellent infrastructure background, and professional and specialized activity in the field of sales and export of high-quality vintage and modern Iranian goods to different parts of the world, is now proud to offer you the most peculiar and original decorative and tasty items with the latest transfer processes, Support Customers and after-sales service, responsibly.
We present Originality, quality, beauty, uniqueness, health, and a good sense of safe purchase and delivery.