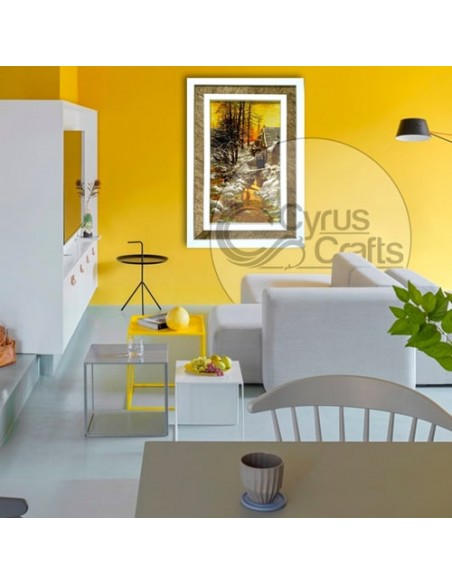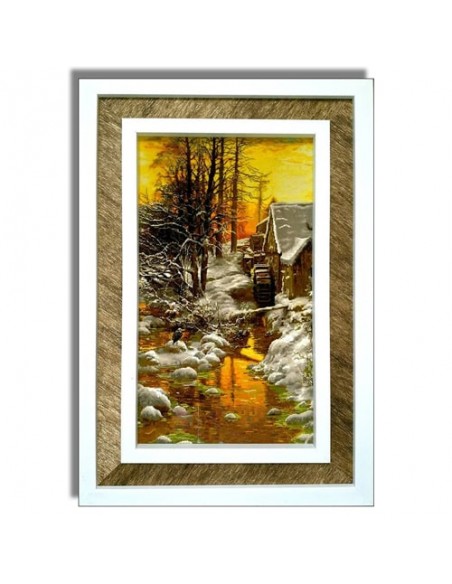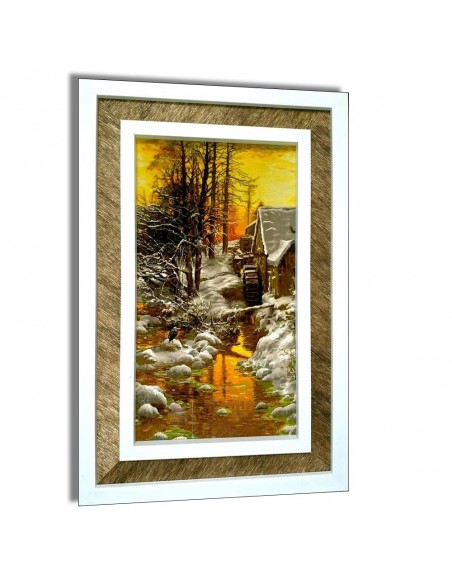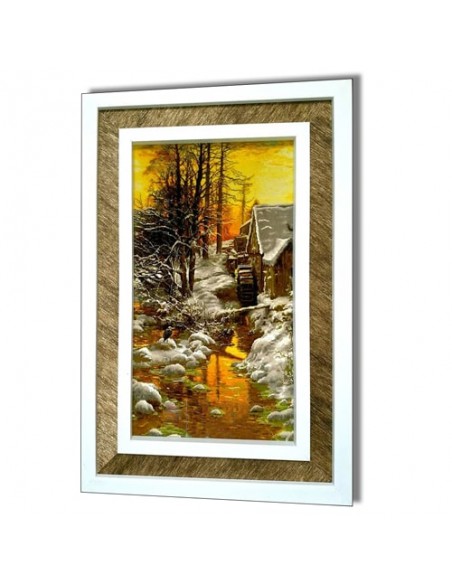 Winter Sunset AG-785 Centenary Handmade Tabriz Tableau Rug
Size: 40 x 75 (cm)      1' 3 x 2' 4 (ft)
Border Size: 70 x 105 (cm)      2' 2 x 3' 4 (ft)
Origin: Persian, Tabriz
Foundation/Material: Silk
Weave: 100% Hand Woven
KPSI: 55
Tabriz Silk Hand-knotted Pictorial Rug "Winter Sunset AG-785"
The enhancing/decorative Persian hand-made tableau rug (pictorial carpet) "Winter Sunset AG-785" has been made in the city of Tabriz, which is located in the northwest of Iran in East Azerbaijan province between Eynali and Sahand mountains in a fertile area on the shore of Aji River and Ghuri. Tabriz is also well known for the fine Persian rugs in the area. The city is known worldwide for its Persian rugs and has played a significant role in developing decorative arts in Iran.
The paten of this beautiful, astonishing tableau carpet has been adopted from a country house next to one great river in the middle of the winter.
The light-tune colors of this wall art can easily change one's mood to something balmy. Moreover, the positive outlook of a good color combination is truthfully a secret.
Traditional hand-knotted rugs or tableau rugs are considered to be prized collectibles that can be passed down from one generation to another. Provided that it is correctly cared for and maintained, traditional hand-knotted tableau carpets stand the test of time and can last for decades and even for a lifetime.
What to look for when buying a "Winter Sunset AG-785" hand-made tableau rug?
The number of knots determines the value of a hand-knotted tableau rug. Hand-woven tableau carpets that have more knots are more valuable. Nevertheless, other factors determine the value of a pictorial rug as well. These include size, design, age, and material.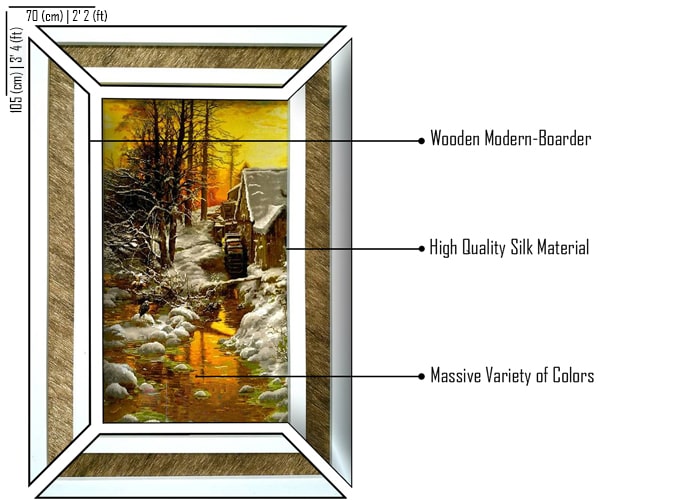 Winter Sunset AG-785 as an artistic element
It evokes purity because of its bright whiteness. But it can also mean death and suffering because it can be freezing when it snows. Everything depends on your state of mind at the moment. For example, snow is synonymous with our childhood in a small village. 
Also, winter sunsets become more vivid because of low humidity and cleaner air.
CyrusCrafts™ Online Shopping
CyrusCrafts manufactures and exports high-quality vintage and modern Iranian goods. We are proud to introduce the most original, diverse, decorative, and delicious items by CyrusCrafts with their superb infrastructure, skilled and knowledgeable staff, and export services.