Persian Hand Carved Wooden Wall Art HC-414
Unique Woodcarving Tablou
Made by Professional Artists
Artist: Ali Asghar Roayaei
Size: 60*50*4 cm
Material: Wood
Color: Brown
Woodcarving is one of the original handicrafts of Iran. In this type of handicraft, the woodcarving master creates beautiful shapes on wood, like a masterpiece of painting.
Persian Wood Carving Wall Decor Tablou HC-414
The most suitable common woods in woodcarving handicrafts are ebony, pear, berry and elm, walnut, beech, alder, and oak, each of them has a different color and texture. Fruit basket model tablou is an example of a beautiful inlaid tablou that can be a part of your room or workplace. You can easily attach this painting to the wall with a peg behind it and enjoy watching this valuable work of art for hours. You can prepare this painting with suitable quality and give it as a gift to your loved ones.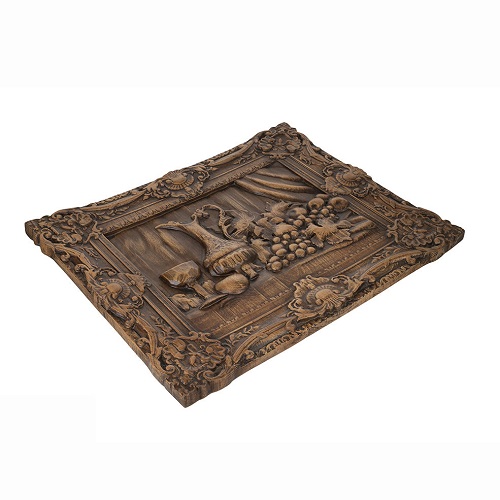 Why CyrusCrafts™?
CyrusCrafts™ by an excellent infrastructure background,  professional and specialized activity in the field of sales and export of high-quality vintage and modern Iranian goods to different parts of the world, is now proud to offer you the most peculiar and original decorative and tasty items with the latest transfer processes, Support Customers and after-sales service, responsibly.
We present The Originality, quality, beauty, uniqueness, health, and a good sense of a safe purchase and delivery.
---
eye-catching and special tablou