Persian Unique Copper Engraving Tray HC-441
Toreutics Copper Tray
Size: 49*2.5 cm
Material: Copper
Weight: 1150 gr
Color: Grey
Usage: Home / Home-office / office Decorative
The walls of a house are empty and unfinished without paintings, photographs, works of art, handmade metal crafts and decorative objects.
Unique Engraving Copper Tray HC-441 Details
What you see on the walls of a house reflects the taste of its owners. This Unique engraving/embossing Copper Tray is the work of Iranian calligraphy masters. Flat copper or brass utensils are the most common areas for engraving, and are sometimes covered with silver or tin glaze.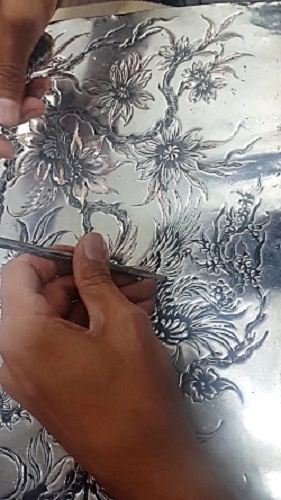 Why CyrusCrafts™?
CyrusCrafts™ by an excellent infrastructure background,  professional and specialized activity in the field of sales and export of high-quality vintage and modern Iranian goods to different parts of the world, is now proud to offer you the most peculiar and original decorative and tasty items with the latest transfer processes, Support Customers and after-sales service, responsibly.
We present The Originality, quality, beauty, uniqueness, health, and a good sense of a safe purchase and delivery.
---
very beautiful and of high quality ...